How to have safe transactions at an ATM?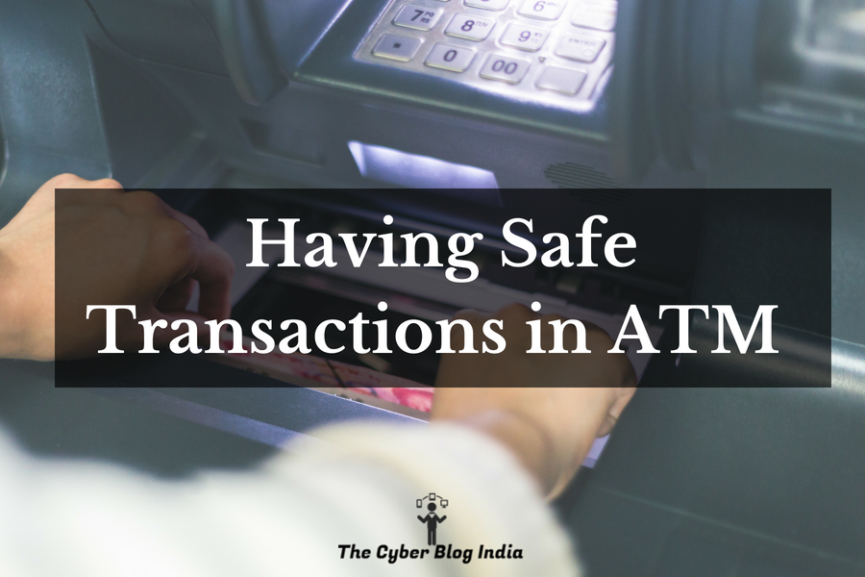 The advancement of technology, ease of banking and processes ranging from checking balance to transferring funds happening at the touch of a screen have driven people to go online. According to Reserve Bank of India, more than 90 percent of all reported transactions at banks between 2016 and 2017 were through the Internet in terms of volume. In 2015-16, this figure stood around 75 percent.
While enjoying this newly-acquired convenience, it is important to remember that security is something which cannot be easily ignored. As per our report published in December 2017, there has been an increase of close to 500% in the number of frauds through ATMs in the last six months. To ensure that your money and personal information are safe during a transaction at an ATM, here are a few things that you should take care of:-
Ensure that you are the only person inside an ATM.
To avoid being a victim of shoulder surfing, always ensure that you are the only person inside an ATM while carrying out a transaction. You can even ask the guard to stand out while you are carrying out the transaction.
Watch out for skimmers!
An average ATM fraud results in a loss of ₹ 42,000 to the victim. An ATM Skimmer is a small device which is stuck on the ATM machine. It is very hard to recognize it in a single glance. While you are carrying out the transaction, observe closely and carefully. Watch out for any loose or ill-fitting parts on the card reader or PIN pad – also check whether there is an extra layer on the keyboard and look for parts that vary slightly in colour or that look like they were installed recently.
Never forget your ATM receipt
Generally, after completing any transaction, the tendency is to crumble the atm slip and dispose of it in the wastepaper bin. People hardly ever think of putting it back in the pocket and carrying it home. With the help of details available on an ATM receipt, you can easily become a victim of social engineering. (Those calls that tell you your bank account details and then ask for other information)
Pressing the CANCEL Button
Pressing the cancel button in case of a failed transaction or a frozen screen before leaving the ATM is a crucial step as it halts your transaction. There have been instances where these cancel buttons have been glued down or stuck to the machine in a way that they don't actually get pressed. As a thumb rule, always ensure that when you walk out of an ATM, the welcome screen has returned on the machine.
Conclusion
There have been some recent developments where the Reserve Bank of India is planning to introduce two-factor authentication for all ATM-cum-debit card transactions to ensure that the customers do not fall prey to ATM Cloning. Doing so will put more responsibility on the consumers compared to the current situations where the bank is held liable when neither the bank nor the customer is at fault (as per RBI Guidelines dated July 06, 2017).
Besides all rules and regulations, you must trust your instincts while using ATMs and carry out the transactions only when you feel safe and comfortable because
It's better to be safe than sorry.
---
In case you have been a victim of an ATM Card fraud, read the posts given below to know the recovery process for the amount lost. Also, feel free to get in touch with us through email at contact@cyberblogindia.in.