#OpenUp: How, when, and where?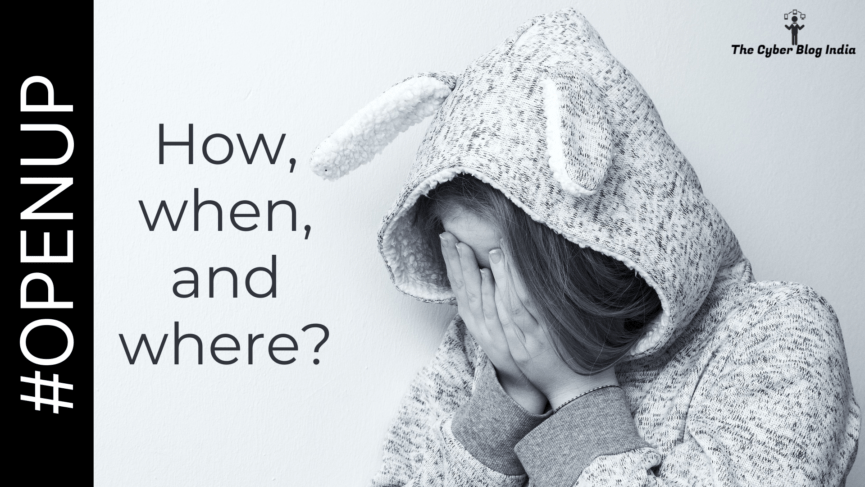 After the global pandemic hit the world and the nationwide lockdown was imposed, everything came to a standstill. While many of us were involved in spending time with families and learning new skills, a few did not refrain from being involved in unethical/illegal activities. A recent report by the National Legal Services Authority (NALSA) indicated a rapid increase in cases of domestic violence throughout the country.
Even after considering The Cyber Blog India's limited reach, the average number of victims contacting us per day has gone up by at least 250% after lockdown came into force. This trend is also visible in the cases involving female victims. On similar lines, many organisations like us have reported an increased number of female victims contacting them for help and support. Read more on COVID-19 and cyber crimes against women here.
Recently, a fifteen-year-old girl immolated herself after some individuals filmed her bathing and started to blackmail her along with demanding sexual favours. One of the boys who was involved in this incident was a minor. The victim was compelled to take such a drastic step because of the fear that her video will get uploaded on social media. This is not the first instance when a girl has committed or has attempted to commit suicide because of being filmed without her consent and subsequently blackmailed. Such incidents shall be considered as a wake-up call for all of us to open up and report such matters before it is too late.
1. Why should we open up?
I would not be wrong in saying that most of us do not know the rights we have and legal remedies we can seek – if we face any issue in cyber space. Minors are often involved in certain situations where they should not be. On top of that, they neither know the consequences nor rights and liabilities. We have talked about minors, harassment, and the internet in this short video. So often, we trust the other person in our relationship and share pictures/videos which are later used for blackmailing and unwanted sexual favours. Even if you are facing the worst case scenario, you need to understand that there are remedies available and self-harm is most certainly not the way out. If you are in a situation and not able to report it as your identity will be revealed or there will be a news article with your name, I assure you that is not going to be the case. The law enforcement agencies are bound by the laws to not to disclose your identity.
2. How should we open up?
We, at The Cyber Blog India, have noticed that minors often avoid sharing such incidents with their parents. While we understand that what they are going through is really difficult, it is challenging to make them believe that their parents are on their side – not the blackmailer's. At this point, I would not deny that we certainly need an open discussion in our homes on issues like this. Even if you are not a minor and someone is blackmailing you, reporting such incidents is the solution that you go for.
In 2019, the Ministry of Home Affairs set up the National Cyber Crime Reporting Portal to streamline reporting of cyber crimes from across the country. This portal also allows you to file a complaint anonymously, however, you would not be able to track the progress on your case. In case your complaint is not processed for one reason or other, the portal has a list of nodal officers and their contact information that you can get in touch with. This article explains how to file a complaint on the National Cyber Crime Reporting Portal.
Besides, you can always approach us for help and assistance across any platform you are comfortable with: be it Email, WhatsApp, Instagram, Twitter, Facebook, LinkedIn, or Telegram.
Child Protection/Welfare Officers (CPOs/CWOs)
Under Section 63 of the Juvenile Justice (Care and Protection) Act, 2015, there should be a designated Child Protection Officer or Child Welfare Officer attached to every police station. The District Legal Services Authority is responsible for training CPOs/CWOs. The general guidelines available for training of such officers explicitly states that training must be provided on the non-disclosure of a minor's identity and avoiding any enquiry which would hamper the best interests of the children. The honourable Supreme Court, through its judgement in Sampurna Behrua v. Union of India & Ors., directed the High Courts to set-up child-friendly courts in their jurisdiction.
3. Remedies & relevant laws
The Information Technology Act, 2000, the Protection of Children from Sexual Offences Act, 2012, the Indian Penal Code, 1860, and the Juvenile Justice (Care and Protection) Act, 2015 are relevant laws when we talk about blackmailing/harassment of individuals. In the following sub-sections, I have listed relevant provisions, punishable acts, duration of imprisonment, and fines.
A. The Information Technology Act, 2000
Section 67B is wider in its ambit and also covers:
Creating text/images, collecting, seeking, browsing, downloading, promoting, or exchanging
Facilitating online child abuse
Recording in any electronic form
Cultivating, enticing, or inducing children to online relationships with one or more children
Obscenity is a highly subjective area but we have tried to understand how Indian courts deal with related issues here.
B. The Indian Penal Code, 1860
Depending on the specifics of a case, relevant provisions from the Prevention of Children from Sexual Offences Act, 2012 can also be used.
4. Ending notes
Back in 2014, a similar incident occurred wherein a 17-year-old girl had committed suicide leaving behind a six-page long suicide note. She had mentioned the name of an "online friend" in the note who had morphed and uploaded her pictures on a social-networking site. Thereafter, the police investigated and arrested the individuals mentioned in the note. The girl might not have known remedies available and the importance of opening up and reporting the incident. Her family would have surely helped her come out of the situation, had she been courageous enough to report it. Keeping in mind the current scenario where such crimes have been accelerating at a rapid pace, we need to open up and report such cases. We shall strive towards getting the culprits punished as it would instill fear among the perpetrators, refraining them from committing such crimes in future. Suicide is not a way out to deal with such incidents. We shall remember that Section 23 of the Prevention of Children from Sexual Offences Act, 2012 prevents the disclosure of the identity of victims. Also, Section 74 of the Juvenile Justice (Care and Protection) Act, 2015 bars the disclosure of the identity of minor victims of sexual offences even after they're dead. It is never too late to self-evaluate and try to fill up the communication gap prevailing at our homes. No person, irrespective of their age, should think that committing suicide is a better option than reporting the incident.
Do check out our series titled "My Cyber Crime Story" where victims/survivors narrate their experience of facing a cyber crime and how they came out of it.
---
Interested in contributing to our blog and knowledge base? Write to us at contact@cyberblogindia.in and elaborate on how you can help us in creating a safer cyber space.
Featured Image Credits: Image by Anemone123 from Pixabay