Anish Kumar K S v. State of Kerala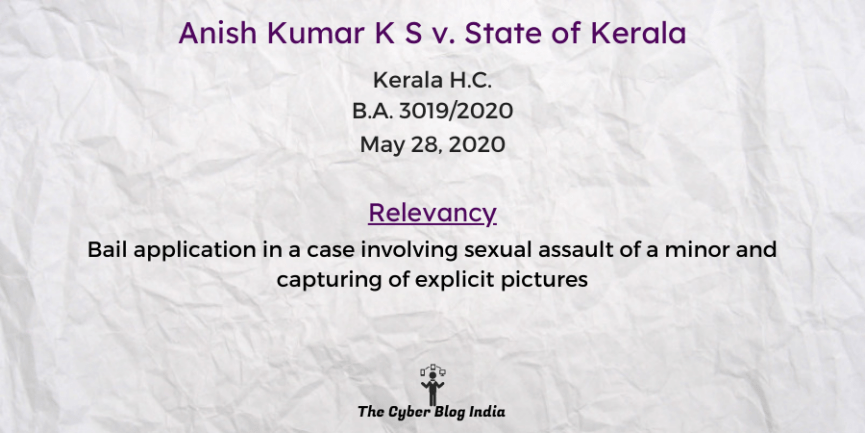 Anish Kumar K S v. State of Kerala
In the High Court of Kerala
B.A. 3019/2020
Before Justice Raja Vijayaraghavan V
Decided on May 28, 2020
Relevancy of the case: Bail application in a case involving sexual assault of a minor and capturing of explicit pictures
Statutes and Provisions Involved
The Information Technology Act, 2000 (Section 66E, 67B(e))
The Indian Penal Code, 1860 (Section 450, 341, 354A, 506(1), 354B, 376, 376(2)(f), 323, 354D, 363)
The Protection of Children from Sexual Offences Act, 2012 (Section 5(n), 6(1), 9(l), 9(n), 10, 11(iv), 12)
The Juvenile Justice Act, 2015 (Section 75)
The Kerala Police Act, 2011 (Section 119(b))
The Scheduled Caste and Scheduled Tribe (Prevention of Atrocities) Act, 1989 (Sections 3(1)(w)(i), 3(2)(v))
Relevant Facts of the Case
The survivor was a minor who lived with her mother and sisters.
The petitioner, a distant relative, was a frequent visitor. He would come into her room and would sexually assault her.
The petitioner allegedly threatened her not to disclose the incident or be done away with it. The petitioner took the survivor into a car wherein she was subjected to penetrative sexual abuse.
On another occasion, she was taken by the petitioner from her school and was sexually assaulted. When she resisted his sexual advances, she was slapped and threatened. The petitioner also took explicit photographs of her and threatened to publish the pictures if she did not concede to his wishes.
The petitioner frequently sent obscene messages to the minor on her grandmother's phone, which her sister discovered. When the matter was probed further, she revealed the incidents.
Prominent Arguments by the Advocates
The petitioner's counsel submitted that the petitioner is unmarried and is in love with the survivor. Further, she would be a major soon, and the petitioner would ask her hand in marriage. The relationship was consensual. Lastly, the petitioner has been undergoing incarceration for a prolonged period and citing the Supreme Court's judgement in Dataram Singh v. State of Uttar Pradesh, the learned counsel pleaded for consideration without being carried away by the gravity of the allegations.
The respondent's counsel argued that the records reveal that the petitioner has repeatedly committed penetrative sexual assault on a minor. The statement of the minor pointed out that he physically assaulted her as well. If released on bail, the petitioner would terrorize the victim and her family.
Opinion of the Bench
The Court was of the view that the allegations are highly grave and immoral. The victim is a minor and was abused sexually, under threat and intimidation. The apprehension by the respondents is accepted, as releasing the accused on bail would thwart justice.
Final Decision
---
This case summary has been prepared by Akshita Rohatgi, an undergraduate student at the University School of law and Legal Studies, GGSIPU, during her internship with The Cyber Blog India in January/February 2021.