Can a drone violate your privacy by trespassing?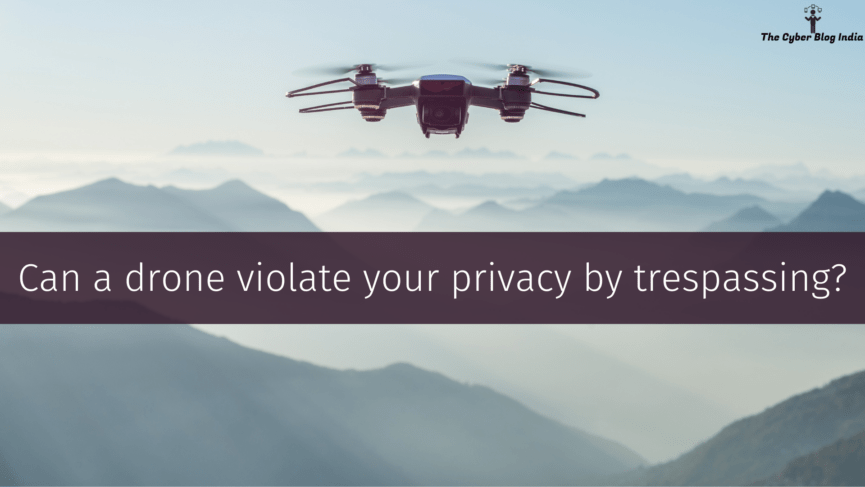 My neighbours had a small and intimate wedding at their home during the second lockdown. They invited all of us to participate from our balconies and terrace. While I was watching the celebration, I heard a constant, loud enough, buzzing sound. I looked up in the sky and found a drone hovering over my terrace. It was apparently trying to capture an aerial shot of the wedding. This got me thinking. Was I a part of the frame? Absolutely yes. Did I want to be a part of the frame in my oldest pair of loungewear? NO. So, could this fall under trespass?
Understanding the basics: drone and trespass
A drone is a type of aircraft, alternatively known as an unmanned aerial vehicle (UAV). It works without a human pilot, and it does not have a crew or passengers. It works in different ways, like through a human-operated remote control or with autopilot assistance without any human interference. One can classify drones based on their weight, autonomy level, altitude, etc.
Trespass is a type of tort defined as an inexcusable physical interference on a person's land by someone, eventually leading to infringement of that person's rights. Section 441 of the Indian Penal Code, 1860, talks about criminal trespass.
Cuius est solum, eius est usque ad coelum et ad inferos.
This is a common principle of property law. It states that a property owner has a right to everything above and below his property and the land. Traditional trespassing will involve a trespasser physically entering your property without authorisation. However, can a drone hovering a few feet above your property without your authorisation be considered an act of trespassing? As per my understanding, this should depend on the intent and circumstances, which is a tedious task.
Drones have become increasingly popular in the last few years. I am sure you know someone who owns a drone or two today, and if not, you would have certainly seen a drone flying. In June 2020, companies like Zomato, Swiggy, and Dunzo received approval from the Directorate General of Civil Aviation (DGCA) to test their delivery services via drones. It seems that drones will soon become a common household device in the future.
Regulatory Framework in India
DGCA is the regulatory authority for Indian civilian airspace. It released regulations concerning the operation of remotely piloted aircraft (read drones) for the first time in 2018. Earlier this year, on March 12, 2021, the Unmanned Aerial Vehicles (UAV) Rules, 2021, came into effect. After heavy criticism, the government has attempted to liberalise these rules in the Drone Rules, 2021. These rules came into force on August 25, 2021. Before this, the government had published a draft for public consultation.
The new rules have come as a relief for many since they have slacked various requirements. For example, the older rules required filling 25 forms, and now, you only need to fill up 5 forms. The fee for operating drones has also been reduced significantly. We have discussed the new drone rules in detail here. Rules related to drones started gaining traction after a drone attack on Indian Air Force's base in Jammu. Alongside these rules, a single platform called Digital Sky has been set up. This platform provides a visualisation of an airspace map that helps in the identification of green zone (permissible), yellow zone (intermediate), and red zone (no-fly). All said and done, these rules do not address privacy issues surrounding various applications of drones.
 Privacy concerns related to drones
Drones come fitted with a camera, and some drones are even capable of recording audio. What happens if a drone captures you in your home performing an act you do not expect anyone to see? The new rules are lacking at this point as the Drone Rules, 2021, do not discuss spatial privacy. Violation of privacy due to drones may become a common phenomenon in the second most populated country with a considerably higher population density. At present, we need a regulatory framework that talks about intentional entry into another person's airspace without their authorisation (i.e., trespassing) and capturing pictures, video, or audio of a person engaging in a private or personal act.
A California bill on the invasion of privacy by entering into airspace can act as a good inspiration. This bill places the liability of a drone operator if they attempt to capture an image, video, or audio of an individual engaged in a private or familial act using any device. Such an act will constitute trespass even if it is not physical trespass. The lawmakers must strike a balance between the rights of a landowner and a drone operator. For example, the US tort law defines a limit of a minimum of 50 feet of distance for a flight to maintain over another person's property.
However, determining a distance limit for drones is not an easy task. Factors like, continuous hovering over a person's private property, flying over a different route despite having another route, flying too close to a property than required, etc., can help determine the intention and liability in the tort of trespass. A court's main task in determining trespass, will be the test of intention.
Endnotes
The debate of private airspace, public airspace, and intention is never-ending. Howsoever, a specific provision relating to spatial privacy will help loosen some knots. Regulatory authorities like DGCA must consider privacy an important aspect as it is a fundamental right under Article 21. While we are yet to have a full-fledged data protection law, a well laid-out regulation is the need of the hour. Drone imposes tangible threats to privacy, and the regulatory authorities must seek to address the shortcomings of the existing regime. Till then, stay safe from the hovering birds and stay tuned!
---
Featured Image Credits: Technology photo created by wirestock – www.freepik.com