Why are E-Commerce Rules, 2020 important for consumers?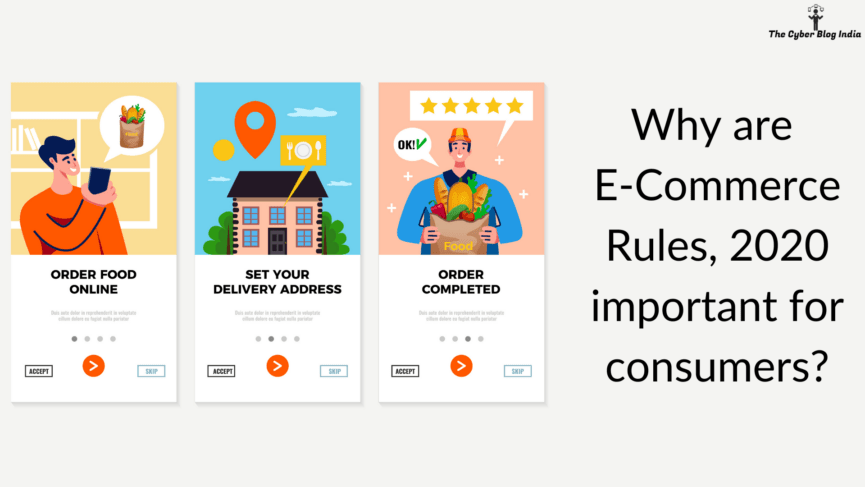 In 2021, we are reliant on internet-based services more than ever. In the times to come, this reliance is only going to increase. With COVID-19 restrictions and an increased push for home delivery services, some of us may have forgotten the fun of going shopping with our families in the local market. Groceries, vegetables, fruits, milk, medicines – name anything, and there will be an online marketplace for it. While online shopping is safe, swift, and convenient, are you aware of your rights as a consumer? Do you know that e-commerce entities have certain duties and liabilities, as prescribed by the Consumer Protection (E-Commerce) Rules, 2020?
What is E-Commerce?
Rule 3(b) of the E-Commerce Rules defines an e-commerce entity. In simple words, an e-commerce entity means any platform where buying and selling of goods and services takes place digitally. There can be two types of e-commerce entities:
Inventory e-commerce entity: This e-commerce entity sells its goods and services directly to the consumers. For example, I create a website for selling customised notebooks. (Rule 3(f))
Marketplace e-commerce entity: This e-commerce entity provides a platform for sellers to sell their goods and services. For example, platforms Amazon and Flipkart allow sellers to upload their products for purchasing by prospective consumers. (Rule 3(g))
Applicability of E-Commerce Rules, 2020
The E-Commerce Rules apply to all the purchases and sale of goods and services made over an electronic or digital network. The scope includes all types of e-commerce retail platforms, including multi-channel single-brand retailers and single-brand retailers in either single or multiple formats. These rules will also apply to e-commerce entities based out of India but are offering their goods and services for sale and commercial purposes in India. One primary objective is to control unfair trade practices in digital space and recognise consumer rights in cyber space. These rules do not apply to any activity carried on by a person in their personal capacity.
Duties of E-Commerce Entities
Rule 4 of the Consumer Protection (E-Commerce) Rules, 2020 lists down several duties of e-commerce entities.
Incorporation: These rules require that an e-commerce entity be registered as a company incorporated as per India's existing company laws. An e-commerce entity can also be a branch/office/agency outside India but owned or controlled by an Indian resident as per Section 2(v)(iii) of the Foreign Exchange Management Act, 1999.
Disclosing necessary information: An e-commerce entity must provide the following information in a clear and accessible manner on their platform:

The legal name of the e-commerce entity
Addresses, including the principal address and all branch addresses
Name and details of the website
Contact details, including e-mail address, fax, landline, and mobile numbers
Name, contact details, and designation of the Grievance Redressal Officer
Name and details of an importer of products, if any

Unfair trade practices: Rule 4(3) prohibits e-commerce entities from adopting unfair trade practices in their business and on their platform.
Grievance redressal mechanism: An e-commerce entity must establish a grievance redress mechanism for redressing consumers' grievances. These rules prescribe a time-frame of 48 hours in which a Grievance Redressal Officer must acknowledge the complaint. The maximum duration available for redressing a complaint is 30 days from the date of receipt.
Convergence: An e-commerce entity has to ensure that they partner in the convergence process of the Central Government for the National Consumer Helpline.
Cancellation Charges: When a consumer cancels any purchase order, an e-commerce entity cannot impose cancellation charges unless they also have to bear it.
Consent: An e-commerce entity must record a consumer's explicit and affirmative consent. They cannot record the consent automatically, including pre-ticked checkboxes.
Refund: An e-commerce entity must process payments for accepted refund requests within a time-frame as prescribed by RBI or any other competent authority.
Miscellaneous: An e-commerce entity must not manipulate the price of any good or service on its platform for gaining unreasonable profit. They should decide the price based on prevailing market conditions, essential nature of products, extraordinary circumstances, and any other relevant considerations. They must not discriminate or classify among consumers of the same class in a way that may affect the rights given under the Consumer Protection Act, 2019.
Conclusion
This dedicated set of rules have come in the form of a blessing for the consumers. They strengthen the position of consumers as they seek to buy a product or service in the digital space. However, if consumers are not aware of their rights, the effectiveness of these rules will be negligible. As fellow consumers, we should be mindful of our rights so that e-commerce entities do not exploit us. Since no law is ever perfect, the same applies to these rules. For example, it does not talk about the extent of delivery charges an e-commerce platform may charge. All said and done, consumers can now shop online with lesser worry and better safeguards.