In conversation with a fraudster: Getting home delivery of liquor in Mumbai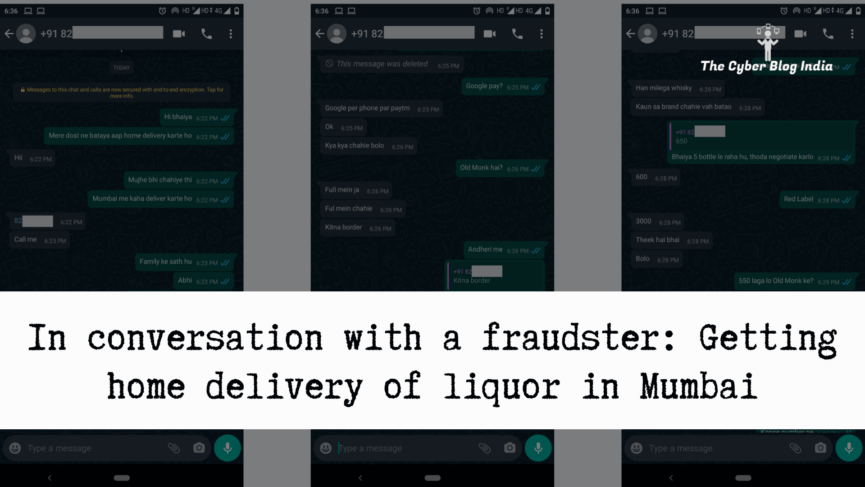 In the last couple of months since the country-wide lockdown was enforced, we have adapted to many changes. Whether there is a lockdown or not, The Cyber Blog India team has continued to assist cyber crime victims across multiple platforms. And considering that the numbers do tell a story, the number of cases we are receiving per day has tripled. In the last eight weeks or so, we have come across many interesting modus operandi that were not as effective before lockdown as they are right now. In the early days of lockdown, sale of alcohol was prohibited entirely; however, the restrictions have been slowly lifted, and some states have allowed home delivery of liquor. Various High Courts have also been in favour of the same. This post illustrates one such modus operandi wherein the fraudsters lure the victims into paying them under the impression that they will be delivering liquor at their home (put simply, home delivery of liquor).
Background
On May 20, 2020, one victim got in touch with us on our WhatsApp helpline at +919340337396 and explained how he was duped by the fraudster. The victim narrated the entire incident about how the fraudster assured him of home delivery of liquor and blocked him immediately after he made the advance payment. After assisting the victim with the procedure to be followed for reporting the incident to the police and sharing the details about the concerned police station, we decided to have a conversation with the fraudster from our helpline number.
Our Helpline Number's WhatsApp Account
Before I start with the conversation, this is how our Helpline's WhatsApp Account looks like. Since this is a business account, all the information is visible, even if the number is not saved as a contact. The fraudster here has to be stupid enough to see cyber crime written all over it and still respond to our messages.
Here it goes.
So, we started the conversation with a Hi and asked him where he delivered in Mumbai. He outrightly asked to call him, and if we had called, you would not be reading this article. The conversation continued and he said that he would require the payment in advance. We negotiated a bit on the price per bottle for Old Monk and Red Label.
Subsequently, he shared his Google Pay number and assured that he would deliver the order within 30 minutes in Andheri. He repetitively asked for sending the payment confirmation screenshot. Meanwhile, we created an IP Grabber link that redirected to "whisky red label" search result on Google. An IP Grabber link captures the IP address before it redirects a user to the intended page. We were not sure if he would click on the link, but he actually did.
So far, we had his mobile number, Google Pay number, and IP address.
Then, we texted him that Google Pay was not working and he shared his Paytm wallet number. We again told him that the payment had been unsuccessful. As a result, he shared his Paytm Payments Bank account details. While we were doing this, our designer was creating a fake payment confirmation screenshot. As soon as the payment confirmation screen was ready, we sent it to him.
So far, we had his mobile number, Google Pay number, IP address, Paytm wallet number, and Paytm Payment Bank account details.
Well, the fake payment screenshot gimmick did not work. We told him that the amount had been deducted from our side, but he responded that he had not received a single rupee. We asked him if we should send the address for delivery.
His response was something that every fraudster does when he or she fails – using vulgar and abusive language.
Honestly, after dealing with over 4500 cases of financial frauds in the last five and a half years or so, it was not at all surprising. Out of four audio recordings received, the ones received at 7:02 PM contain abusive and vulgar language.
Ending Notes
As the victim had already reported the incident earlier, we shared the information gathered (mobile number, Google Pay number, IP address, Paytm wallet number, and Paytm Payment Bank account details) with the appropriate law enforcement agency and payment service providers. Prior to this incident, we were contacted by 31 individuals who had become victims of this type of fraud. We hope that the concerned law enforcement agencies take appropriate action and frauds like this can be prevented. It is often said that fraudsters tend to exploit the weaknesses in human nature. The ground rule is: trust no one.
Let it be sharing of ATM card details or transferring money under the impression that the fraudster is genuine, the chances of recovery are substantially low. RBI's guidelines clearly state that if there is negligence at the customer's end, the concerned bank is not liable. The only recourse available is to file a police complaint.
---
Have you been a victim of a financial fraud or know someone who has been? Please write to us at contact@cyberblogindia.in or on our WhatsApp Helpline at +91 9340337396 and share the relevant details. We will try our best to help you out.