Namdeep Sorab v. State of Punjab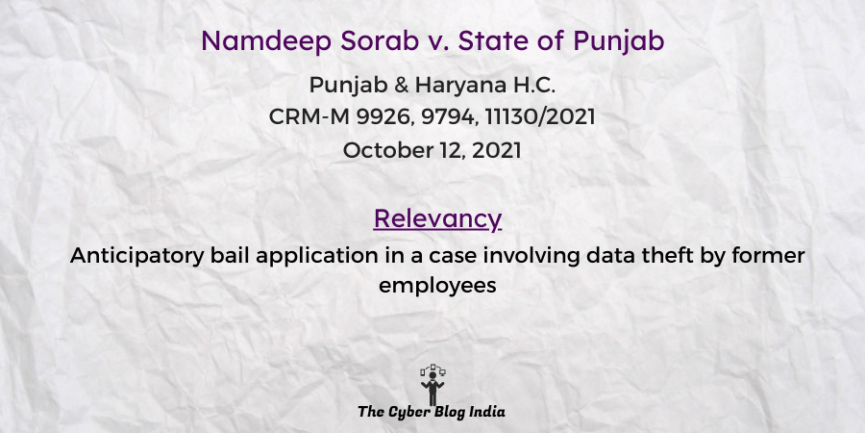 Namdeep Sorab v. State of Punjab
In the High Court of Punjab & Haryana
CRM-M 9926, 9794, 11130/2021
Before Justice Avneesh Jhingan
Decided on October 12, 2021
Relevancy of the Case: Anticipatory bail application in a case involving data theft by former employees
Statutes and Provisions Involved
The Information Technology Act, 2000 (Section 66B)
The Code of Criminal Procedure, 1973 (Section 438)
The Indian Penal Code, 1860 (Sections 420, 120)
Relevant Facts of the Case
Three accused persons have filed a petition seeking anticipatory bail under Section 438.
The complainant company has submitted that the petitioner and other accused persons have taken their data (about 2600 files) without authorisation. Further, they have misused it for their benefit.
Prominent Arguments by the Advocates
The petitioners' counsel submitted that they are ready to cooperate and hand over their devices for the investigation. Since there are no allegations that specify the actual data stolen, custodial interrogation is not necessary. Further, the prosecution cannot rely on the Indian Penal Code, 1860, after invoking the Information Technology Act, 2000. Moreover, the data is from 2017-18; but the complainant filed the FIR four years later in 2021.
The respondent's counsel argued that the petitioners are experts in their field. They can destroy the available data, which can hamper the ongoing investigation.
Opinion of the Bench
The respondent counsel could not point out specific questions that the petitioners have not answered during the investigation.
Final Decision
The court directed the petitioners to cooperate with the investigation and granted interim bail on September 09, 2021.
The interim bail was made absolute by the court in its final order.
---
Parth Chaturvedi, a graduate of the Faculty of Law at the University of Allahabad, prepared this case summary during his association with The Cyber Blog India in January 2022.