Defamation Notices Served to Netflix India for 'Hasmukh' [Interview]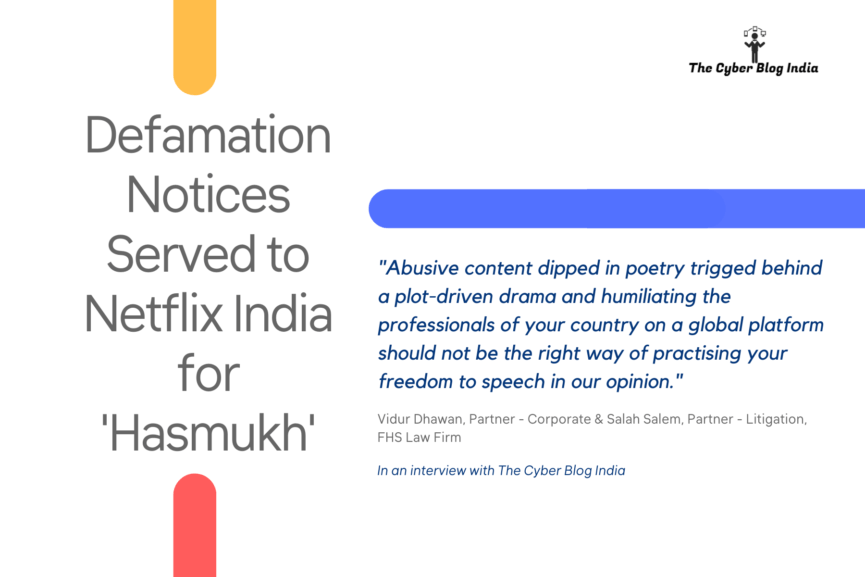 Netflix premiered a dark comedy Indian TV series titled Hasmukh on April 17, 2020. This series follows the story of a small-town standup comedian from Uttar Pradesh who also happens to be a serial killer. It has been co-written by Nikkhil Advani and Vir Das, and it stars Vir Das himself, along with Ranvir Shorey and Ravi Kishan among others. The story revolves around Hasmukh, the main character, who cannot perform his standup set on the stage if he does not kill somebody right before the show.
(After this post was published, there have been two orders passed by the Delhi High Court and the Court of Additional District & Sessions Judge, South-East Delhi on April 27, 2020 and April 28, 2020 respectively. The updates have been added below.)
Interestingly, Season 1, Episode 4, while Hasmukh is delivering his standup set, he makes the following statements:
Esa pehla shehar dekha hai humne jaha chor bhi bade ameer hote hai. Lekin yaha unka naam chor nahi, vakeel hota hai. Aapke vakeel sabse bade kameene aur chor hote hai. Ye kanoon ke thekedar jo kabhi nahi honge giraftar kyuki ye kalam ke sath karte hai aapka balaatkaar. Are bhaiya, log kehte hai ki kanoon andha hota hai, main kehta hu Mumbai me kanoon ganda hota hai, kyuki har vakeel ke hath me chhota sa itna danda hota hai. Is shehar me har chiz ke liye contract hota hai. Aapka parivar wala bhi bolde hum aapse pyar karte hai, aap bolenge pehle stamp pe likh kar do aur haan, har page pe sign lagega.
English Translation:
This is the first city I have seen where even thieves are rich. But out here, they are called lawyers. Your lawyers are the biggest thieves. These so-called upholders of law will never be brought to justice because they rape you with their pen. People say law is blind, but I say the law in Mumbai is pretty dirty because every lawyer carries a little stick in this hand. There is a contract for everything in this city. Even if your family tells you that they love you, you will ask them to give it to you in writing on a legal document and don't forget to sign every page.
Needless to say, these statements have not been well digested by the legal community and multiple defamation notices have been served to Netflix Entertainment Services India LLP (referred to as Netflix India), Emmay Entertainment & Motion Pictures LLP, and Vir Saran Das. As per a news article published by Hindustan Times, a plea has also been filed before the Delhi High Court to restrain Netflix India from airing Hasmukh for allegedly maligning image and reputation of lawyers. (An update on this plea is added below.)
Out of many notices that have been served, one such notice for defamation and slander has been served by FHS Law Firm, a UAE-based law firm with a dominant position in the country. As per the details available on their website, they provide multi-lingual services in eight languages for their Emirati and expert clients in the UAE as well as overseas. A copy of their notice can be accessed here. We requested them for an interview regarding this notice which was duly accepted. Our questions were answered by Mr Vidur Dhawan, Partner – Corporate and Mr Salah Salem, Partner – Litigation.
---
1. Can you please explain in the reason for sending this legal notice to Netflix India?
This notice has been addressed to the Company in accordance with the defamatory comments made towards lawyers and the legal fraternity through its show "Hasmukh."
2. Every show has a plot of their own. In this show, Hasmukh's lawyer desperately needed money for his own personal reasons. Time and again he asked Hasmukh and his manager for the mentioned money. The standup set in Episode 4 which mentions the words that your firm found defamatory were made in reference to this particular context of the show's plot. Don't you think the scriptwriter, producer and other members of the show should be cut some slack with regards to their fundamental right of freedom of speech to go forward with their show's plot?
Freedom of speech giving freedom to abuse the source of bread and butter of millions is not a freedom but a curse if not acted upon. Yes, every drama has a plot, and we all have been viewers of various such shows in our regular lives. Does the wide reach of such platforms give them the freedom to abuse and humiliate the professionals of India on global platforms? Indian professionals like us are working throughout the world and play crucial roles in not only framing the relevant laws in India but also throughout the globe. Do you think it is fair to stand on an Indian platform and abuse us globally?  The show is viewed in multiple languages around the globe, do you think this marks a reputation for Indian qualified lawyers spread across the globe?
3. Often, notices are served with an agenda. Can you explain what your firm is expecting from "Netflix India" after serving this notice? Can you explain the direct damage that this show has caused to your law firm?
This is not about us alone, this is about each and every individual who has chosen this profound profession for himself for his society and for the honour that it holds. If in the same plot, they planned to portray a doctor held liable for negligence, I am sure they would have not gone ahead with abusing and humiliating the entire Indian medical fraternity on a global platform in this manner under the pretext of freedom of speech and to complete the plot of their show.
4. As we are aware in the case of Ajay Goswami v. Union of India, the Supreme Court in 2006 brought forth the responsible reader's test. This test was to make sure that the reader's or viewers, as the case may be, must be cautious of the content they indulge online, in this era of technology. Keeping that in mind, don't you think that legally this may not be a case of defamation as no remark has been made directly about your firm as the audience, as per responsible reader's test, are responsible for what they interpret from this show. Don't you think that the interpretation must be left for viewers?
Mixing venom in the minds of your audience and then expecting them to interpret your content in their own way has never be pardoned by any court around the world leave alone India. Defamation does not need you to point direct fingers and take names, they have stepped into the lines of defamation with both feet and the respective actions will be taken not only in India but also overseas with the relevant applicable laws in case Netflix does not apologise to the legal fraternity on a global platform but also edits the content in the provided notice period span.
5. Do you think the remarks made in the said show fall under any sort of qualified or absolute privilege? If yes, are they enough to shield the platform from liability?
The content clearly portrayed their intent to gather humour through defaming and abusing legal professionals. There has been a criminal act with complete intent. We are sure the platform would now need a dedicated lawyer to support them out of this.
6. The setting where the defamatory words were said in the show was part of Hasmukh's standup set. Don't you think such a setting is not one that is to be taken so seriously?
Indian professionals are working throughout the world and play crucial roles in not only framing the relevant laws in India but also throughout the globe. Do you think it is fair to stand on an Indian platform and abuse them globally?  The show is viewed in multiple languages around the globe, is there something more serious to await and call it comedy?.
7. These days, people enjoy watching standup comedy which has a hint of reality to make it more relatable for the audience. As per our research, many people on social media platforms subscribe to comedians who talk about politics, about college, about social anxiety as these are some emerging issues that are very relatable. Don't you think that somewhere people may be facing pressure from lawyers to pay fees? You can vouch for your firm's lawyers but don't you think it might be a possibility for other lawyers?
Naming lawyers thieves, goons, brokers, and rapists on an internationally viewed platform could not be done to give the audience a hint of reality. Making jokes on lawyers being tricky is completely different from abusing point-blank. The content portrayed will have an extremely negative impact on the young budding lawyers and law students choosing it to be their profession.
8. Concerning the last question, don't you think talking about lawyers asking for money can fall within the ambit of a "relatable topic" which in turn makes it funny or sarcastic?
People approach lawyers when in need of them and are quoted a professional fee for it. It would be acceptable if the joke as mentioned above was with regards to certain lawyers being tricky. However, thieves, goons, brokers, and rapists do not sound like relatable topics.
9. We appreciate the fact that you are standing up for lawyers in this time where the world has come to a standstill, and lawyers are still working towards the smooth functioning of the State. In this purview, do you think such statements affect the careers of lawyers?
Leave alone the sentiments of Indian qualified lawyers; the content portrayed will have an extremely negative impact on the young budding lawyers and law students choosing it to be their profession.
10. It is nowhere mentioned that Hasmukh is a Netflix Original series. It is mentioned that the creators of the show are Mr Nikhil Advani, Mr Vir Das and Team Applause. If Netflix India does decide to apologise and make up for any losses your firm has suffered, would you ask for another apology from the producers, scriptwriters, editors and other members from the show as well? Why did you decide to serve the notice to Netflix India and not to the creators and other members involved in the show?
The intent of the notice was to get the message across to the entire team and their associate concerns which has been done and we have received a reply for the same by their concerned lawyers. They may choose their shoulder to hold the responsibility for it, what we need here is an apology on a global platform as well as the immediate edit to the frivolous content. We are well prepared with litigating against the concerned responsible parties in India and overseas in case of otherwise.
11. Netflix India is currently one of the major platforms where users can watch uncensored content. Don't you think if Netflix India agrees to remove such defamatory content for Hasmukh, it will open floodgates for litigation and Netflix India may have to start reviewing all such requests for removal of content, even if a piece of content is remotely defamatory to an individual or a group of individuals?
To deal with this problem, they need to responsibly review and evaluate their content before putting it up for viewers numbered in millions. Showcasing uncensored content is completely different from abusing a community on point-blank.
12. The point of this show Hasmukh is to prove that people still have the right to speak what's exactly on their minds and not be judged for the same. In the show "Marvellous Mrs Maisel," they have portrayed a character called "Lenny Bruce" who keeps going to jail for speaking about current affairs in his standup sets. This is, therefore, not an idea limited to Hasmukh, but many people like to depict through their shows that freedom of speech is still alive, and people are still brave enough to speak about it. Don't you think your firm sending this legal notice beats the whole point of the show with respect to freedom of speech?
The point of this notice is to prove that there are a right way and medium for you to practice your freedom of speech. Abusive content dipped in poetry trigged behind a plot-driven drama and humiliating the professionals of your country on a global platform should not be the right way of practising your freedom to speech in our opinion.
13. What's your view about the regulation of such platforms? Do you think that non-regulation from the concerned Ministry and self-regulation contributes to defamation on a larger scale, in the name of delivering content?
Absolutely, this is a perfect example of it.
---
Ending Notes
FHS Law Firm is one of such parties who have sent defamation notices to Netflix India. With a plea already pending before the Delhi High Court, it remains to be seen how the honourable court deals with this matter. In one of our articles, we talked about the regulation of online streaming platforms in India. There are already multiple petitions pending before the High Courts across the country for regulation of content available on such platforms. Previously, in 2019, the Ministry of Information & Broadcasting responded in an RTI that they do not regulate or censor content on online streaming platforms. To avert censorship concerns, many online platforms resorted to adopting a self-regulation framework under the aegis of IAMAI. However, I personally believe that Hasmukh is not the only show wherein such remarks have been made for lawyers or the legal community at large. The question that has been left to answer is:
Whether online streaming (OTT) platforms can take defence under the responsible reader's test, or a line must be drawn?
---
Update on April 28, 2020: Delhi HC passed an order in the case of Ashutosh Singh v. Netflix, Inc. & Ors (CS(OS)) 120/2020). This order can be accessed here. As per the proceedings held through video conferencing on April 27, 2020, the High Court has reserved its order on the interim stay on Hasmukh's airing. Notices have been served to Netflix and the makers of the show. The case is scheduled to be heard on July 07, 2020. Prior to this date, the parties are expected to file their written submissions.
---
Update on April 29, 2020: A Delhi-based lawyer, Abhay Gupta, filed an application before the South-East District Court, Delhi under Order 39, Rule 1 & 2, the Code of Civil Procedure, 1908. The suit was filed for a permanent and mandatory injunction against Netflix Entertainment Services India LLP. The plaintiff claimed that the profession of lawyers is a noble profession and the said web series has defamed lawyers. The plaint states that being a lawyer, he is hurt by the statement and had sent a legal notice to the defendant; however since nothing has happened, this suit has been filed as a result.
The court, in its order dated April 28, 2020, observed the present suit is for an injunction, not for defamation. It is noted that there is no remark made in particular against the plaintiff and the remarks are general in nature. The order states that
In a free and democratic society, there is freedom of speech and expression. If a particular comedy series makes any remarks, it has to be read and seen in the context of artistic expression, comedy or satire and not taken literally to content that lawyers are being abused. Law is a noble profession and so are the lawyers, but the plaintiff can't contend that he is defamed as he is a lawyer. Any artistic expression has to be seen in the context of the work itself. 
Accordingly, the application for ex-parte ad-interim injunction has been dismissed and the suit is put up for consideration/maintainability on July 06, 2020.
A copy of this order, downloaded from the district court's website, can be accessed here.
---
With contributions from Srushti Iyer and Sachet Sahni.