Regulating Online Streaming (OTT) Platforms in India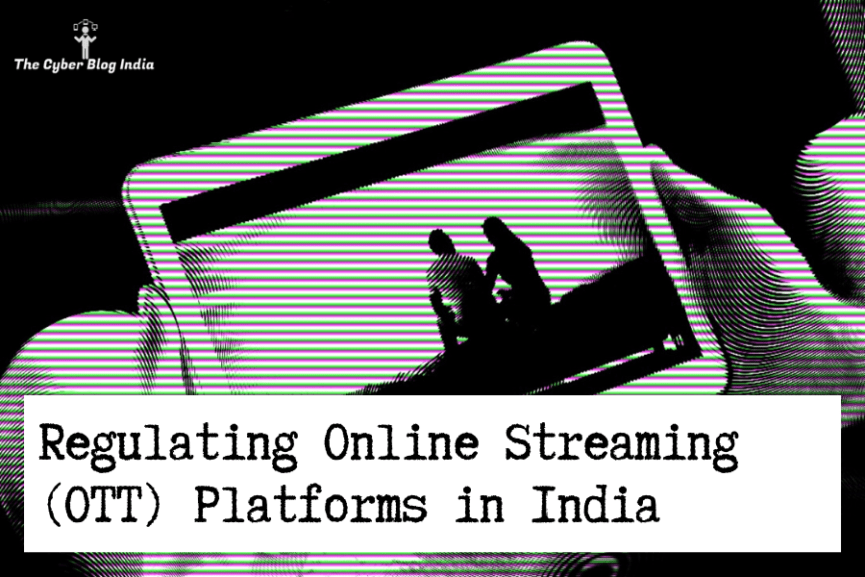 Even with censorship, the Internet is a force for change. ~ Peter Singer
Definitions and Background
Online curated content services bypass conventional television mediums and offer video and audio streaming media services as an independent product. In 2006, the Ministry of I&B defined IPTV (Internet Protocol Television) in its order as:
IPTV (Internet Protocol Television) is a system where a digital television service is delivered using the Internet Protocol over a network infrastructure, which may include delivery by a broadband connection. A simpler definition would be, television content that, instead of being delivered through traditional format and cabling, is received by the viewer through the technologies used for computer network. In case of IPTV, it requires either a computer and software media player or an IPTV set top box to decode the images in real time."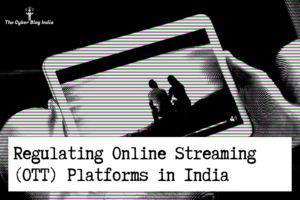 Thus, as per the definition of IPTV services given by MIB, OTT falls under the definition of IPTV, since it delivers TV and other multimedia content using the Internet Protocol over a computer network infrastructure. The innovation in OTT platform-based services has led to an impressive increase in the digital audience. With an encouraging FDI environment, online streaming platforms are widely attracted to cash in on the rapidly booming online consumption of Indian users. The digital streaming services have clearly shifted their focus on content-driven consumers, with emphasis on regional content in small towns. It is an attempt to reach out to a diverse set of consumers by investing in original content. Differentiation of content is a crucial factor to attract the attention of users.
With a prompt growth in online content consumption, it is essential to realize the prospects of current and upcoming Digital India. As compared to the previous uniform group of digital users dating back to 2016, today's users are a much more diversified and bigger with a user base of around 563.31 million internet subscribers, at an estimated growth rate of 13% per year.
Presently in India, the Central Board of Film Certification (CBFC), as per the Cinematograph Act, 1952, is a body for certification of films for a particular set of audience. Also known as the Censor Board, it certifies a movie for public viewing based on the content and whether it is in contrary to the national interest, morality and decency. In complete contrast to films and other traditional mediums, there is no regulation of digital content.
The Ministry of Information and Broadcasting (MIB) is considering regulation for OTT streaming platforms. However, Prakash Javadekar, the Cabinet Minister has said that the Ministry will not take any actions to prevent freedom of media. This has been majorly triggered from right-wing groups over Netflix series " Leila," who claimed that it created doubts over Hinduism and maligned its religious scriptures.
According to a senior Sangh Parivar member, "It represents ancient Hindu concepts such as Aryavarta and Shuddhikaran as oppressive and dictatorial, suppressing women and restricting their reproductive rights. Nowhere in Hindu scriptures will you find such an occurrence, which is why we raised concerns about the series being defamatory and insulting,". Earlier this year, the RSS held a series of deliberations on "anti-Hindu" content on the internet and prepared an analysis contending that content available on these digital streaming platforms was shielding Hindu phobic propaganda.
Regulating OTT platforms and the Honourable Courts
There has been an ongoing tussle in the purview of content regulation on such digital streaming platforms. In a PIL filed by Mr Padmanabh Shankar in the Karnataka High Court, a division bench comprising of the Chief Justice AS Oka and Justice M Nawaz held that films, serials, and other multimedia contents being transmitted, broadcasted or exhibited through internet platforms like YouTube, Google India, and online streaming platforms like Hotstar, Amazon Prime, Netflix and Alt Digital, cannot be regulated under the Cinematograph Act, 1952.
The petition laid emphasis on the inadequacy of the Indian regulatory framework with regards to serials, films, and other types of vulgar content that primarily affect children. The court observed that these films, serials and multimedia content is based on user requests and these transfer of files and its facilitation through the internet cannot be construed to be brought under the purview of the Cinematograph Act. The court also made the following observation:
As far as the guidelines placed on the code for self-regulation of online curated content providers are concerned, we must note that the same does not create any enforceable right in favour of citizens and therefore do not prevent the state from considering what safeguards and regulations within the four corners of law can be provided.
In another petition (WP 18801/2019) filed before the High Court of Madhya Pradesh Bench at Indore by Maatr Foundation, an NGO, regarding the regulation of content made available by the OTT platforms, it has been alleged that the available content is uncertified, obscene, vulgar, obscene, unregulated, sexually explicit, and legally restricted. It was emphasized that such content objectifies women and portrays them in a bad light, hence making them susceptible to indecent thoughts and hampering their fundamental right to life. The petition also contended that these OTT players should be brought under the definition of intermediaries and be held liable for offences under Sections 67, 67A, and 67B of the Information Technology Act, 2000 and Sections 292, 293, and 294 of the Indian Penal Code, 1860. The division bench comprising of Justices SC Sharma and S Shukla issued notices to the Central Government and ten OTT platforms (AltBalaji, Netflix, Amazon Prime, Ullu, Voot, Vuclip, Hoichoi, Yashraj Films, Arre, and Zee5). As of the last hearing, the matter is posted for hearing on February 04, 2020, and it remains to be seen how this writ petition folds out.
A PIL for the introduction of regulatory mechanisms (PIL 127/2018) has also been filed at the Nagpur Bench of the Bombay High Court. The petitioner, Ms Divya Gontia, pleaded for setting up of pre-screening committees before the content is put up on digital platforms. The petition highlighted certain obscene scenes being shown on shows such as Gandi Baat (ALT Balaji) and Sacred Games (Netflix). A division bench comprising of Justices BP Dharmadhikari and MG Biradkar had issued notices to four ministries – Ministry of Information & Broadcasting, Ministry of Electronics and Information Technology, Ministry of Law and Justice, and Ministry of Home Affairs. Any substantial progress on this PIL is yet to be seen.
Justice for Rights Foundation, an NGO filed a petition in the Delhi High Court (WP(C) 11164/2018) to issue guidelines for the regulation of content available on digital platforms, which included shows like Game of Thrones, Sacred Games, etc.. However, the bench comprising of Chief Justice R Menon and Justice VK Rao dismissed the petition after it was brought to the court's notice by the government that these digital platforms were not under the mandate to obtain a license from the MIB since the matter was outside its domain. A copy of the court's order is available here.
Later, the NGO filed an appeal in the Supreme Court against the decision of the Delhi High Court. The appeal contended that the OTT services provided on these digital platforms are not just portraying unregulated, unlicensed content, but in addition to that, are running ungoverned as well. They also claimed that this has led to the creation of another class of broadcasters with government agencies discriminating against consumers and cable operators. The Supreme Court Bench comprising of the Chief Justice R Gogoi and Justice S Khanna issued has issued notices to the concerned ministries. This special leave petition (SLP (C) 10937/2018) is likely to be taken up for hearing on February 07, 2020.
RTI applications and responses
An RTI application filed with registration number MOIAB/R/2019/50364 asked the following questions to the Ministry of Information and Broadcasting:
Which government authority/body has the responsibility to regularize or monitor the content on these online streaming services?
What due diligence is being conducted while registering these services for streaming content in India?
Whether the government plans to bring more accountability and responsibility to these service providers so that they are careful about the content they are offering?
The said Ministry, in its response, stated that it does not register or regularize any online portal. And subsequently, this RTI application was transferred to the Ministry of Electronics and Information Technology. In its response, MEITY specified that
Ministry of Electronics and Information Technology (MeitY) does not censor or regulate content.
Intermediaries, as defined in IT Act 2000, have to follow due diligence as prescribed in the Information Technology (Intermediaries Guidelines) Rules, 2011.
No information is available with Cyber Law and Cyber Security Group of this Ministry.
Government initiatives and self-regulation
On 4 April 2018, the Ministry of Information and Broadcasting constituted an interdisciplinary committee to scrutinize the regulatory frameworks for online broadcasting and content on social media. Since then, there has been an induced pressure on OTT platforms to self-censor certain content depicting vulgarity and obscenity. The committee shall comprise of secretaries of the ministries of I&B, Law, Home, and Telecom, and the DIPP, along with representatives of the Press Council of India, News Broadcasters Association, and Indian Broadcasters Federation, to formulate policies for online broadcasting and news portals. The Terms of Reference (ToR) for this committee included:
To delineate the sphere of online information dissemination which needs to be brought under regulation, on the lines applicable for print and electronic media.
To recommend appropriate policy formulation for online media/news portals and online content platforms including digital broadcasting which encompasses entertainment/infotainment & news/media aggregators, keeping in mind the extant foreign direct investment (FDI) norms, programme & advertising Code for TV channels, norms circulated by PCI code of ethics framed by NBA and norms prescribed by IBF.
To analyze the international scenario on such existing regulatory mechanisms with a view to incorporate the best practices.
Later in July 2018, this committee was dovetailed with another committee formed by the MEITY as both the committees had similar ToRs.
In an attempt to avert censorship concerns, online streaming platforms such as SonyLiv, Hotstar, Voot and Netflix among several others have adhered to a self-regulatory code regarding non-exhibition of any sort of content depicting hatred or disrespect towards religious sentiments and national interests. The self-regulatory code of best practices, under the aegis of IAMAI, also includes signatories such as Zee5 and ALT Balaji. Although this self-regulation can be viewed to curb any governmental action towards these digital streaming services, some notable exclusions from this self-regulation include Amazon Prime Video, TVF Play, and Hungama Play.
Part B of the said code specifies the types of prohibited content. It includes:
Content which deliberately and maliciously disrespects the national emblem or national flag;
Content which represents a child engaged in real or simulated sexual activities or any representation of the sexual parts of a child for primarily sexual purposes;
Content which deliberately and maliciously intends to outrage religious sentiments of any class, section or community;
Content which deliberately and maliciously promotes or encourages terrorism and other forms of violence against the State (of India) or its institutions; and
Content that has been banned for exhibition or distribution by online video service under applicable laws or by any court with competent jurisdiction.
The initiative of self-regulation syncs all the major stakeholders towards safeguarding the interests of users in terms of content scrutinization and creative freedom. According to the code, these digital streaming services providers will endorse procedures to establish a crystal-clear classification for disclosure in terms of the nature of the content available. They will also adopt measures to issue viewer discretion advisories to aware the users about the accessibility of their content.
This code also anticipates setting up a complaint redressal mechanism to assure the conformity of the code and redressal of user grievances. The establishment of a department solely for addressing the complaints from consumers is to ensure that there is a singular point of association for all such grievances in compliance with the code. In case of violation of the code, the department concerned, after holding appropriate discussions, will have to communicate to the aggrieved person within 30 days along with the precautionary measures taken to address the complaint. MIB and MEITY may forward the complaints received to the concerned department of respective OCC providers. The IAMAI code defines OCC providers as online curated content providers.
Author's Ending Notes
There are certain aspects the IAMAI code intends to focus, with disclosure being the first pinch bar. However, it is essential to note that this self-regulation code is not censorship. This code for self-regulation for these streaming video platforms is a Faustian bargain since the content is often of sociological concern. There are specific questions of due importance which arise before us notably,
"Can we move to a situation of the diversity of content with classification"?
It is quintessential to engage with the legal system of the country and create certain norms to avoid a corrupt base. The judicial system is bound to approach the loopholes in the existing laws. Therefore, it becomes more critical to set up an ideal regulatory framework to balance the needs of the industry by focusing on both: carriage, as well as, content. The constitutional conventions are deviating towards a liberal establishment, in lieu of offences related to the content, with Article 19 being principally active, and reasonable restrictions being seen as extraordinary constraints.
Digital is going to change the facets and proving to be a game-changer. There have been two factions about the regulatory framework for the content on online streaming platforms. If we talk about a particular opinion against censoring, it is vital to note that every time, there shall exist something to offend at least someone. So if we are treading the path of regulations, we will have to end up regulating almost everything. There is no distinction between media and communication, content and comment, and hence the onus rises more to carve out and regulate everything separately. With regards to the present scenario, India does not seem to be going anywhere to enforce this regulatory framework. It should be crystal clear that it is not a censorship certificate that delineates our choices. Content utilization has drifted from push to pull, and artificially-intelligent code enables us to have an informed approach. There needs to be a differentiation between private and public viewership of content, in a relevant context.
It is crucial to realize that we have diversified content available online, and we need to distinguish responsible content for regulation. All these OTT service providers do not fall under the ambit of intermediaries under the IT Act, contrary to the claims of the ministry. However, only the platforms with content class shall fall under the definition of intermediary. The lack of provision to obtain a license has enabled online streaming platforms to take advantage of the legal lacunas. The regulation, prima facie, is dependent on the content accessed by users. For a policy framework to be enacted, there needs to exist an extensive framework and a proper structure for the regulation of digital broadcasting. At the same time, there is a significant problem of prior approval and regulation of the content. It is difficult to determine the same for digital streaming platforms since it is an amalgamation of content which further toughens the industry's stand against pre-authorization.
The present scenario for the Indian courts to determine the extent and applicability of regulatory frameworks is disastrous, and it would be erring to hand over the onus to Ministry of Electronics and Information Technology in its entirety. The vital question posed is whether the broadcasting of content on such digital streaming platforms exceed the reasonable restrictions under Art 19(2)? It becomes crucial to realize that these regulatory mechanisms are not hostile, especially when traditional mediums of television and cinema are covered under the umbrella of certain regulations. It is the onus on the courts and ministeries to step up and decide about the objective to be accomplished through these regulations. It is to be observed whether there is a nexus between the objective of this regulatory framework and uniformity of content regulation in terms of traditional mediums.
These regulatory gaps and grey areas are alarming.
Even though India has failed previously to bring in a Convergence Law in 2001 through the Communications Convergence Bill, 2001, is it the right time for us to have a converged communication regulation?