Scrapping of Section 66A: Granting a right and preventing its misuse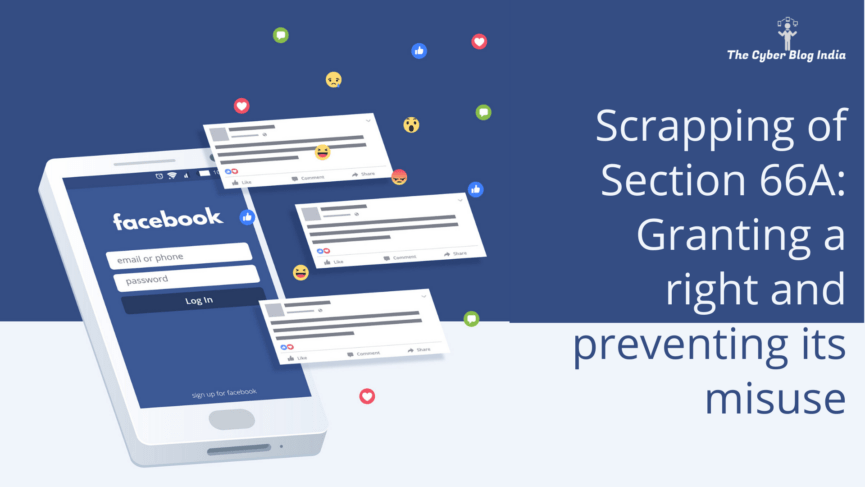 The Supreme Court's judgement in Shreya Singhal v. Union of India is considered as a landmark judgement that upheld the right to free speech and struck down Section 66A of the Information Technology Act, 2000. Was this really a victory for free speech? Taking a closer look at the existing cyber laws in India, one might feel that the honourable court neglected the fact that Section 66A was needed to address the undermining of human rights and dignity done in the name of free speech on social media platforms.
Background
This petition had come up before the court following the arrest of two girls in Maharashtra in November 2012, for commenting on some Facebook posts that talked about possible shut-down in Mumbai owing to the death of the Shiv Sena chief Bal Thackeray. The arrest triggered outrage and dissatisfaction over the application of Section 66A. The challenge before the court was that Section 66A provided for broad parameters allowing whimsical and unreasonable interpretation and understanding by law enforcement agencies.
Another major problem the court highlighted was a lack of definitions in the Information Technology Act, 2000 to minimize the vagueness in this provision. The petitioner argued that the scope of this provision goes far beyond the allowed "reasonable restrictions" on freedom of speech and expression. After hearing the arguments from both the sides, the Supreme Court struck down the provision in its entirety. The court held that the terms used were undefined, making the statute void on the ground of vagueness. It also held that it was capable of severely encroaching upon the freedom of speech and expression.
Section 66A, Ambiguity, and Misuse
The social media needs control; restrictions on what people post and share are very much needed. A balance must be made between 'granting a right' and 'avoiding its misuse'. According to the data published by the National Crime Records Bureau (NCRB), 1491 cases were pending under Section 66A in 2014. The striking down of this provision may be termed as a necessity because the lack of guiding principles had given police authorities' broad discretionary powers to determine the veracity and severity of allegations regarding the content. Section 66A prescribed a punishment up to 3 years with a fine for:
sending any information that is grossly offensive or has menacing character
sending false information, to cause annoyance, inconvenience, danger, obstruction, insult, injury, criminal intimidation, enmity, hatred or ill will
sending electronic mail/message for causing annoyance or inconvenience or deceive/mislead the recipient
The provision may have been vague and unclear on certain terms like the word 'annoyance', but it was a tool to curb and control offensive content on social media platforms. At times, continuously receiving offensive messages through social media platforms may push an individual into depression or bring in suicidal tendencies. On the other hand, such actions might be defendable under the guise of free speech. Considering the number of internet users increasing continuously in India, and the NCRB data available, this provision provided a genuine opportunity for the victims to seek available remedies. While it gave arbitrary powers to the law enforcement agencies, striking it down took away a remedy that users like us had.
Some might argue that the court struck down this provision without appreciating the fact that the actual fault lies within the laws about arrest in India. This section had always been considered to be wrongly interpreted because of the misuse of powers by the police, who failed to differentiate between harmless free speech and genuinely offensive statement due to lack of guiding principles.
An argument in favour of Section 66A: Why do we need a similar law?
While Section 66A has been scrapped, we need a law to implement the right to free speech and expression on the internet, but on workable and practical grounds. The distinction must be established between free speech and speech intended to cause criminal intimidation to an internet user. While there is no Section 66A right now, Section 499, 506, and 509 are relevant provisions under which a complaint can be filed.
At the same time, it is crucial to accept that the internet has provided a platform for the perpetrators to commit new forms of technology-based crimes. Section 66A indeed had anomalies, but it provided for a suitable remedy in cases where communal/religious harmony was disrupted by the transmission of offensive content. With Section 66A declared as unconstitutional, genuine victims have no other option than to file a complaint under the provisions of the Indian Penal Code, 1860.
Considering the diverse nature of Indian population and free speech being susceptible to abuse on political, religious, and communal grounds, the authors believe that we are not ready yet to have an uncontrolled and unrestrained right to free speech. A line has to be drawn.
Reports published by NCRB in the last five years clearly suggest that cyber crimes are rapidly increasing in India. Without Section 66A in place, the police have become a toothless tiger. Even if we do not have a 66A, we need a provision which is specific and thoroughly covers the problem that 66A aimed to cover. The ball is now in the Parliament's court, and it remains to be seen whether a similar provision is incorporated in any upcoming amendments.
Conclusion
Provisions of law are vulnerable to misuse and manipulation. The mere prospect of abuse cannot be a ground for removing a provision in its totality. While we have seen various instances of special law prevailing over general law, there is no provision in the Information Technology Act, 2000 under which remedy can be sought if a message/post/email is merely offensive, neither obscene nor sexually explicit. Instead of declaring the entire provision as unconstitutional, it could have been read down along with issuing guidelines for police officials while dealing with cases involving Section 66A. Considering the fact that the right to free speech aligns with the duty to protect one's reputation, the Shreya Singhal case was an excellent opportunity to bring out a workable distinction between the protection of fundamental rights in cyber space and reasonably restricting them at the same time.
---
This article has been jointly written by Shivangi Pandia and Prateek Charan. They are undergraduate students at the Maharashtra National Law University, Nagpur.
Disclaimer: Views or opinions expressed in this article, whether impliedly or explicitly, are personal.
---
Edited by Raj Pagariya
Featured Image Credits: Design vector created by freepik – www.freepik.com