Is the clock ticking for Tiktok?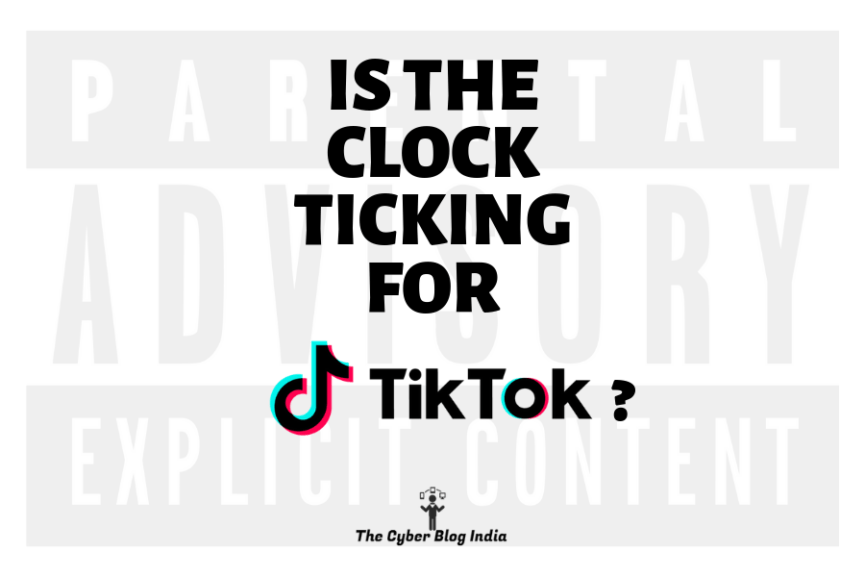 India as a country has been known for its culture and religious diversity since time immemorial. In the past few years, great concerns regarding obscene and pornographic videos on the Internet have been raised by various groups in society. The Internet has become a necessity these days and with over 40 crores Internet users in India itself, it has become even more difficult to control the flow of pornographic content on the web and social media platforms.
How does Tiktok come into the picture?
One such social media platform is Tiktok where we, as well as many users in India, have encountered pornographic or obscene content being shared without any restriction. Tiktok is a Chinese video making app which was basically meant for making and sharing short-duration videos. Due to its sudden popularity in the nation, where 65% of the population is youth, this became a mode to earn name, fame and money. This application has also become an alternative for employment for some since the application gave money to people with a large number of followers and the most followed people became social media influencers. Simply search on Google – how to make money on Tiktok – and the search results will be enough to prove the last point. It is pertinent to note that India has 120 million monthly active users on Tiktok. We have also seen a few cases where the parents have bought expensive mobile phones for their children as they wanted to pursue modelling and hence, for them, Tiktok seemed a good way to start.
Just like every good thing has a negative side, this has too. Some users of this app started posting vulgar, explicit and pornographic content. Younger children using the application were prone to viewing this kind of content as it is uncensored and unregulated. In the last few months, there have been multiple incidents where Tiktok users harmed themselves while making a video. For example,
The application has already been banned in Bangladesh (in February 2019) and in Indonesia (in July 2018) for pornographic content and inappropriate content respectively. Moreover, it was fined $5.7 million in the United States for illegally collecting information about children in February 2019.
Who filed the petition?
A petition was filed in the Madras High Court by lawyer-cum-social activist S Muthukumar, about the pornographic content, child abuse, cultural degradation and suicides resulting from Tiktok. It was also stated that the app in question left younger children vulnerable to pedophilic strangers.
What has happened so far?
Noting all the damaging effects of the app, the two judge-bench of Justice N Kirubakaran and Justice SS Sundar of Madurai Bench of the Madras High Court on April 3, 2019, ordered an ex-parte interim order asking the Central Government to ban the alleged app. The court order stated that the app is mostly used by mostly teenagers and it is found to be addictive. In addition, the court expressed concerns about the application hosting inappropriate content including pornography.
Furthering which, the developer company ByteDance Technology (India) Pvt Ltd requested to suspend the ban by filing a Special Leave Petition in the Supreme Court. The honourable court refused to hear the matter on an urgent basis as well as denied to stay the order passed by the Madurai bench of the Madras High Court as the matter is still sub-judice. The Supreme Court on April 15, 2019, directed the Madras HC to hear the case for ad interim relief and posted the case for hearing on April 22, 2019.
On April 16, 2019, the Madras HC appointed an independent counsel to assist the court in assessing the impact of the application and pushed the hearing date to April 24, 2019.
In order to comply with the April 03 order of the Madras HC, the Ministry of Electronics and Information Technology (MEITY) issued a directive to Apple and Google requesting them to abide by the Madras High Court orders to take down the app to prevent further downloads from Google Play Store and Apple's App Store.
In a company statement, TikTok stated that it was committed to following the local laws and had faith in the Indian Judicial system. He added that TikTok believes in a healthy and pure in-app environment and will focus on such critical topics to end this for once and all. Tiktok is also dedicated to following the Code of Ethics which were laid down by the Internet and Mobile Association of India (IAMAI) and would also help curb the fake political news on their application. The company has claimed to have deleted 6 million videos which violated the terms of use and community guidelines.
If you are a Tiktok user, should you be worried?
Although the application is not available for downloading anymore on Google Play Store and Apple's App Store, the users who already have the application installed on their phone can continue to use the application without any restriction. On a similar note, the installation of Tiktok has only been blocked from the official sources which will essentially lead to a spike in the downloads via untrusted third-party sources. There is also a possibility that these untrusted sources might include malware in the APK file which will have disastrous effects on an individual's privacy. Keeping a track of user activities, uploading user data to a server, stealing user data, blackmailing, and harassments are some of the undesired outcomes.
What's next?
In this case, there can be two extreme sides of the argument on the application being banned.
First, banning the application from the online stores is a right step as we need to take stringent measures to prevent obscene or sexually explicit content reaching to the internet users who are minor.
Second, putting a blanket ban on one application is not going to solve the problem. Necessary steps must be taken to ensure that such type of content is not accessible by the minors.
Here, we agree with both these arguments to an extent. Self-regulation is a key aspect for applications like Tiktok and they have acknowledged the fact in their statement that they have removed around 6 million videos from their platform. However, we do not have any regulatory mechanisms which deal with issues like this – neither there is a regulatory body nor there is a law which specifically addresses this issue. The onus not only lies on applications like Tiktok but also the government to implement necessary steps to ensure that the required checks and balances are maintained on platforms like Tiktok. With the next hearings scheduled on April 22 and April 24 in the Madras HC and the Supreme Court respectively, it will be really interesting to see how this case unfolds.
---
On a Lighter Note
Many internet users have found the Madras HC order as a relief and there is a flood of memes being shared across major social media platforms on this incident. Abhay Singh Sengar, our Creative Head & Legal, also shared one post which is a compilation of such memes on this incident.