Karmanya Singh Sareen & Anr. v. Union of India & Ors.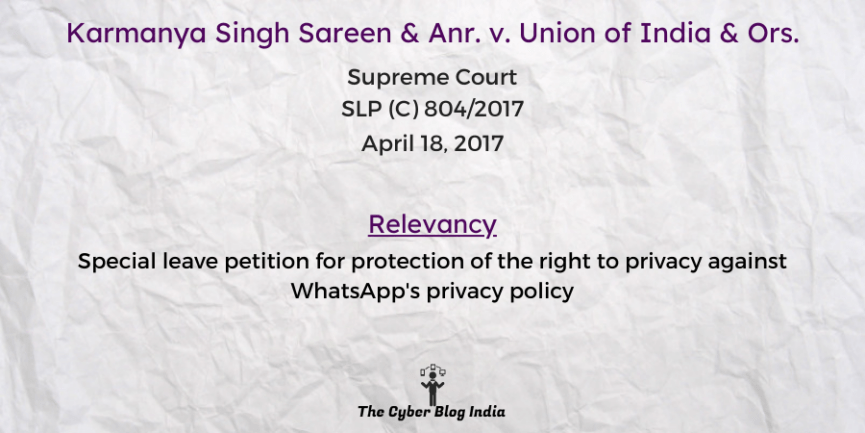 Karmanya Singh Sareen & Anr. v. Union of India & Ors.
(2017) 10 SCC 638
In the Supreme Court of India
SLP (C) 804/2017
Before Justice Dipak Misra, Justice A K Sikri, Justice Amitava Roy, Justice A M Khanwilkar, and Justice M M Shantanagoudar
Decided on April 18, 2017
Relevancy of the case: Special leave petition for protection of the right to privacy against WhatsApp's privacy policy
Statutes and Provisions Involved
The Information Technology Act, 2000 (Section 79)
The Constitution of India (Article 14, 19, 20, 25, 26, 28, 29, 136, 145)
Relevant Facts of the Case
The petitioner alleged that WhatsApp's policy can not be accepted.
According to them, it suffers from a constitutional vulnerability as it affects the cherished right to privacy of an individual.
Hence, they have filed the present petition for the protection of the right to privacy.
Prominent Arguments by the Advocates
The petitioner's counsel submitted that WhatsApp cannot formulate a constitutionally vulnerable policy affecting individual's rights under the garb of data-sharing.
The respondent's counsel submitted that WhatsApp doesn't share any data with third parties. Also, their action is in compliance with Section 79 of the Information Technology Act, 2000 and is also in consonance with the Information Technology (Reasonable Security Practices and Procedures and Sensitive Personal Data or Information) Rules, 2011.
The Attorney General of India submitted that a regulatory framework will safeguard this database to achieve the concept of net neutrality.
Opinion of the Bench
The court was of the view that the petitioner's counsel must get more time to formulate propositions.
Final Decision
Listed the matter on April 24, 2017.