Cyber crime and laws in Japan: An overview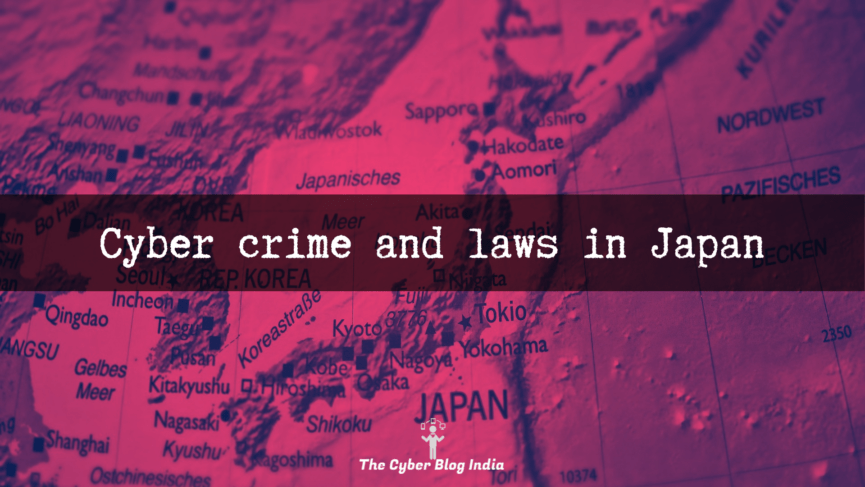 This is my third article in the series covering cyber laws of various countries. Through this series, the objective is to discuss what they are doing to deal with technology-facilitated crimes. The first and second articles covered New Zealand and Norway, respectively. In this article, I am focussing on Japan. The country ranks 19th in the HDI rankings. Over the years, it has been considered as one of the most literate and technologically advanced countries. It is the seventh most powerful country in the world. Overall, the country has a low crime rate, but cyber crime has shown an increasing trend. Let's see if Japan has taken sufficient measures to control the menace of cyber crimes.
Important Statistics
As of 2019, Japan had 119 million active internet users. In the Asia-Pacific reason, this is the fourth highest user base. Japan's National Police Agency (NPA) recorded 130,000 cases in 2017, followed by 127,000 cases in 2018. Cyber crime caused an estimated loss of $2.1 billion to Japan in 2017. A 2018 survey found out that 40% of Japanese citizens have not heard about cyber bullying. According to NPA reports, phishing is a leading cause of online scams while child pornography is a major type of cyber crime.
Cyber Laws in Japan
1. The Penal Code, 1907
Japan's Penal Code, 1907 consists of the following offences, punishments, and penalties:
Infecting a computer system with improper command records such as a virus: Imprisonment up to 3 years or fine up to JPY 500,000
Storing such improper command records: Imprisonment up to 2 years or fine up to JPY 300,000
Obstructing a business by damaging a computer or giving improper command records: Imprisonment up to 5 years or fine up to JPY 1,000,000
Obtaining illegal financial benefits by providing false information/records: Imprisonment up to 10 years
Obstructing a business by hacking: Imprisonment up to 5 years or fine up to JPY 1,000,000
Illegal benefits obtained through phishing: Imprisonment up to 3 years
2. The Act of the Prohibition of Unauthorized Computer Access Law (UCAL)
This statute disallows the following acts:
Unauthorized access, including hacking: Imprisonment up to 3 years or fine up to JPY 1,000,000
Obtaining or keeping the identification code wrongfully: Imprisonment up to 1 year or fine up to JPY 500,000
Provide illegally obtained identification code to someone else: Imprisonment up to 1 year or fine up to JPY 500,000
Impersonating an access administrator through acts such as phishing: Imprisonment up to 1 year or fine up to JPY 500,000
3. Basic Act on Cyber Security
This act lays down the responsibilities of the government for maintaining and upgrading the country's overall cyber security posture. It has also established a Cyber Security Council. This council, in coordination with support from businesses, is responsible for the implementation of cyber security measures across various industries.
4. The Telecommunication Business Act
This act seeks to protect the secrecy of communications. If a telecommunication service provider knowingly infringes the secrecy of communication, it breaches Article 4(1) of this act.
5. Act on the Protection of Personal Information (APPI)
This is the primary data protection legislation in Japan. It defines personal information as "any information which helps identify a person, like name, date of birth, or any other description." An organization cannot disclose personal information without receiving consent from the person it belongs to.
6. Child pornography laws
The act on "Punishment of Activities Relating to Child Prostitution and Child Pornography, and the Protection of Children" is a special legislation focussing on child pornography and related offences in Japan. This act prescribes heavy punishments for child prostitution and child pornography. Even after the implementation of this law, reports suggest that child pornography is readily available. In one prominent incident, Japanese police arrested six individuals for abusing a total of 168 minors. Victims were between 4 to 13 years of age while the perpetrators were 20 to 66 years old.
Ending notes
Over the years, Japan has maintained a dominant position in the global economy. While it was mostly successful in controlling the crime rate in the country, cyber crime has appeared to be a prominent issue for the country. As per my initial research, the existing legal framework is sufficient. However, there is always a scope for modifying the current laws and introducing new laws to match the pace of technological developments.
---
Interested in contributing to our blog and knowledge base? Write to us at contact@cyberblogindia.in and elaborate on how you can help us in creating a safer cyber space.
Featured Image Credits: Image by MichaelGaida from Pixabay