Cyber crime and laws in New Zealand: An overview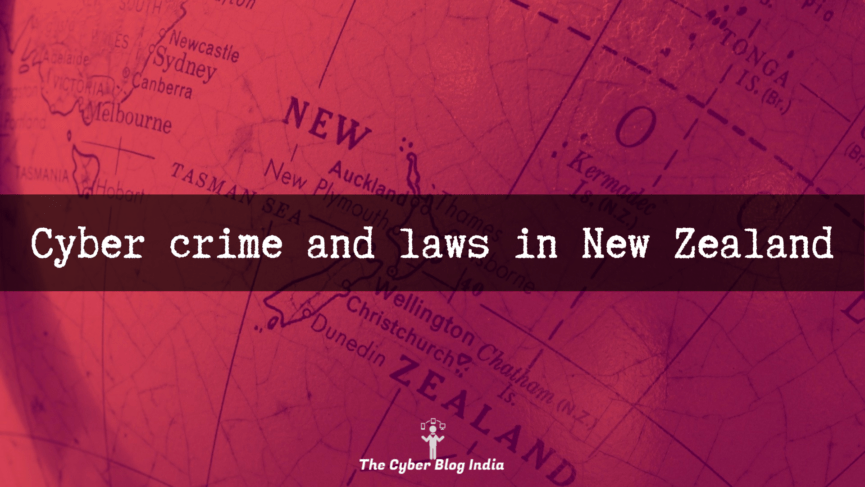 I had heard it often that cyber crime is one of the major issues of the 21st century, in terms of prevention as well as the number of incidents. In over six months of my association with The Cyber Blog India and going through the cases we get daily, I now have a fair idea of ways in which cyber crimes affect individuals and different spheres of their life – mental, emotional, and financial. To deal with cyber crimes, countries across the globe have adopted different approaches. I will be writing a series of articles covering cyber laws of various countries and discuss what they are doing to deal with technology-facilitated crimes.
In the first article of this series, I am focussing on New Zealand. The country ranks 14th in terms of Human Development Index (HDI), and it lost close to $6.5 million because of cyber crimes. For Q2 2020 (April to June), it lost $1.7 million more than what was reported in the last quarter. On average, it takes around 28 days to resolve a cyber crime case in New Zealand.
Important Statistics
As per the Global Peace Index 2018, New Zealand was ranked the second safest country. However, an April 2020 report stated that 1/3rd of New Zealanders have faced a cyber crime incident in the past 12 months. A NortonLifeLock Cyber Safety Insights Report made similar observations and estimated that 36% of citizens (approximately 1.2 million) became cyber crime victims in 2019. Additionally, nearly 5.4 million man-hours, or an average of 4.3 hours/victim, were dedicated to solving the problems created due to cyber crimes.
One study found that 1 out of every 6 adults in New Zealand has experienced some form of identity theft. This number, in terms of population, is close to 605,000 and 5% victims were directly affected in 2019. The same study found that:
67% of the participants had no idea what to do if their identity is stolen.
85% of the participants accepted that they need more information about possible measures.
56% of the participants were seriously concerned about their identity being stolen.
Another report found that New Zealanders' distrust of social media providers exceeds the global average. The global average stands at 43% while in the case of New Zealand, the number stands at 54%.  It was also found that NZ citizens trust health care services and government more as compared to the global average when it comes to healthcare services, administration, business, and protection of personal data.
Cyber Laws in New Zealand
1. The Crimes Act, 1961
Section 249 to 252 cover cyber crime and related offences under the head "Crimes involving computers." A cyber crime is defined as a criminal act which can only be committed using the Internet where the device or the network is the target o the offence. This is regardless of what a criminal intends to achieve. It can be political, financial gain, espionage, or any other reason. As per the Act:
A person, who acquires any computer system, whether directly or indirectly, with dishonest intention or deception and without any right and gets hold of any property, privilege, service, pecuniary advantage, valuable consideration, benefits, or trigger any loss, is liable for imprisonment up to 7 years.
A person, who either with intention or due to recklessness, destroys, causes damage or happens to alter any computer system with the knowledge that their action might cause danger to life, will be liable for imprisonment up to 10 years.
A person, who offers another person to obtain from him, buy from him, agree to buy from him, or in any other way sells software which enables that person to access a computer system without authorisation, and he knows that doing such a thing is a commission of an offence or promotion of commission of an offence, will be liable for imprisonment up to 2 years.
A person, who either directly or indirectly, acquires any computer system with an intention but without authority and with the knowledge that he is doing so without authority or recklessly, will be liable for imprisonment up to 2 years.
2. The Harmful Digital Communications Act, 2015
This legislation sets up certain offences when a person is being harassed or bullied through online platforms. Online platforms include texts, emails, websites, applications, and social media platforms. The main aim of this act is to lay down a speedy and friendly way to tackle such cyber crimes and streamline takedown of harmful content, while at the same time, ensure the freedom of speech and expression.
Under this act, NetSafe, an independent non-profit online safety organisation, runs a helpline service to support individuals experiencing harm online, such as image-based abuse and cyber bullying. It also runs campaigns to educate and sensitise end-users about the threats they may face and how to deal with them. In New Zealand, an individual can even approach the District Court for requesting the removal of a harmful post with immediate effect, among other remedies.
This act also establishes certain principles to be followed online for acceptable behaviour. These principles say that "digital communications" that are sent to you or are about you, should not:
Reveal your sensitive and personal information
Threaten, intimidate, or have menacing character
Be extremely offensive in the eyes of a well-judged and reasonable man
Contain indecent/obscene material
Be of harassing nature
Contain false allegations about you
Contain such information or data which was given by you to someone for private use
Endorse a third person to send you such material which will cause harm to you
Persuade you to give up your life
Discriminate or degrade you based on your colour, race, ethnic or national origins, religion, gender, sexual orientation, or disability.
Reporting a cyber crime in New Zealand
Ending notes
Based on initial research, it appears that New Zealand is quite proactive when it comes to dealing with cyber crimes. Organisations like NetSafe are actually the need of the hour that can facilitate reporting of cyber crimes and provide the necessary support and assistance to victims. As cyber crimes and cyber attacks continue to grow in numbers and impact, it has become an uphill battle for governments and law enforcement agencies across the globe.
---
Interested in contributing to our blog and knowledge base? Write to us at contact@cyberblogindia.in and elaborate on how you can help us in creating a safer cyber space.
Featured Image Credits: Image by cmccarthy2001 from Pixabay