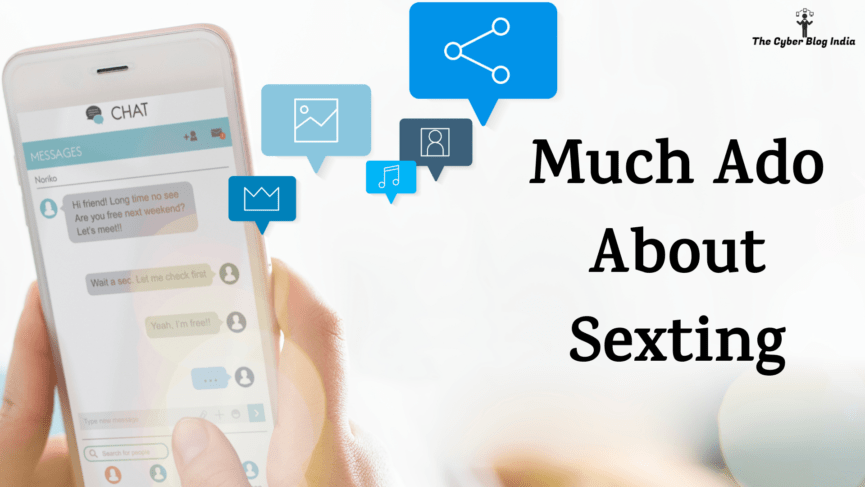 Today, we live in a world where even a kindergarten child needs a mobile phone to study. Thanks to the pandemic, we all have become slaves of technology. Is it even possible to imagine our lives without our mobile phone, laptop, and the Internet? While technology helps us in every aspect of our lives, are we failing to use it judiciously? Since I categorise myself as the believer of old school love, I never imagined that the feeling of love and intimacy would be born, grown, and killed online. The combination of technology and romantic relationships is mismatched. Social media platforms are meant to stay in touch with people and not perform activities that are not meant to be done online. This article will talk about how sexting has gained popularity in recent times and how it can be harmful.
What is sexting?
We can define sexting as sending texts, pictures, or videos that are sexually explicit through online platforms over the Internet. These platforms can include social media platforms like Facebook and Instagram and messaging apps like WhatsApp. The consequences of sexting, which I'll talk about later, are not as simple as the definition of sexting. People look at sexting as a way of maintaining a healthy relationship with their partners. This is not wrong until they see it as a means of communication, love, and other big adjectives involved in a relationship. Many believe that sexting is the only sign of trust in a relationship or a good way to get compliments. If the partner actively participates in sexting, it is the world's best relationship.
A 2018 investigative study found that 1 out of every 4 teenagers received a sexually explicit text while 1 out of every 7 sent a sexually explicit text. Also, at least 1 teenager out of 10 forwarded these sexts without consent.
Relevant laws in India
Sexting is not wrong per se if it happens consensually between two adults. However, it may result in a crime if:
1. Sharing pictures/videos without consent
Section 354C of the Indian Penal Code, 1860 prescribes punishment for an individual who disseminates the pictures of a woman when she did not give her consent for the dissemination. For example, A allows B to capture her images but does not consent for their dissemination. However, B forwards the pictures to C and D. This act of B will be punishable under this provision for a minimum of one-year imprisonment along with a fine.
2. Publishing/transmitting obscene or sexually explicit content
You can land in trouble if you publish or transmit obscene material online, as per Section 67 of the Information Technology Act, 2000. This section provides for imprisonment up to three years and a fine of up to five lakh rupees. One of our previous articles discusses obscenity and Indian law in detail here.
Section 67A is more relevant to sexting as it specifically mentions sexually explicit acts. This section provides for imprisonment up to five years and a fine of up to ten lakh rupees.
3. When sexting involves a minor
In this context, Section 67B of the Information Technology Act, 2000 is very crucial. It is very easy to create a fake account and use somebody else's picture. As such, it may be difficult for you to identify the real age of the other party. You might end up sharing your sexually explicit pictures with a minor without even realising it.
Section 67B of the Information Technology Act, 2000 provides punishment for various acts involving minors. For example, it is a crime to seek, browse, collect, or distribute content showing children in an obscene, indecent, or sexually explicit manner. This provision covers facilitating online abuse and enticing children into online relationships. Similar to Sections 67 and 67A, it provides punishment for the publication of sexually explicit content involving minors. The Protection of Children from Sexual Offences Act, 2012 also comes into the picture when it comes to minors.
Potential problems
Legal issues are one thing, but there are other consequences as well. Suppose you share your pictures with your partner and ask them to delete them as soon as they see them. What is the guarantee that your partner will delete it without sharing it with anybody or saving it somewhere else?
Let's take another example. You have shared your pictures. You and your partner have a relationship built on trust, and they always delete the pictures whenever you send them. What if someone steals their mobile phone or your partner loses it somehow? What if a third party (who can be anybody) gets access to your partner's mobile and gets their hands on your pictures which they use in the future to blackmail you? I am not talking about hypothetical situations here. We are regularly receiving cases like this.
Another most common situation is a partner blackmailing the other partner after they part their ways. We receive around 8-10 cases every day from all over the country stating that their ex-partner is blackmailing and threatening to leak their private pictures. Sometimes it is for money and sometimes for sexual favours. We have observed an increasing trend in cases involving minors who share or receive such pictures and find themselves with no other option apart from ending their lives.
Are cases like these actually happening?
You will certainly find incidents like this in the news. For example, school authorities in New York fired a teacher after her pictures went viral among the students. She had shared these pictures with her partner, who further disseminated them. In June 2021, the Bhopal Police arrested a man for blackmailing a 19-year-old victim. She stated in her complaint that the accused lured her into sexting and captured her pictures on WhatsApp video call without her consent. In another instance, the Delhi Police arrested a predator who used to target school girls. He would send them friend requests through fake profiles and subsequently morphed their pictures and blackmailed them. He demanded sexual favours, including video sexting. The police were able to identify seven of this perpetrator's victims. There is another case wherein a 14-year-old girl was lured into sexting by her classmate. The classmate, along with his brother, started blackmailing her. When she did not give in to their demands, they uploaded the victim's pictures on Instagram.
Somebody getting blackmailed for their private pictures has harmful effects on their mental health, especially if they are minors. Various studies have proved this to be true. A 2019 survey revealed that people involved in sexting remain extremely upset, scared, and embarrassed, leading to depression, anxiety, and suicidal thoughts. These have become a common phenomenon after the first lockdown, and as per the data of cases that we receive, it has worsened due to sexting.
Conclusion
Sexting is your choice. Whatever you choose to do, be careful. Additionally, keep in mind that once you send a picture or video, it just stays there in one form or another. The receiver may have a syncing iCloud or Google Drive. If it comes to the point that the other party uploads on the Internet, search engines will index, and web archiving tools will make a copy. Other websites may scrap the content in a very short duration of time, but the content will also get stored in the cache of various websites and servers. I do not want to come in the way of your relationship, but I would say that trust no one! And, in case you or someone you know is in trouble, do not hesitate in reaching out for help. To read more about the legality of sharing nude pictures over WhatsApp, click here.
---
Acknowledgement
A 2010 discussion paper of the US National Institute of Justice has inspired the title for this article. It is available here.
---
Disclaimer: Views or opinions expressed in this article, whether impliedly or explicitly, are personal.
Featured Image Credits: Technology photo created by rawpixel.com – www.freepik.com