Bleep: A More Secure Way to Message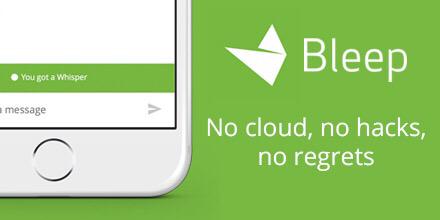 Have you ever wondered your text messages might be at risk? Text messages use server based peer-to-peer messaging technique, which means all your text messages are stored at a server's database, which can be compromised and your identity can be leaked. Moreover, along with your identity your messages too are at risk.
According to BitTorrent, their new advent, Bleep will rule out the chances of such threats. It uses server-less communication, which means that every message you send will be stored as an image on your phone itself, and not on any cloud or server. According to Farid Fadaie from BitTorrent "Since our open alpha release last September, a lot has happened in the private messaging space. Services have come and gone, some have been breached and patched, and in many cases, users have been left feeling violated, or at the very least, changed what they say or do online. There have been various costs involved, which we have to cut down. We've decided that one of those costs should not be your identity."
After downloading the Bleep app, you'd require to enter a nickname, and verify your email address. The verification part is optional but it will help you locate your friends. You can also invite people with the help of a special key they provide. The messaging has two modes, which can be easily switched in between a conversation. One's the normal messaging, and the other one's whisper mode where you can send pictures which will be visible only for 25 seconds, just like SnapChat. The app also lets you to call, as does every other app, but what's special here is no end-to-end encryption, yet it is safer.
Bleep also has a desktop version, so you can also access your messages on your Windows PC or a Mac laptop, along with the app on Android, iOS, and Windows phones. This is how the application's interface on an Android phone looks like: