Why did CCI impose a fine of ₹1338 crores against Google?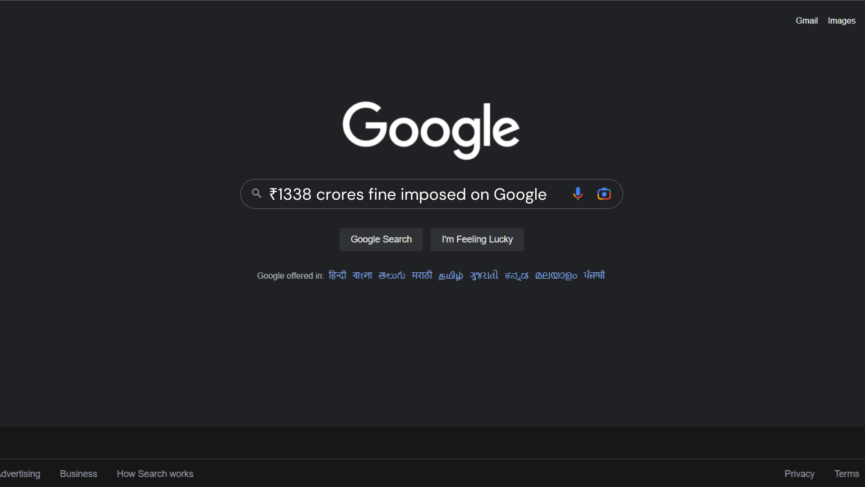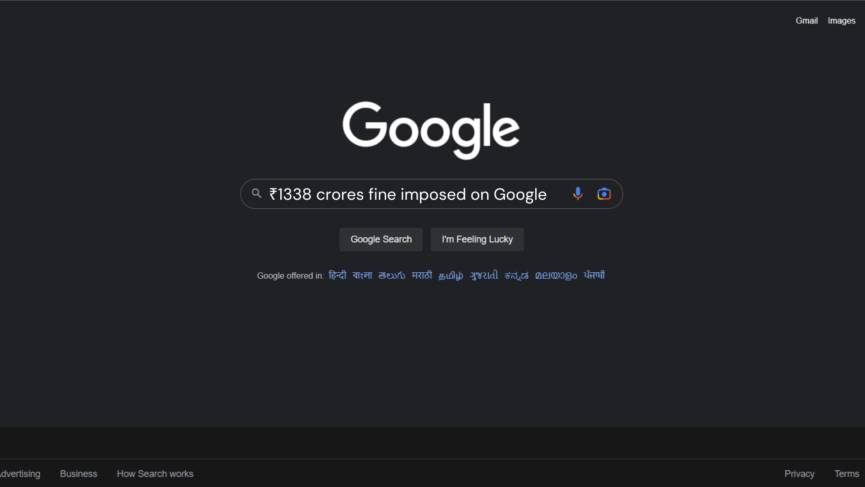 Three years after the first complaint in 2019, the Competition Commission of India (CCI) fined Google for using its dominant position in October 2022. I have previously written about Google's overwhelming dominant position and attempts to gain control through self-preferencing. Earlier in November 2020, CCI, in its prima facie order, had found that Google had misused its dominance in the market. This order focused on Google's favourable treatment of its affiliates, called self-preferencing. This was CCI's second investigation against Google.
Before that, in April 2019, CCI ordered an investigation for allegations concerning the abuse of the dominant position. This was because most manufacturers combined Android with Google's proprietary applications and services, creating a monopoly for Google.
What does the October 2022 order say?
In the October 2022 order, CCI imposed a fine of ₹1338 crores on Alphabet Inc, Google's parent company. This fine pertains to Google's anti-competitive practices related to Android mobile devices for abusing its dominant market position in multiple categories. The allegations of unfair business practices concern the Mobile Application Distribution Agreement (MADA) and Anti-fragmentation Agreement (AFA).
The Original Equipment Manufacturers (OEMs) of Android OS and Google had entered into these agreements. According to CCI, Google manages Android OS and other licenses, which gives it an advantage over its competitors. This advantage is in the form of pre-installing the most prominent search entry points, such as search apps, widgets, and Chrome browsers on Android devices. Furthermore, Google also secured a significant competitive edge via its revenue-earning apps like YouTube on Android devices. After this order, CCI granted Google 30 days to provide the necessary financial information and supporting documentation.
Later in the month, CCI slapped another fine for compelling app developers to adopt Google's in-app payment system. Google abused its dominant position by mandating app developers to adopt their payment system to commercialise their work. After this order, this artificial barrier should be removed by Google, allowing the developers to utilise a payment processing solution of their choice.
Apple v. Google: Differences in Competitive Practices
During the proceedings, Google asserted that the said edge is essential for them to compete with the challenges from Apple. The Competition Commission noted the distinction between their business models. The core of Apple's business is a vertically integrated smart device ecosystem that prioritises selling high-end smart devices with cutting-edge software components. In contrast, the primary motivation behind Google's business is the desire to attract more users to its platform so that they would engage with its revenue-generating service, namely Google Search. This will directly impact the company's ability to sell online advertising services.
CCI acknowledged that there may be some rivalry between Apple and Android mobile ecosystems. However, this competition is constrained when users determine which device to purchase. OEMs utilise Android OS and Google apps in their smartphones since Google manages the Android OS and licenses its other proprietary applications. After considering it from the perspective of all demand components for Android OS and iOS, the Commission concluded that there is no substitutability between Google's Play Store and Apple's App Store.
In August 2022, the South Korean government enacted a bill prohibiting app store operators from compelling app developers to employ their in-app payment systems. This prevents platforms like Google Play Store and Apple's App Store from deducting commissions on in-app sales.
Fine, Cease, and Desist Order
CCI remarked that the markets should be permitted to compete on merits. The dominant player is responsible for ensuring that their behaviour does not obstruct merit-based competition. It further noted that Google had maintained its dominating position in the online search industry, denying other search apps access to the market. This violates Section 4(2)(c) of the Competition Act, 2002. Along with the fine, CCI also issued a cease-and-desist order prohibiting Google from engaging in anti-competitive behaviour.
Google shall not restrict OEMs, app developers, or its current or potential rivals' access to its Play Services APIs. This will guarantee compatibility between Android OS and Android forks while meeting Google's compatibility standards. Additionally, Google will not stop customers from removing its pre-installed apps.
How did Google respond?
After the decision, a Google spokesperson said that Android has provided more choices for everyone. It has supported thousands of successful businesses in India and across the globe. This decision is a setback for Indian consumers who rely on Android's security features, and it will increase the cost of mobile devices in the Indian market. The spokesperson said they would review the decision before taking their next steps.
Final Thoughts
The marching norm of the competition law is to enable substitution, opting out, and variety for customers so that the control of demand and supply by one or a few players is avoided. These two infractions against Google have created milestones for the Indian anti-trust regime. However, this is not the end of the road for CCI against tech giants and their unfair trade practices. Billing system allegations have already been levelled against Apple in India. Together We Fight Society, a Rajasthan-based NGO, has argued that Apple's fee of up to 30% hurts competition by raising costs for app developers and customers. It also acts as a barrier to market entry for small developers.
Looking at the proceedings in this case, it is reasonable to expect that Apple might face the same blow soon. Moreover, CCI has already acknowledged Apple's more significant revenue base than that of Google Play. We may see a number higher than ₹1338 crores when the Commission passes its order against Apple.