Vinesh v. State of Kerala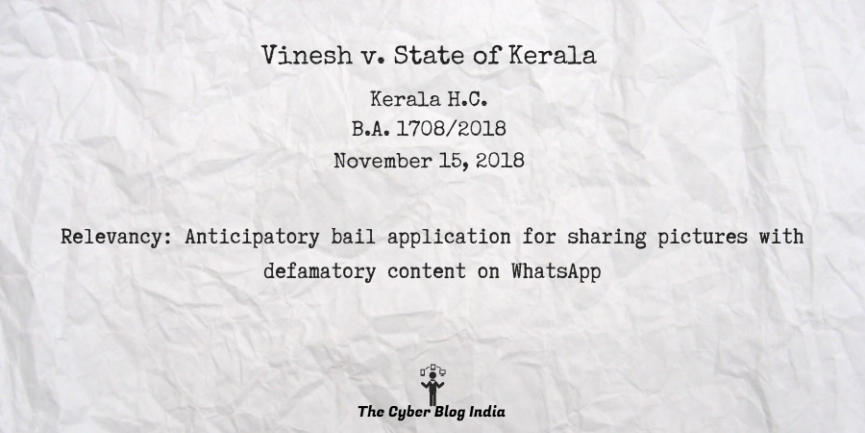 Vinesh v. State of Kerala
In the High Court of Kerala
B.A. 1708/2018
Before Justice Annie John
Decided on November 15, 2018
Relevancy of the case: Anticipatory bail application for sharing pictures with defamatory content on WhatsApp
Statutes and Provisions Involved
The Information Technology Act, 2000 (Section 66E, 67)
The Indian Penal Code, 1860 (Section 34, 354D)
The Code of Criminal Procedure, 1973 (Section 438)
Relevant Facts of the Case
The petitioner who was working abroad was prepared to marry the daughter of the complainant.
The complainant objected to the petitioner's request to marry his daughter and hence, the petitioner had to look for another marriage.
Due to this animosity, the petitioner published some photographs on WhatsApp to defame the complainant.
Therefore, the present application has been filed for praying for a grant of anticipatory bail.
Prominent Arguments by the Advocates
The petitioner's counsel argued that the petitioner never indulged in the activities alleged against him. He further submitted that no ingredient of Section 354 is attracted in this case, and the Sections of the Information Technology Act, 2000 are bailable.
The respondent's counsel opposed the bail application by stating that the apprehension of arrest is not possible since the petitioner works abroad.
Opinion of the Bench
It was observed that the ingredients under Section 354D of the Indian Penal Code, 1860 were not attracted in the report filed against the petitioner.
Final Decision
Application allowed.
Anticipatory bail granted subject to certain conditions.
---
This case summary has been prepared by Ria Verma, an undergraduate student at Symbiosis Law School, Noida, during her internship with The Cyber Blog India in January/February 2021.