Serving of legal notices and summons through WhatsApp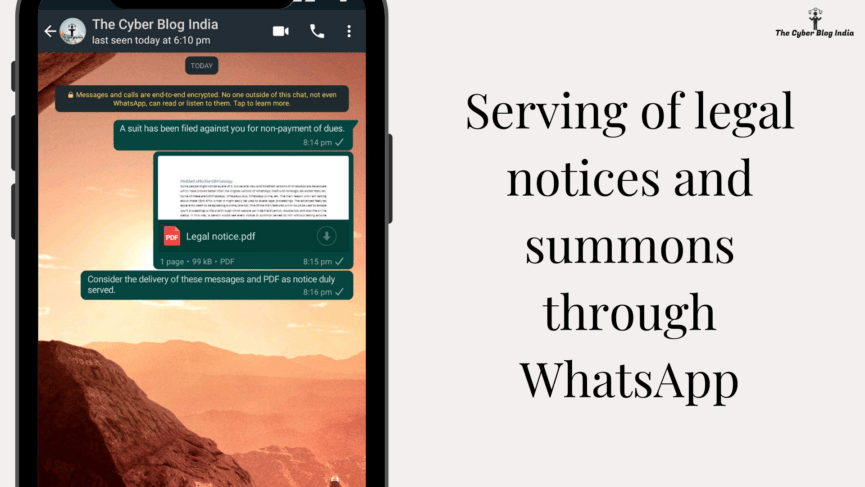 The Indian justice delivery system has gone through plenty of changes this year as far as digitalisation of processes and procedures is concerned. Judges, as well as advocates, have slowly adapted to virtual courtrooms. Not just court hearings, ICT (information and communication technology) is also facilitating filing of cases, tracking, and availability of court orders/judgements. While Indian courts have been slow in accepting digital mediums as a mode of serving summons and notices, the last few months do tell a different story. I have discussed digital justice system in India here.
Central Electricity Regulatory Commission v. National Hydroelectric Power Corporation Limited is one of those cases where the court has discussed the serving of notices through email. Here, it is also essential to discuss the nexus between serving of legal notices through digital medium and admissibility of electronic records. Consider that a party sent a legal notice through email to the opposing party before instituting the suit. This notice may be submitted before the court as a piece of evidence. Cases such as Anvar v. Bashir and Shafhi Mohammad v. State of Himachal Pradesh created confusion regarding certificate requirements under Section 65B of the Indian Evidence Act, 1872.
While the honourable Supreme Court recently clarified its stand in the case of Arjun Panditrao Khotkar v. Kailash Kushanrao Gorantyal, the court also issued the directions for framing of rules under Section 67C of the Information Technology Act, 2000. These rules are expected to deal with retention, preservation, retrieval, and production of electronic records.
Serving of summons and legal notices through WhatsApp
The word notice itself means knowledge. In the context of summons and legal notices, one can interpret to bring into the knowledge of the defendant/respondent about the initiation of proceedings by the plaintiff/petitioner. Traditionally, a legal notice is delivered through the postal system. A notice is deemed to be served only when the defendant receives or refuses to accept the delivery – which is sufficient to consider that the defendant is aware of the said matter. The proof of delivery or refusal gives a clear picture as to whether notice was served or not.
Our systems move with infuriating slowness – glaciars melt faster than service through the Sheriff's office.

– Justice Gautam S. Patel, Judge, Bombay High Court 
In the case of SBI Cards & Payments Services Pvt. Ltd. v. Rohidas Jadhav, the Bombay High Court accepted the service of notice through WhatsApp as the blue ticks indicated that the message was delivered and read. Similarly, in the case of Kross Television India Pvt. Ltd. v. Vikhyat Chitra Production, the defendant denied any receipt of any legal notice on his WhatsApp account. However, the delivery indicators on WhatsApp were considered as proof of delivery, and the defendant's contention was defeated.
Possible issues and challenges
1. Disabling read receipts
WhatsApp allows a user to configure whether they want to let the sender know that they have read the message(s). In both the cases that we discussed above, the defendants had enabled the delivery of read receipts to a sender. These "read receipts" can be considered as conclusive proof that the defendant has received a message and read it. If a party has disabled read receipts, will the court still be able to ensure that the notice had been duly served? Or in other words,
What will the courts do if the "blue tick" does not appear, despite the fact that a notice has been delivered to the defendant?
2. Contact number
Consider a situation when party A submits a screenshot to contend that their notice had been delivered to party B. However, party A can save the contact of Mr X as party B's name. Subsequently, party A can demonstrate that the notice had been served. To go a step further, Mr X can use the same profile picture as used by party B.
3. Traceability concerns with WhatsApp
Mr K.K. Venugopal, the Attorney General, submitted before the Supreme Court in a 2019 case that summons shall be allowed to be served through either fax or email, but not through WhatsApp. He referred to a Tamil Nadu case where the Government asked WhatsApp to decrypt some of the messages in the interests of national security, law, and order. WhatsApp denied this request stating that their platform is end-to-end encrypted. He further submitted that WhatsApp often fails to cooperate with police authorities citing the same reason. This directly hampers the investigation in critical cases.
4. Modified APKs
APK stands for Android Application Package. Android operating systems use this file format for the installation of applications. Similarly, iOS uses IPA, which stands for iOS Application Archive. Over the years, there have been many modified APKs such as GBWhatsApp, WhatsApp plus, WhatsApp prime, etc. Modified APKs provide certain features which are not available in the original WhatsApp application. These modified APKs promise features such as the ability to download status, set custom last seen, hide double ticks, and whatnot. If party B is using a modified APK and hides their double ticks and puts a last seen of two years ago, they would receive the notice sent by party A, but the sender would not have any knowledge of the same.
Conclusion
As far as my interactions with the team members go, the opinions are clearly divided on whether WhatsApp is a reliable platform to send legal notices and summons. One might believe that the traditional way was better than using WhatsApp. Are Sections 11, 12, and 13 of the Information Technology Act, 2000 applicable in the context of WhatsApp conversations? This is another question that courts need to answer. Meanwhile, it becomes imperative for the parties to not leave any loose ends while sending legal notices.
---
Interested in contributing to our blog and knowledge base? Write to us at contact@cyberblogindia.in and elaborate on how you can help us in creating a safer cyber space.