Shafhi Mohammad v. State of Himachal Pradesh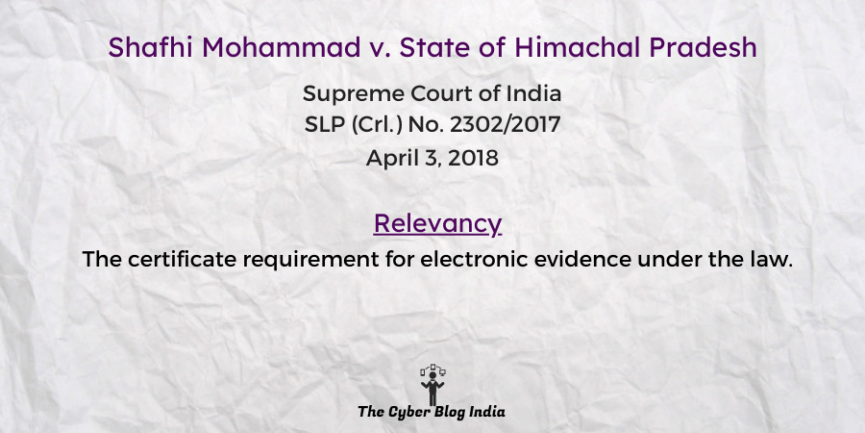 Shafhi Mohammad v. State of Himachal Pradesh
In the Supreme Court of India
SLP (Crl.) No. 2302/2017
Before Justice Adarsh Kumar Goel and Justice Rohinton Fali Nariman
Decided on April 3, 2018
Relevancy of the case: The certificate requirement for electronic evidence under the law.
Statutes & Provisions Involved
The Information Technology (Amendment) Act, 2006 (Section 79A)
The Narcotic Drugs and Psychotropic Substances Act, 1985
The Code of Criminal Procedure, 1973 (Section 54A, 164)
The Indian Evidence Act, 1872 (Section 3, 4, 5, 6, 7, 8, 9, 62, 65A, 65B(4))
Relevant Facts of the Case
The Hon'ble Court, in this case, determined the use of videography at a crime scene after noting the proceedings in the case on earlier hearings.
The Court observed videography will indeed help the investigation process. In addition, audio and videotape technology is a powerful medium through which first-hand information can be gathered and can be a piece of crucial evidence.
Various amicus curiae pointed out that the provisos to Section 54A and 164 of the Code of Criminal procedure, 1973, provide for videography of the identification process and confessional statement respectively. Moreover, the amicus curiae made suggestions to record videos of dying declarations and post-mortems.
It was submitted in previous hearings that such evidence should always be cautiously treated. Furthermore, an assessment of the circumstances of each case is important.
Consequently, electronic evidence was admissible in Court, subject to the Court's safeguards about its authenticity.
In addition, new techniques and devices are susceptible to tampering. Hence, there is no exhaustive rule to judge the admissibility of such pieces of evidence. The standard of proof of its authenticity and accuracy must be more stringent than other documentary evidence.
Therefore, the Court determined the main issue of interpreting Section 65B (4) of the Indian Evidence Act, 1872.
Opinion of the Bench
The bench examined the legal position on the admissibility of electronic evidence, especially by a party who does not possess the device from which the document is produced. It stated that such a party cannot produce a certificate under Section 65B of the Indian Evidence Act, 1872.
The applicability of the requirement of a certificate being procedural can be relaxed by Court if it is required in the interest of justice.
Furthermore, the bench agreed with the Centrally Driven Plan of Action and timeline prepared by the Committee of Experts constituted by the Ministry of Home Affairs.
Final Decision
The bench approved the Plan of Action and timeline prepared by the Committee of Experts. Accordingly, it directed a Central Oversight Body (COB), set up by the Ministry of Home Affairs to be responsible for further planning and implementation of the use of videography in the investigation.
In addition, the bench stated that the COB will issue directions to ensure the use of videography in a phased manner per the viability and priority of various States. Furthermore, the Court cited the administrative functions of the COB and its accountability to the Ministry of Home Affairs and the Home secretaries of various State Governments.
It also directed the Centre to fund the project and the State to maintain law and order.
---
To read this case summary in Hindi, click here. | इस केस सारांश को हिंदी में पढ़ने के लिए यहाँ क्लिक करें।