Obscenity and WhatsApp Stickers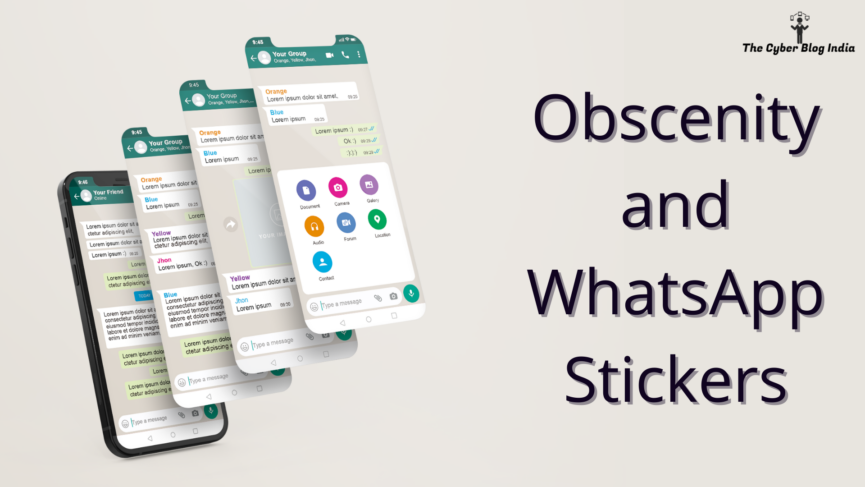 WhatsApp recently became the talk of the town when it decided to update its privacy policy. This move triggered the users to explore other messaging platforms like Telegram and Signal. A lawyer also filed a petition before the Delhi High Court challenging this move. This petition states that WhatsApp is performing a public function, despite being a private entity. All said and done, I barely know more than a couple of individuals who deleted their WhatsApp account and switched to other platforms altogether.
Disclaimer: Due to the nature of the content involved, part(s) of one or multiple pictures in this article are blurred, cropped, or hidden.
Amidst all these debates, I came across many obscene stickers on WhatsApp and decided to explore their creation and proliferation. Needless to say, stickers are available on pretty much every messaging application today. For this article's purpose, I will be focusing on WhatsApp, considering its massive userbase in India. While Indian law requires you to be at least 18 years of age for entering into a contract, every teenager you know will have a WhatsApp account.
In my opinion, WhatsApp has acquired the nature of a public platform where billions of private conversations are taking place. Many of you might have come across stickers (or memes in the form of stickers) that depict celebrities, politicians, cricketers, or public figures. Usually, stickers are either animated or morphed images, while others are GIF files. We may call them video stickers. For morphed stickers, I do not think sticker creators ask for the permission of the concerned individual. You will see that video stickers depict content that one can easily classify as sexually explicit in some cases.
What is the purpose of parental guidance/age restriction on sticker making apps?
Apart from the stickers available by default, WhatsApp also allows users to manually add stickers. There are various applications available on the Play Store that allow users to create their own stickers. Often, these stickers bear the watermark of the application through which a user created them.
While going through some of the sticker making apps, I observed that they recommend parental guidance and are only for users above 12 years of age. The big question here is whether parental guidance or age restriction serves the cause? Definitely not. Consider that I create a sticker with sexually explicit content. No one can stop me from sending it to a minor. The bottom line is, everyone can access stickers with such content, irrespective of their age.
Is something wrong with creating my own stickers?
Messaging platforms offer stickers as a means to make our communication easier and enjoyable. However, third-party apps that allow the users to create personalised stickers defeat the very purpose why this feature was introduced. I know a good number of WhatsApp users in my circle that create and circulate obscene stickers in groups as well as in personal conversations. Third-party apps make it very easy for an individual to use your picture and morph it into something that you may find inappropriate. There are chances that somebody has used your picture for creating a sticker, and you have no idea about it. This sticker can be defamatory or depict content that is either obscene or sexually explicit. In legal terminologies, there is no denying that stickers that show sexually explicit content in the form of cartoons can corrupt the minds of children.
Will it be a criminal offence?
Section 66E of the Information Technology Act, 2000 provides punishment for the violation of privacy. It emphasises a person's intention to capture or transmit the image of an individual's private area. If an individual uses your picture without your consent and shares it on a messaging platform, it is not difficult to prove that this act was intentional. Such an act may fall within the ambit of this provision as it explicitly mentions transmission.
Section 67 of the Information Technology Act, 2000 provides punishment for publishing or transmitting obscene content in electronic form. It includes any content that is lascivious or appeals to the prurient interest to the extent that it corrupts an individual's mind. The majority of stickers that you will see are likely to attract this section. Obscenity continues to be a grey area in Indian laws, and you can read more about it here.
Section 67A and Section 67B are also worthy of mention here. While the former deals with sexually explicit content, the latter deals with material depicting children in sexually explicit acts. During my research for this article, I came across a good number of stickers that can attract the applicability of these two provisions. To read more about pornography rules in India, you can check this article.
Ending notes
The creation and transmission of certain stickers may lead to legal consequences and invite criminal action. Simultaneously, it is very challenging to trace the person who originally created an obscene/sexually explicit sticker. WhatsApp promises end-to-end encryption for its users. In this context, whether tracing the origin of a message is possible is another interesting area for exploration. While the gravity of offences remains the same, traceability surely raises a few eyebrows. At this point, one possible solution can be limiting the available stickers to the ones created by WhatsApp or its approved creators.