Pornography Rules in India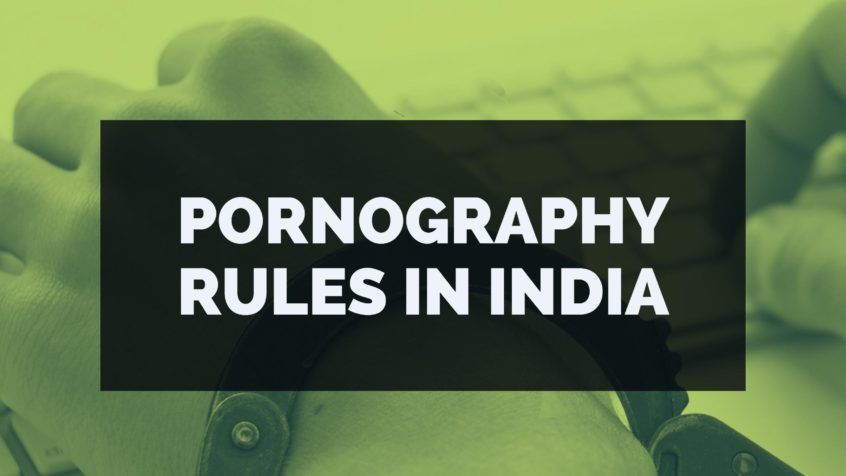 (इस आर्टिकल को हिंदी में पढ़ने के लिए यहाँ क्लिक करें)
This is another one of those posts which I am writing because of a heavy amount of search queries. "Pornography rules in India", are there any? If you ask a straightforward question, the answer is no. The reason so many people (not just youngsters) want an answer to this question is because they are consuming pornography and are afraid whether watching porn is legal in India. To break the ice for yet another time, it is legal.
Nobody in this country will put you in jail for watching porn unless you are doing it in public. Well, there is the whole public morality law in question. But generally speaking, it is definitely legal to watch porn in India until and unless it is child pornography. For that even if you are afraid about the Pornography rules, you are as sick as this gets. No vigilante groups, hackers, state bodies etc. anywhere in the world support the idea of child pornography. The very fact that child pornography exists is a failure of the entire ecosystem of morals, internet, values and the law. Even in USA and UK  where possession of pornography has never been an offence, Child Pornography is condemned and is a penal offence.
That said, coming back to the topic of Pornography rules in India, it is apt to mention some things here. Though watching porn is legal yet making someone else watch it is a crime punishable by up to 5 years of imprisonment. Making someone else watch it might sound a little loose. Trust me when I say this, there are several cases where guys have often forced upon girls to watch porn. It has been while they have been in relationships or just friends as well. Within this ambit of "making someone watch" as I put it, the legal words are publishing, transmitting or causing any of the two. This means that if you publish anything containing a sexually explicit act, even if it is an image, you are liable for the same punishment. The same goes for transmitting in private messages, Facebook Chats, WhatsApp messages etc.
What are the relevant legal provisions?
Section 67, 67A, and 67B of the Information Technology Act, 2000 are the relevant provisions. Section 67 talks about punishment for publication or transmission of obscene material in electronic form. Though the definition of obscenity is mostly vague in the Indian context, we have tried to trace the developments here. It prescribes imprisonment up to three years or fine up to ₹5 lakh or both on first conviction. As for second and subsequent convictions, imprisonment up to five years and fine up to ₹10 lakh have been prescribed.
Section 67A criminalises the publication or transmission of any material depicting sexually explicit act or conduct in electronic form. Imprisonment up to five years or fine up to ₹10 lakh or both are prescribed in this section. It also incorporates situations when a person or group of person forces or influences another person to publish or transmit such content over the Internet. For second and subsequent convictions, the extent of fine remains the same; however, imprisonment up to seven years may be prescribed.
Section 67B focusses on child pornography and it prescribes for imprisonment up to five years or fine up to ₹10 lakh or both on first conviction. Just like Section 67A, the extent of fine on second and subsequent convictions remain same, but imprisonment up to seven years may be prescribed. This section mentions various acts that can be considered as an offence under its ambit:
Publication or transmission of material depicting children in sexually explicit conduct or act, or forcing/influencing the same
Creating text or images showing child pornography
Collecting, searching, browsing, downloading, promoting, advertising, distributing, or exchanging any material showing child pornography in electronic form
Facilitating abuse of children online
Enticing or inducing children to an online relationship with other children for sexually explicit acts
Recording sexually explicit act with children
What if I sent someone an obscene picture?
There is definitely a law against it. As for this post, we will keep it to pornography. If you send someone a picture that depicts some sort of sexual act, you are liable for punishment. For anything else obscene, I will write another post.
Are sex stories legal?
If you go by the definition of law, unless a text is for the public good of creating awareness, sex education etc., "sex stories" though textual will still fall under the ambit of being called pornography and will be tried the same way. So no, sex stories are also within the ambit of the law which will criminalize you for publishing or transmitting. Consumption, however, is legal. So if sex stories are legal in the US and you read them here, it is totally legal.
Is porn hosted outside India legal?
Outside India is outside India's jurisdiction in the practical sense. If pornography is legalized in the country where it is hosted, India cannot force upon the website to stop functioning. Alternatively, as we have seen, the Government or the Judiciary might ban it in India, if it is thought to be unacceptable. You can read more about this here.
To sum up all the pornography rules in India:
 Watching porn at home is not illegal.
Saving it on your personal laptop, smartphone, storage media is also not illegal.
Distribution/Sale/Showcasing/Publishing/Sending on private messages etc. is illegal.
Sending porn videos/images/texts or anything depicting sexually explicit acts (unless educational) to someone is also illegal.
Sex stories are also sexually explicit content.
Whether ISPs are causing transmission of such porn into the country is a grey area but practically they will not be held responsible except for child pornography.
Child Pornography, in any sense, watching, saving, sharing etc. is totally illegal.
---
You can read more on this from our friends at Cyber Cops here: Is Watching Porn a Crime in India 2020