Explainer – Section 67B of the Information Technology Act, 2000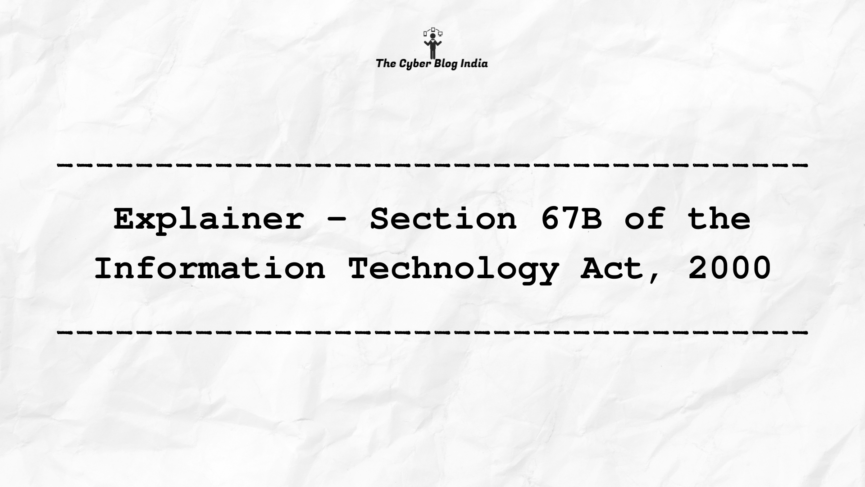 Porn has always been a controversial topic in India. Nobody wants to talk about it, but everybody wants to watch it. At The Cyber Blog India, we receive around 10-12 queries every day regarding the legality of watching or storing porn in India. For adult porn, our response is here in the form of this article. But, as far as child pornography is concerned, it is illegal in all ways. The Information Technology Act, 2000 and the Protection of Children from Sexual Offences Act, 2012 are two relevant laws. Before 2008, we did not have any specific law or provision dealing with child pornography. The 2008 amendment to the Information Technology Act, 2000, introduced Section 67B. This article elaborates on important keywords and sub-sections of Section 67B.
Definition of child pornography
The 2019 amendment to the Protection of Children from Sexual Offences Act, 2012 included the definition of child pornography in Section 2(1)(da). It defines child pornography as a visual depiction of a child involved in any sexual activity, which can be in the form of a picture, video, digital image, or computer-generated image. The definition also covers content in which characters appears to depict children. Further, Article 2 of the Optional Protocol to the Convention on the Rights of the Child (2002) provides a more inclusive definition. It says that child pornography can be any representation of a child engaged in real or simulated sexually explicit activities. The term also includes representing a child's sexual parts for sexual purposes. Some arguments say that child sexual abuse material is a more appropriate term than child pornography, and we indeed agree.
Who is a "child"?
A child is anyone below the age of 18 years, irrespective of gender.
What is the meaning of "sexually explicit" nature?
Put plainly, it means any act or material that involves sexual conduct. The type of material can include pictures, videos, and other file formats.
Section 67B, sub-section (a)
This provision makes it a criminal offence to publish or transmit any electronic material that portrays children in a sexually explicit act or conduct. The ambit of this sub-section further covers individuals who help in the actual act of publication or transmission. "Electronic form" will not only include a website or social media platforms accessible over the internet, but it will also cover sharing via Bluetooth, email, and different types of storage devices. For example, Madurai Police arrested a man for sharing child pornography videos through WhatsApp and email in August 2021.
Section 67B, sub-section (b)
Sub-section (b) covers multiple aspects that need attention. Along with sexually explicit content, this sub-section covers obscene and indecent content. We have discussed obscenity and Indian laws at length here. For a content to be considered obscene, it must result in lustful thoughts or appeal to the prurient interest. Moreover, this sub-section lists out a series of activities pertaining to child pornography. These include collecting, seeking, browsing, downloading, advertising, promoting, exchanging, and distributing. It does not limit itself to visual media and goes on to cover text-based material. The following are examples of criminal offences under this sub-section:
Storing photos and videos on the cloud, mobile phone, or laptop
Searching for child pornography on the internet or asking around
Watching and downloading child pornography
Exchanging content with each other in the form of a barter
Encouraging other users to watch child pornography
Advertising on different platforms such as websites, chat forums, and social media
Section 67B, sub-section (c)
This sub-section uses three similar words but have different meanings in practice: cultivate, entice, and induce. It is a criminal offence to try to win over (cultivate), tempt or attract (entice), or persuade (induce) a child into an online relationship with another child or children. The purpose behind such relationships is sexually explicit acts or any activity that a reasonable adult would find offensive. Besides, this sub-section appears to be apt for online grooming incidents where perpetrators befriend children with the purpose of sexual exploitation.
Section 67B, sub-section (d)
This sub-section makes it a criminal offence to abuse children online. This can be understood with the case of Fathima A.S. v. State of Kerala. In this case, the mother uploaded a video showing her children painting on her naked body. She uploaded this video on YouTube. In her anticipatory bail application, she contended that her objective was to spread awareness about body discrimination and sex education. However, the Kerala High Court rejected this contention as well as the bail application. Also, the court stated that the act of uploading this video on YouTube is a prima facie use of children for sexual gratification.
Section 67B, sub-section (e)
This sub-section covers recording a sexually explicit act with children. It applies to a perpetrator recording their own act or a third-party recording the act between the perpetrator and the victim. This means that individuals can be held accountable under this sub-section even if they were not a part of the main act and only recorded the act.
Punishment given in Section 67B
First conviction: Imprisonment up to five years and a fine of up to ₹10 lakhs
Second and subsequent convictions: Imprisonment up to seven years and a fine of up to ₹10 lakhs
Exceptions under Section 67B
Section 67B contains two exceptions. The first exception is for the publication of material in electronic form for the public good, or in the interest of literature, science, art, or learning. It can be books, pamphlets, papers, writings, drawings, paintings, or figures. The second exception is for authentic heritage or religious purposes. For example, if there are sexually explicit paintings in a heritage monument, they will be beyond the scope of this provision.
---
Vidhi Jain worked on an initial draft of this article. With inputs from Garima Saxena and Raj Pagariya.