Fathima A.S. v. State of Kerala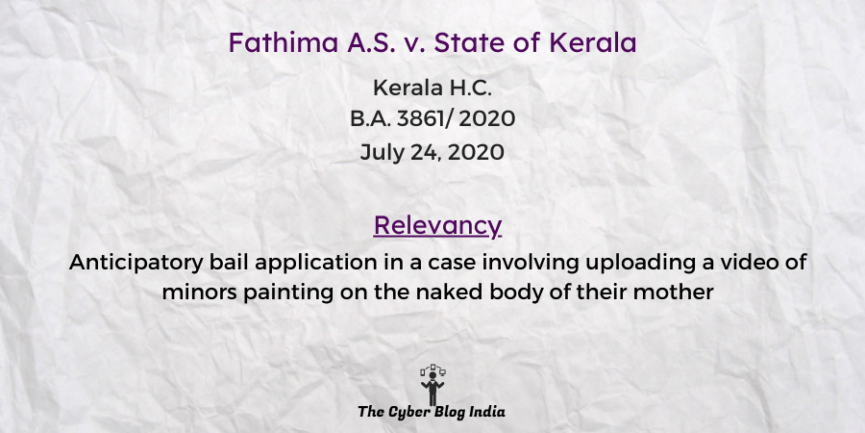 Fathima A.S. v. State of Kerala
(2020) 4 KLT 617 
In the High Court of Kerala
B.A. 3861/ 2020
Before Justice P.V. Kunhikrishnan
Decided on July 24, 2020
Relevancy of the case: Anticipatory bail application in a case involving uploading a video of minors painting on the naked body of their mother
Statutes and Provisions Involved
The Information Technology Act, 2000 (Section 67B(d))
The Protection of Children from Sexual Offences Act, 2012 (Sections 13, 14, 15)
The Juvenile Justice (Care and Protection of Children) Act, 2015 (Section 75)
Relevant Facts of the Case
The petitioner was the mother of two children aged 14 years (boy) and 8 years (girl). She asked them to paint her naked body above naval.
The petitioner recorded the video and posted it on social media.
Prominent arguments by advocates
The petitioner's counsel argues that the petitioner uploaded the video with a caption that depicted her intentions of initiating a discussion on sex education and body positivity in India.
Opinion of the Bench
The court held that the video would attract the POCSO Act as it uses children for purpose of sexual gratification.
The bench also believed that no offence would have been made out if this act was done inside the four walls of their house.
The court said that after hearing both sides this is not a fit case in which the extraordinary jurisdiction under Section 438 of the Code of Criminal Procedure, 1973 can be invoked.
Final Decision
The application stood dismissed.
---
This case summary has been prepared by Anushka Ojha, an undergraduate student at Bharati Vidyapeeth New Law College, Pune, during her internship with The Cyber Blog India in May/June 2021.