Avinash Tripathy v. State of Odisha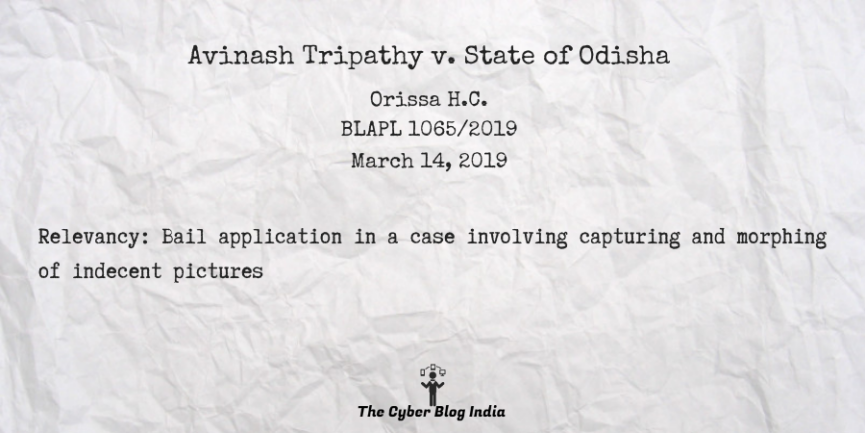 Avinash Tripathy v. State of Odisha
In the High Court of Orissa
BLAPL 1065/2019
Before Justice S. K. Sahoo
Decided on March 14, 2019
Relevancy of the case: Bail application in a case involving capturing and morphing of indecent pictures
Statutes and Provisions Involved
The Information Technology Act, 2000 (Section 66D, 66E)
The Indian Penal Code, 1860 (Section 34, 294, 354, 420, 506)
The Code of Criminal Procedure, 1973 (Section 161, 439)
Relevant Facts of the Case
The victim lodged a first information report which indicated how she was continuously blackmailed by the petitioner on several occasions.
The petitioner allegedly used indecent photographs and morphed them to spoil her marital life.
He also extracted money from her repeatedly, defamed her in public, tried to outrage her modesty, and caused continuous mental harassment by scandalizing her in public, thereby assassinating her character.
Even after the victim's marriage, the petitioner secretively captured and morphed some photographs of her and compelled her to visit many places.
He also threatened her to disclose the photographs to her husband, in-laws, and the public at large. The petitioner also forced her to buy expensive gifts for him.
Prominent Arguments by the Advocates
The petitioner's counsel contended that the petitioner has been in judicial custody for almost two months and since then, the investigation has made substantial progress. He argued that the allegations are false and fabricated and indicate that the petitioner undertook to pay a sum of money to the victim. He assured to give the balance amount by a fixed date. This undertaking was forcefully obtained from the petitioner and since the entire amount was not paid, the case was registered against the petitioner and a case of civil liability has been treated as a criminal case. Also, there were materials on record to indicate that the victim was having an extramarital relationship not only with the petitioner but also with another individual. He was accused to escape accusation levelled against her by her husband who has filed a divorce case.
The respondent's counsel opposed the prayer for bail and submitted that there are prima facie materials against the petitioner relating to his involvement in the crime.
Opinion of the Bench
The outcome of the divorce proceeding filed by the respondent's husband and the allegations levelled against her is something that is to be decided by the competent court where the case is pending. It would not be proper at this stage to grant bail to the petitioner, without a detailed examination of the evidence and elaborate discussions on the merits of the case.
Final Decision
Bail application dismissed.
---
This case summary has been prepared by Ria Verma, an undergraduate student at Symbiosis Law School, Noida, during her internship with The Cyber Blog India in January/February 2021.