Warning! This is what fraudsters have been doing lately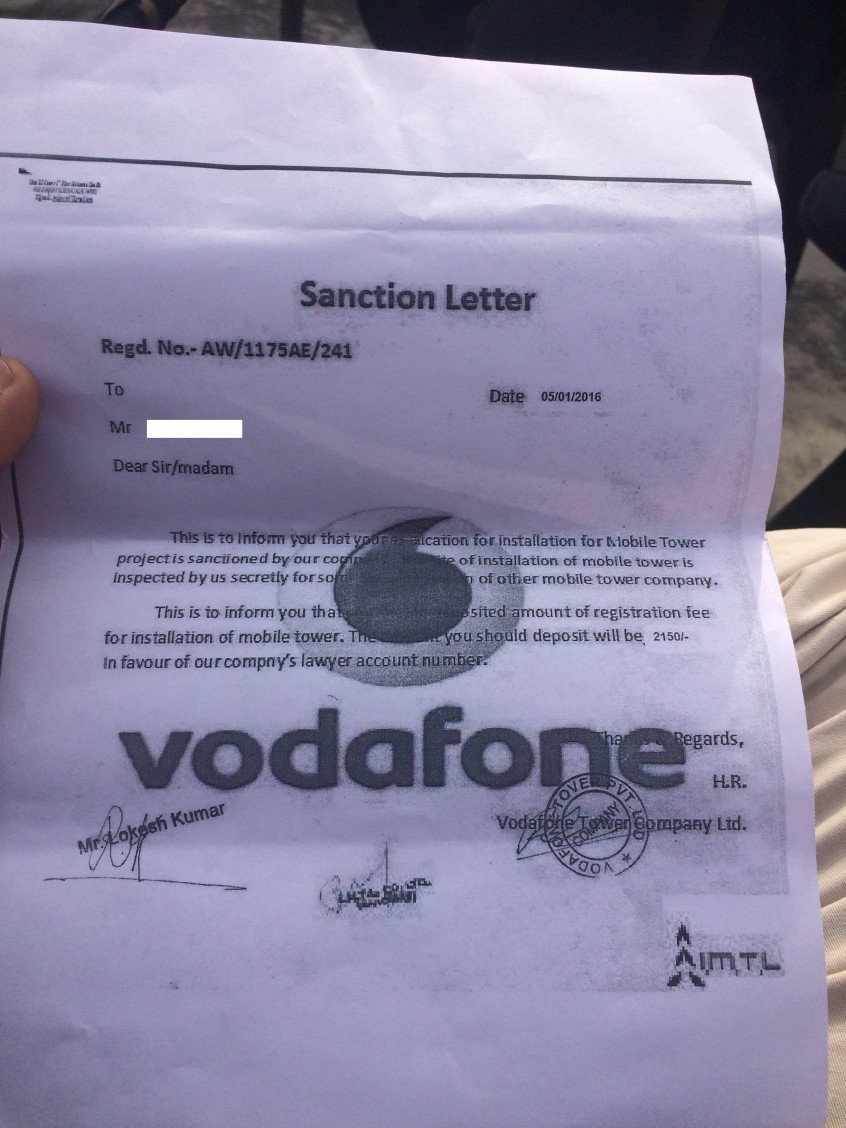 After life, the next big threat for an individual is to his money. We have seen ATM card skimming, plastic money forgery, large scale data breaches to pull out financial details, phishing and the modern (ish) phone call frauds to extract data as some of the tools to aid money laundering from users. Probably you are someone who is aware and wouldn't give away his money just like that but let me tell you about this new type of fraud that is spreading like wildfire at least in the Northern part of India particularly smaller towns and villages.
The medium of this fraud is not online yet the internet has some role to play in it. A regular office guy approaches a family in a village and tells them that he is representing Vodafone, Airtel, BSNL or some major telco. He then lures the family with an offer to set up a "3G tower" on their rooftop and explains to them the entire process. He assures the family that all sanctions will be taken care of by him and they would get a monthly rent of Rs. 15,000 in addition. In return they are required to submit one person's Aadhar Card, Ration Card, some other details and a deposit of some odd Rs. 5000. It is to be noted here that the sanction letter mandates the money to be deposited in their lawyer's account which is more than just strange.
For the want of some money, when their financial condition is not the best, they would go for it. In the next meet, this guy shows them the company's legitimate looking website and hands over a sanction letter seeing which they are pretty satisfied and happy. Now the family is required to pay Rs. 20,000 as some fee in order to start the construction and setting up of the tower. They abide by it and eagerly wait for months in hope of something to happen. I happened to visit one such family and found out about this.
Upon further digging, I found more families that they are targeting to extract money from. I took the contact number of one of their representatives and gave him a call asking him to refund the money of one family to which he had to say that it can not be done because the company has already "sanctioned" the request and they do not operate this way. I implore you to read this "sanction letter" and share your views. You might feel that such scams are detectable just by looking at such fake letters but we are talking about the India that is not Facebook and Internet Savvy. Give them Free Basics, give them any service but first spread some awareness about how to's and do's and dont's. While performing any transactions whether offline or online, please check for red flags and suspicious elements and do not just give away your money without consulting anyone.
We would also like to urge major telcos to clarify as to the actual processes of setting up Mobile Towers legally.