VoIP in India-What's it like?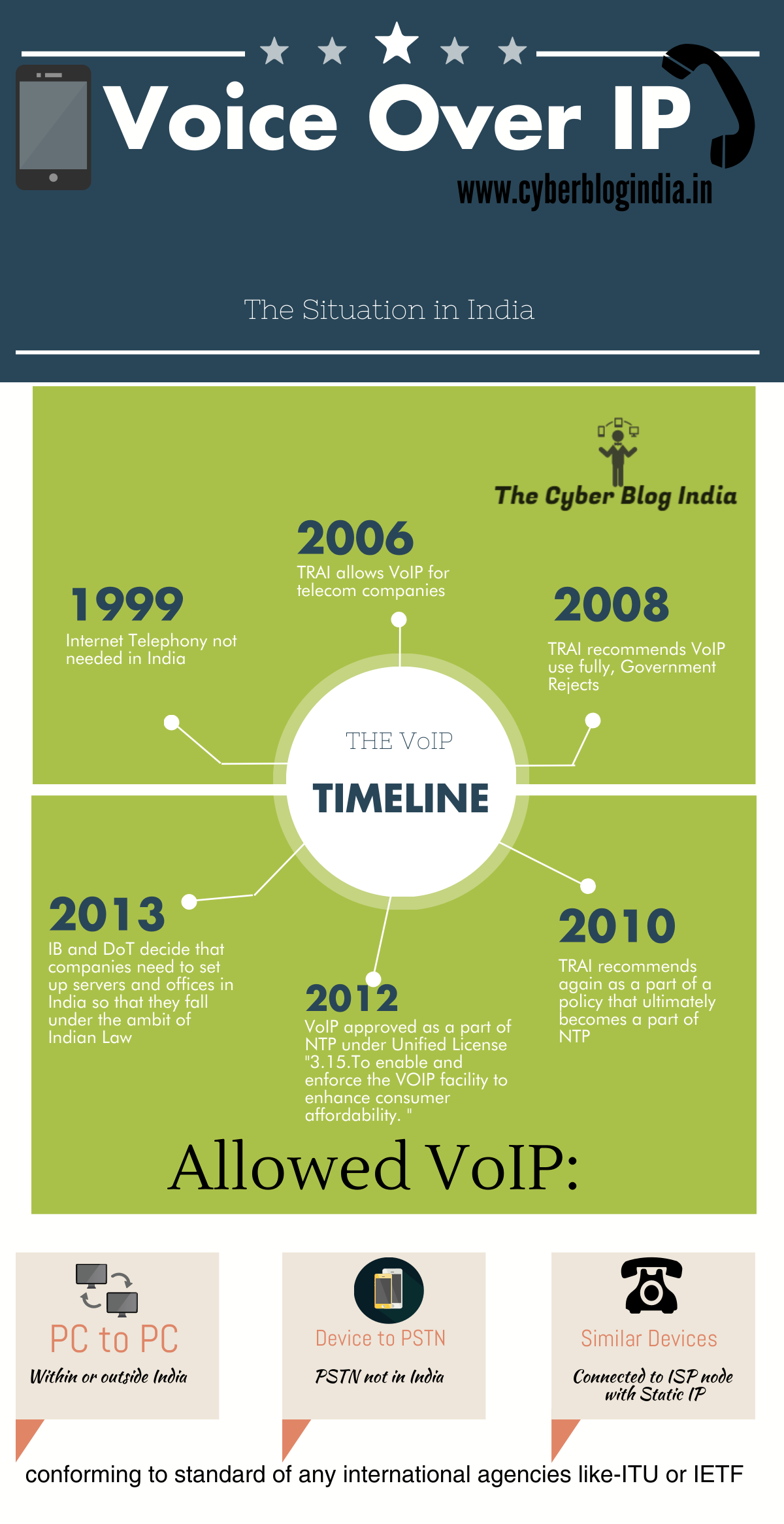 VoIP in India
Voice over IP is not a new concept to the regular internet user. It is the routing of voice conversation over the internet rather than the PSTN (Public switched telephone network). You talk over viber, sky
pe or facebook messenger for that fact, it is VoIP. Talking about its advantages, it includes saving a lot of money, single channel transmission of files, images, video etc. and reduction in setup and maintenance costs.
Again with greater ease here comes a great deal of security concerns. The main reason for security concerns apart from the users' awareness is the protocol implementation by service providers(all of them use different protocols). Technically speaking it has two types of protocols: Signalling and Media. But they are not what we are going to cover here.
Security Concerns for India are very high. The involvement of VoIP in the Mumbai Terrorist Attacks is not a news that needs to be mentioned. The terrorists used encrypted VoIP calls to communicate about the attacks. This has established the need for interception of internet telephony. It is important for the judicial bodies in India that the major companies that provide these services fall under the ambit of Indian law so that cases are easily closed. Then the most famous vishing calls, the telephone services with 'hot babe' messages in your inbox and fraud internet calls are the children of VoIP.
VoIP has a very interesting timeline in the Indian Context. It saw notice way back in 1999 when this was termed as internet telephony and no need of it was sought. Hence it made no spot in the IT Act, 2000. Historically in 2008 the TRAI approved of VoIP in a report. However the government rejected the limitless access that the report advised for. In 2012 it made part of Unified License under the National Telecom Policy. Under clause 3.15 of the NTP 2012
3.15.To enable and enforce the VOIP facility to enhance consumer affordability.
Indian companies have not yet made the big move towards VoIP services but companies like Relaince have plans it seems.
As of today, the legal limitations on VoIP calling are very strict. As per a story , In an RTI reply by the DoT, only certain types of internet telephony has been recognised:
a) PC to PC, within or outside India
b) PC/a device / Adapter conforming to standard of any international agencies like-ITU or IETF etc in India to PSTN/PLMN abroad
c) Any device/Adapter conforming to standards of International agencies like ITU, IETF etc connected to ISP node with static IP address to similar device/Adapter; within or outside India.
Any other sort of VoIP communication is deemed to be illegal.
It has been established by the DoT that it would not be able to intercept VoIP communications or even block them in specific states owing to the government needed restrictions. India has a highly unregulated internet architeccture and is majorly decentralised. Security concerns are also there because now trial runs in the country have been started over skype and it a service hosted out of the country.
In an Economic Times report  in 2013 it was highlighted that the Home Ministry and the Intelligence Bureau of India sat in meeting and decided that VoIP Service providers would need to set up servers in India to make them subject to the Indian Laws. It also said that the ISP's and telecommunication companies would need to segregate IP addresses on state-wide basis to allow lawful interception and blocking of certain services. The law again is not very bulletproof. There are only certain regulations about logging data. The authorities will have access to server logs for sure but will the problem be solved is a question.
Earlier in 2014, there was a whole controversy about Vodafone's mass tapping of phones. Tapping is still an easy activity because a hard tap will do the trick but since internet is widespread and no hard lines "technically can be identified", tapping VoIP is difficult. We have already entered 2015 but there is no sign of an amendment to the IT Act or a policy on VoIP.
Also, net neutrality is a new concern that has most recently popped in India after the latest riff about Airtel charging extra for VoIP traffic. Anyhow that did not go very well and had to be scraped eventually.