Rolfe & Ors v. Veale Wasbrough Vizards LLP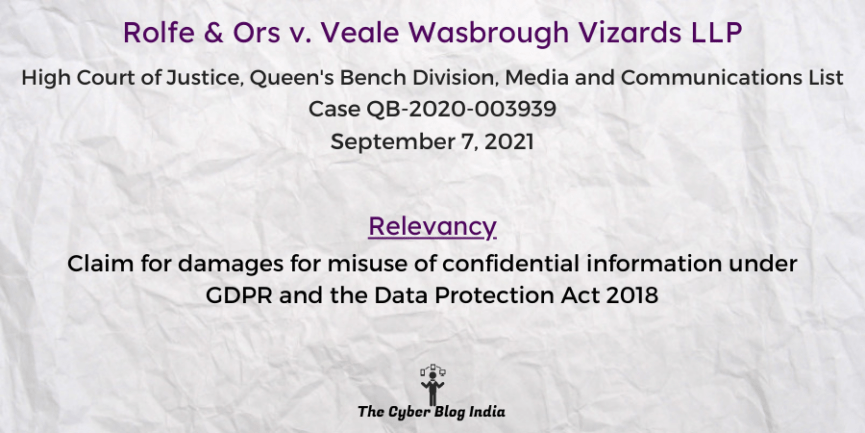 Rolfe & Ors v. Veale Wasbrough Vizards LLP
[2021] EWHC 2809 (QB)
In the High Court of Justice, Queen's Bench Division, Media and Communications List
Case QB-2020-003939
Before Justice Master McCloud
Decided on September 7, 2021
Relevancy of the case: Claim for damages for misuse of confidential information under GDPR and the Data Protection Act 2018
Statues and Provisions Involved
The General Data Protection Regulation 2018 (Article 82)
The Data Protection Act 2018 (Section 169)
Relevant Facts of the Case
The defendants were representing a school. The first and second claimants owed a sum of fees to the school. The third claimant, the first and second claimants' daughter, studied at the school.
The school instructed the defendants to write an email to the claimants with a demand for payment.
Due to a typographical mistake, the defendant sent the email to someone else. However, they promptly contacted the recipient and requested them to delete the email. Subsequently, they verified the deletion.
The claimants filed for damages for misuse of confidential information, breach of confidence, negligence, and damages. They also claimed for a declaration, injunction, interest, and other relief.
Prominent Arguments by the Advocates
The claimant's counsel argued that damages for distress are available even without proof of special damages. He argued that the claimants had lost sleep worrying about the consequences of the data breach. They had spent extensive time dealing with the issue.
The defendant's counsel argued that the court has to look at the harm that could come from the information they disclosed. She argued that any damage or distress this incident might have caused was very low. It did not cross the de minimis threshold.
Opinion of the Bench
A person cannot succeed in a claim without possible loss or damage, or the damage is trivial.
The defendant's actions did not cause much harm. The claimants do not have a credible case where they could prove damage over a de minimis threshold.
Final Decision
The bench granted summary judgment for the defendant and dismissed the case with costs.
---
Anjali Agrawal, an undergraduate student at the NALSAR University of Law, prepared this case summary during her internship with The Cyber Blog India in May/June 2022.