Right to be forgotten: Origin and Indian scenario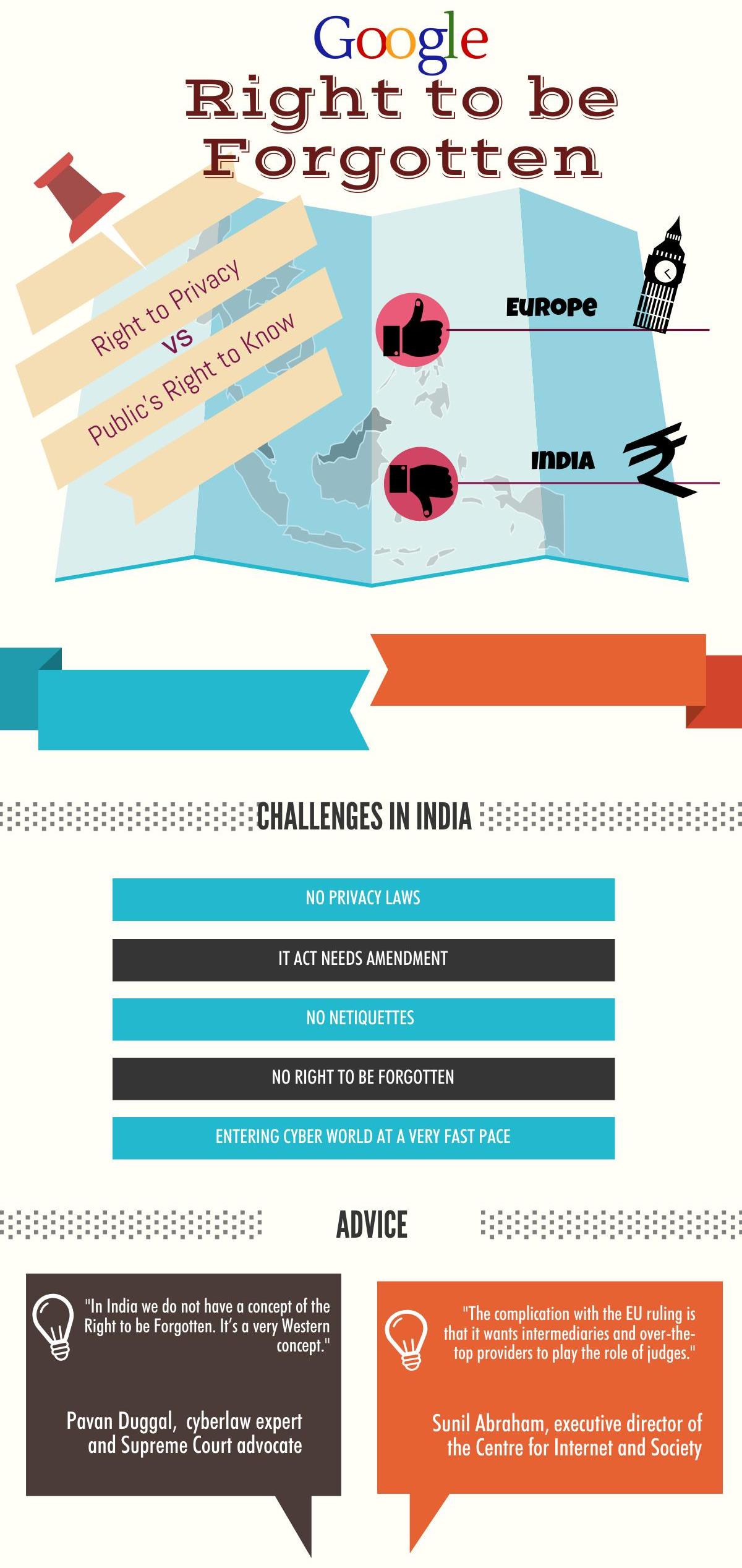 Right to be forgotten: Origin and Indian scenario
As promised in a previous post, this post is all about "the right to be forgotten." The question which first pops up our head is when and where did this first originate?
We all wish to be remembered for our work and noble deeds. In our own ways we try to achieve something in our life for which we are commemorated even after our life. It is just this feeling of narcissism that brings such wild thoughts. Now suppose you do something bad and are penalised for it. After rectifying your wrong doing you have the right to be forgiven and have your mistakes forgotten. How would you like somebody to again and again bring up the same thing? How would you feel if no one gives you another opportunity just because of a single mistake? Would you like to be remembered the same way now? Definitely not!
So is the case of Mario Costeja González, a Spanish man who requested the removal of a link to a digitized 1998 article in La Vanguardia newspaper about an auction for his foreclosed home, for a debt that he had subsequently paid. In 2009, i.e. eleven years later, González did not like the fact that even then when you searched for his name on Google, what you saw on the top of the result was this small financial lapse from the late 90's. Didn't he have the right to have this information forgotten? González thought he did and so asked La Vanguardia to take this information down. His request however was turned down. He then filed a complaint with Spanish Data Protection Agency asking both La Vangaurdia and Google to remove the story from their paper and search engines respectively. The agency director rejected the request to the newspaper but upheld the one to Google telling them to remove the links so that access to that data is not possible. After this, the Highest Court in European Union supported the Agency director's demand saying that Google was responsible for processing of personal data and that people had a "Right to be forgotten."
Here is a brighter picture and the story of how it was welcomed in Europe giving individuals space to maintain privacy and have search engines forget them when they feel it violates it. The situation isn't always so easy to interpret. Often this is used to remove the stories that might affect other people while it violates one's privacy. Does this mean one's privacy can be given an upper hand over public's right to know the information? How do we judge what is necessary or not. Such questions still surround Google as the judgement or the law say nothing about it and it is open to interpretation till date.
The Right to be forgotten is still a legal predicament in India. The ruling is not binding on India and applies only to European countries. None of the Indian Legislation such as IT Act 2000(amended in 2008) or the IT Rules 2011 has provisions for right to be forgotten or the right to privacy.
"In India we do not have a concept of the Right to be Forgotten. It's a very Western concept," said Pavan Duggal, a.  Still, intermediaries like search engines and Internet services providers, under the country's IT Act and IT Rules,  have the obligation to exercise due diligence if an aggrieved party sends them a written notice, he said.
According to Sunil Abraham, executive director of the Centre for Internet and Society, an Internet rights lobby group, "right to be forgotten" cases should pass the "public interest" test. "Privacy protection should not have a chilling effect on transparency. The question is: Does the content (which a user wants to be removed) serve a public interest that outweighs the harm that it is doing to the individual concerned? If no public interest is being served, there is no point in knowing what the content is all about. The complication with the EU ruling is that it wants intermediaries and over-the-top providers to play the role of judges," said Abraham.[i]
All we can say for now is Right to be Forgotten is still a distant dream for India. Before that happens we have various other milestones to cover. Amendments in the IT Act and introduction of new legislation related to issues like privacy, netiquettes etc. are the need of the hour. The Indian cyber picture needs a serious look into because it is not stepping but practically galloping into it.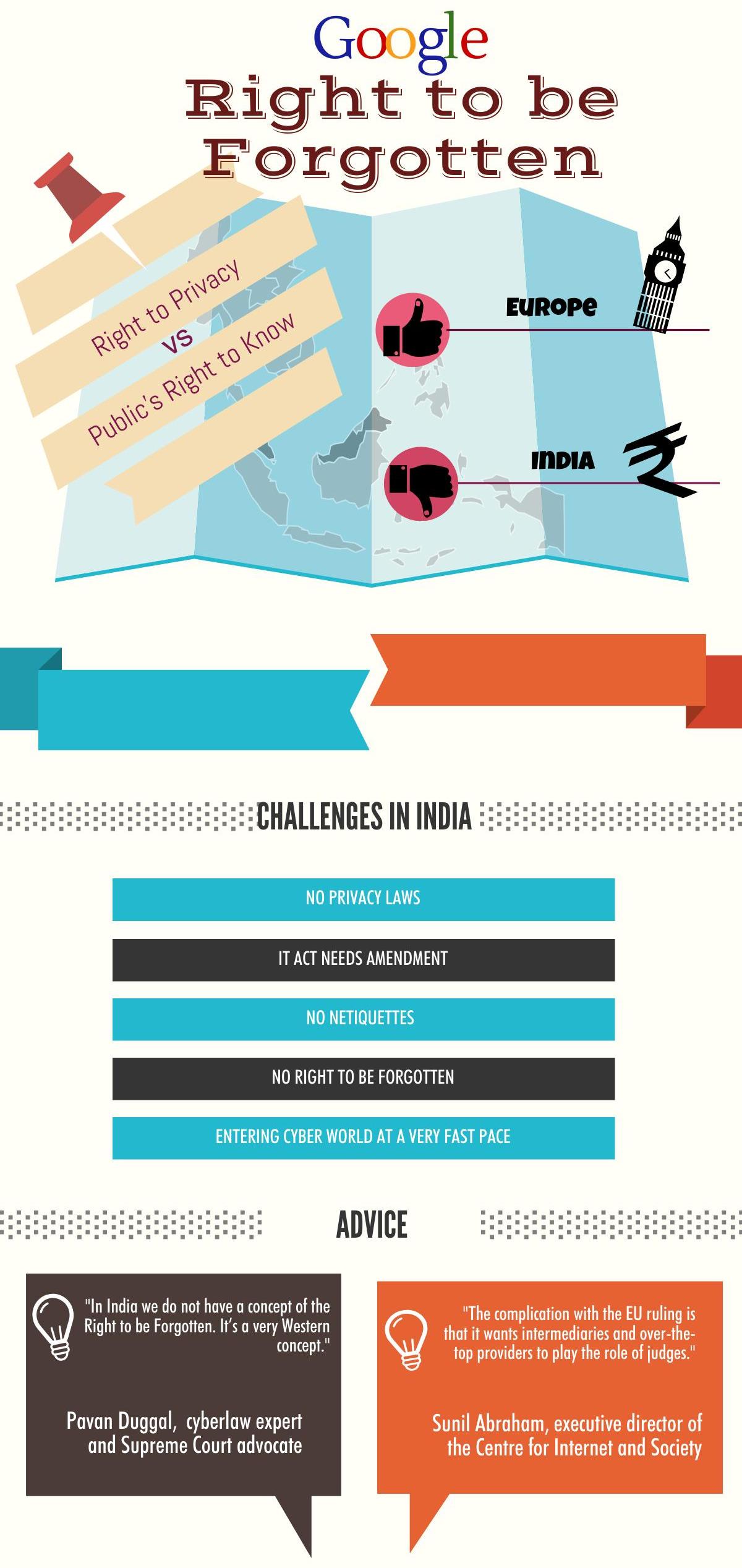 [i] : http://www.livemint.com/Industry/5jmbcpuHqO7UwX3IBsiGCM/Right-to-be-forgotten-poses-a-legal-dilemma-in-India.html?utm_source=copy