Operation Blackface and Crawler: Maharashtra Cyber's drive against CSAM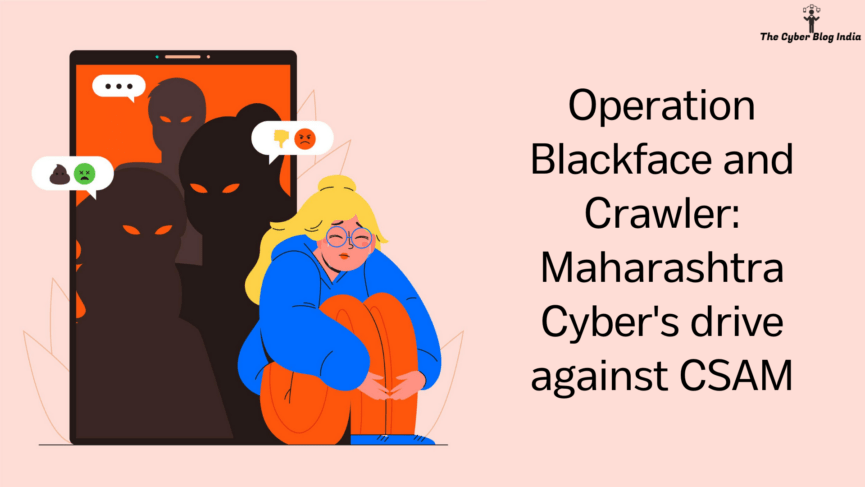 Child sexual abuse material (CSAM) includes pictures and videos that depict a child engaged in a sexually explicit activity. India sits right above the list based on the global compilation of child sexual abuse material found online. According to the National Centre for Missing and Exploited Children (NCMEC), India reported 1.98 million suspected CSAM reports out of 16.9 million reports globally. These statistics are often used to reflect on the high consumption rate of CSAM in India. Against this common understanding, we have previously published a contradictory opinion here.
Irrespective of the numbers, child sexual abuse material is a serious and disturbing problem. When we look at Indian laws, Section 67B of the Information Technology Act, 2000 prohibits the transmission and publication of such content. Further, there are multiple provisions in the Protection of Children from Sexual Offences Act, 2012 ("POCSO") that can be useful. To efficiently investigate cases involving CSAM, law enforcement agencies will require all the help they can have. This is where Operation Blackface and Crawler come into the picture.
What is Operation Blackface?
Operation Blackface is a Maharashtra Cyber initiative to take action against child sexual abuse material available on the internet. They have a dedicated team called Tactical Response Against Cyber Child Exploitation (TRACE). Maharashtra Cyber has also acquired a state-of-the-art software called Crawler from Interpol. This software will help the TRACE team in tracking cases and crack down the perpetrators. The TRACE team consists of 12 police officers who received their training from the South Asian wing of Interpol.
Under this operation, Maharashtra Cyber has conducted online training programmes for 270 officers across the state. These programs have focussed on the amended POCSO Act and handling of CSAM cases. They have also trained police officers in dealing with online racketeers. These racketeers blackmail individuals claiming they have access to search history wherein they have searched about child pornography. Subsequently, these blackmailers ask the victim to pay the ransom in Bitcoins or through other Dark Net channels.
As of July 2021, Maharashtra Cyber registered 151 cases under Operation Blackface and charged individuals for almost 213 offences under the Indian Penal Code, 1860, the Information Technology Act, 2000, and the POCSO Act, 2012. This had led to 105 arrests.
Previously, India's National Crime Records Bureau (NCRB) and NCMEC have signed a memorandum of understanding (MoU) for accessing tipline reports on missing and exploited children. NCRB passes the information to respective states as they receive tipline reports from NCMEC. It has appointed a nodal officer in every state responsible for inspecting and scrutinising incidents related to CSAM. Once NCRB receives a tipline report from NCMEC, it is forwarded to the concerned nodal officer for necessary action.
What is Crawler?
In India, Maharashtra Cyber has become the first agency to acquire this software from Interpol. This software detects nudity in images and videos, and it identifies the age of individuals based on their facial structure. Crawler also has in-built algorithms that search for keywords around child pornography to help the police track platforms involved in the proliferation and distribution of CSAM. Once the tool suspects that a piece of content may be CSAM, it is added to the database, after which an officer has to manually verify whether it would fall under child pornography.
Endnotes
Children are more vulnerable to exploitation, harassment, and abuse as compared to adults. With the onset of COVID-19 pandemic, the number of cases appears to have increased due to increased screen time. It is necessary to understand that it is illegal to collect, watch, or even search for CSAM. If you encounter any incident or content depicting sexual abuse against a child, you are responsible for mandatorily reporting such an incident as per Section 19(1) of POCSO. In case you fail to report, Section 21 considers the failure to report a punishable offence. You can report such content on the National Cyber Crime Reporting Portal at https://cybercrime.gov.in. A step-by-step guide for filing a complaint on this portal is available here.
---
Featured Image Credits: Kids vector created by pikisuperstar – www.freepik.com