No! Indians are not watching "disturbing amount" of CSAM during lockdown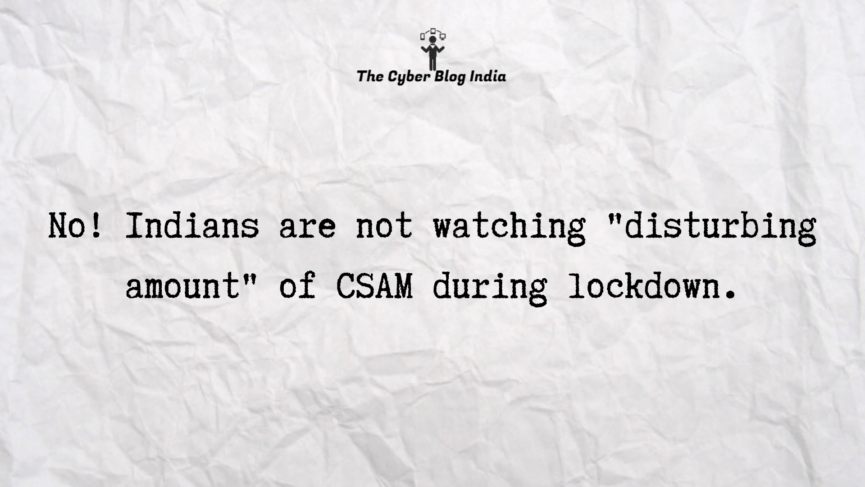 Several reputed media houses including Vice, Times of India, The Week, Hindustan Times etc. reported about an alleged 95% or 200% increase in the demand for child sexual abuse material (CSAM) during the COVID lockdown in India. While I have written several accounts of investigations into the proliferation of child sexual abuse material on platforms in India, such findings are starker and nothing like before, especially during the lockdown period. 
Preliminary research about the lockdown and prevalence of demand for CSAM indicates that there is no evidence to say that there has been such a huge increase in demand of child sexual abuse material during the lockdown in India. The numbers in these articles have been quoted incorrectly and out of context. 
The ICPF report presents PornHub statistics as evidence for an increase in demand for CSAM with a claim that a "significant segment of this spike can be attributed to the demand for child pornography content." Although statistics from PornHub do reveal that there was a 95% increase in traffic from India on March 27th (from under 25% levels in the previous days), there is no claim by PornHub that such increase was due to demand of Child Sexual Abuse Material. In fact, there was a global increase in PornHub's traffic, as high as 24% when the company announced making its premium content free for all. When a similar announcement for free premium content was made in Italy, the average daily traffic change of under 10% soared up to 57%, in Spain from roughly the same levels to 62% and in France from under 6% to 38%. The causal link between an increase in traffic on a website with demand for CSAM is not well-founded. 
Further, the ICPF report talks about an increase in searches for keywords such as "child porn" and "sexy child" in India. I do not have access to PornHub's search histories because it is not publicly available data but data from Google search trends suggests that there has not been any unusual spike in searches for the keywords mentioned in ICPF's report between the time period of March 24-26th. In fact, after news reports about ICPF's research were published, there can be seen a steep increase in search for those keywords like never before in the last three months.
The 200% increase in demand (which has been irresponsibly quoted by Vice and not rectified despite being informed) has been reported by the Indian Child Protection Fund (ICPF)'s study from December 2019, during a deterrence project undertaken by them against Child Sexual Abuse Material in India. This figure is being misquoted by media houses as happening during the lockdown, of which there is no public evidence available. It has been reported by ICPF how the prevalence of search for child sexual abuse material through specific keywords on the public web changed during that period by 200%. They have also reported that they sent deterrence messages to around 5 lakh perpetrators of CSAM through Google, Facebook, and Instagram. It is my understanding that ICPF used proprietary technology tools to undertake the project but without the data sets being made available from ICPF, we are not in a position to verify the claims.
Note: ICPF has informed us that they cannot share the data sets given the sensitivity of the matter.
As for an increase in demand for CSAM during the lockdown is concerned, I have not found any direct evidence to conclude that might be the case. I am however aware of the fact that there have been increased incidents and the threats that children face every day have also increased amid the lockdown because everyone is leading their lives online for the most part. To highlight, incidents of indecent messaging to children and women along with unsolicited exposure to sensitive content has increased. Like ECPAT, UN and Europol, I too believe that children face more threats during these times and strong actions or deterrence along with building resilience and safety nets need to be taken.