Google India Pvt. Ltd. v. Visaka Industries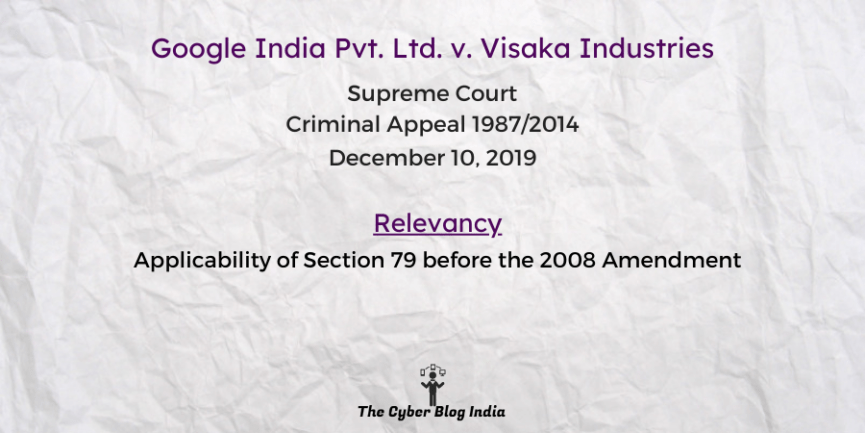 Google India Pvt. Ltd. v. Visaka Industries
(2020) 4 SCC 162
In the Supreme Court of India
Criminal Appeal 1987/2014
Before Justice Ashok Bhushan and Justice KM Joseph
Decided on December 10, 2019
Relevancy of the Case: Applicability of Section 79 before the 2008 Amendment
Statutes and Provisions Involved
The Information Technology Act, 2000 (Section 2(1), 69A, 79, 81)
The Constitution of India, 1950 (Article 19(1)(a))
The Indian Penal Code, 1860 (Section 34, 120B, 499, 500, 501)
The Indian Evidence Act, 1872 (Section 65B)
The Code of Civil Procedure, 1908 (Section 100)
The Code of Criminal Procedure, 1973 (Section 81, 482)
Relevant Facts of the Case
The respondent company manufactures asbestos cement sheets.
The respondent alleged that the appellant is hosting a group named 'Ban Asbestos India' on Google Groups. One of the users posted two false and defamatory articles against the respondent on this platform.
The respondent issued the notice to take down the defamatory articles. However, the appellant did not comply as the respondent did not provide links.
The respondent filed the complaint against the appellant in January 2009 on the grounds of defamation.
The deputy manager of the respondent summoned the appellant. It challenged the summon order in the High Court. But, the court dismissed the petition.
The present appeal seeks to quash the criminal proceedings against the appellant. It also questioned the territorial jurisdiction of the Magistrate.
Prominent Arguments by the Advocates
The appellant's counsel submitted that the parent company of Google provides services on Google Groups. Further, the intermediary is not responsible for third parties posting the information on their platform. The appellant also relied on the case of Shreya Singhal v. Union of India.
On the other hand, the respondent's counsel submitted that the appellant should not get protection under Section 79 of the Information Technology Act, 2000. Google's parent company and Google Forms are parts of a common economic entity. Therefore, the appellant has an interest in Google Groups.
Opinion of the Bench
Before the 2008 amendment, Section 79 did not protect intermediaries against the criminal offence under Section 499 and 500 of the Indian Penal Code, 1860. However, the appellant can take general defences available against defamation.
The intermediary's failure to remove the content despite having the power will amount to publication under Section 499 of the Indian Penal Code, 1860.
The observations in Shreya Singhal v. Union of India deal with the amended Section 79. Hence, this judgement is not considerable.
The court denied quashing the criminal proceedings against the appellant. The issues of the case are subject to trial.
Final Decision
As a result, the court disposed of the appeal. Moreover, the Magistrate shall proceed with the complaint.