German Competition Regulator Prohibits Facebook to Combine User Data From WhatsApp and Instagram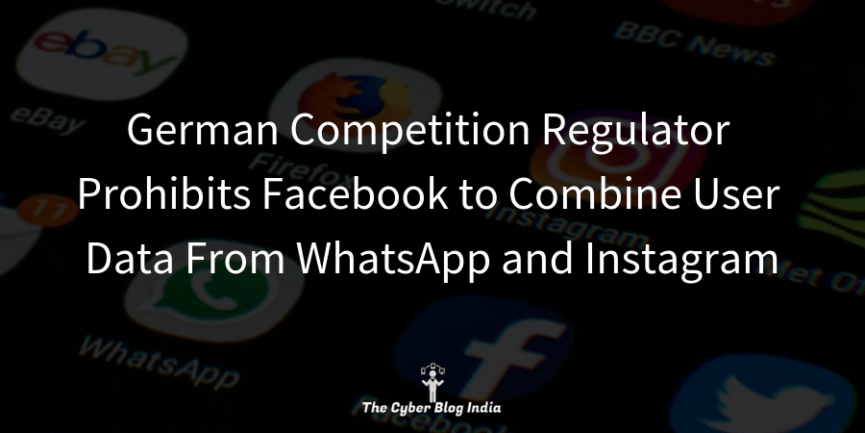 Do you have a social media account?
The answer to this question is very obvious and having an online presence on multiple social media platforms is a norm these days. Today's tech-savvy world does believe that social media connects people from different corners of the globe. Almost 2.46 billion people around the globe access various social media platforms and the most popular among them is Facebook. This US-based social media giant has 2.32 billion users worldwide and has its subsidiaries such as Whatsapp Inc. and Instagram.
While surfing on the internet, a virtual persona of an individual is created depending upon the type of content watched by a person; photos and videos shared and posts liked by him and even product searched on online shopping sites. Or in other words, social media platforms track a user's behaviour to serve them with the appropriate advertisements. Like button plays a very important role in this. Most of the revenue of the social media sites is collected from advertisements and the advertisements displayed on a user's profile are targeted ads.
Whatsapp, Instagram and Facebook have a similar kind of functionalities to an extent and they are owned by Facebook itself, Facebook used to combine data from Instagram and WhatsApp into one Facebook user account without any restriction – practically. This combination of data from different platforms will now be subject a voluntary consent given by a user, as per the GDPR. According to Andreas Mundt, the chief of Federal Cartel Office, Germany's competition regulator,
The combination of data sources substantially contributed to the fact that Facebook was able to build a unique database for each individual user and thus to gain market power.
In their decision, the agency stated that Facebook-owned companies such as WhatsApp and Instagram can continue to collect the user data, however, they cannot assign it to any Facebook user account unless voluntary consent is obtained from the concerned user. If a user does not agree, his user data must remain with respective services and it cannot be processed on the lines of Facebook data. Being a dominant company, Facebook is subject to special obligations under the French competition law. While making the announcement, the FCO chief also said that
Services that are provided by these social media platforms are free of cost, but revenue collected is through advertisements and value of the amount of revenue through advertisements increase with the details of user data which could lead to exploitative use of user data.
To stop the unrestricted collection of data, the Competition chiefs in Germany ordered Facebook on February 07th, 2019 to stop combining data with any other platforms including websites having like buttons unless and until the user gives consent to do so.
Responding to this ruling, Facebook stated that they have already revamped the information they provide and control over data to a customer in order to comply with the provisions of the GDPR. They face fierce direct competition from apps like Twitter, YouTube, Snapchat, etc. and using information across services helps to improve the services and enhance a user's safety.
The German agency's verdict is not final yet as Facebook has one month to appeal to the Dusseldorf Higher Regional Court. If the Dusseldorf Higher Regional Court upholds this ruling, it will set a new precedent dealing with sharing of user data between advertisement platforms.