E-Waste Regulation in India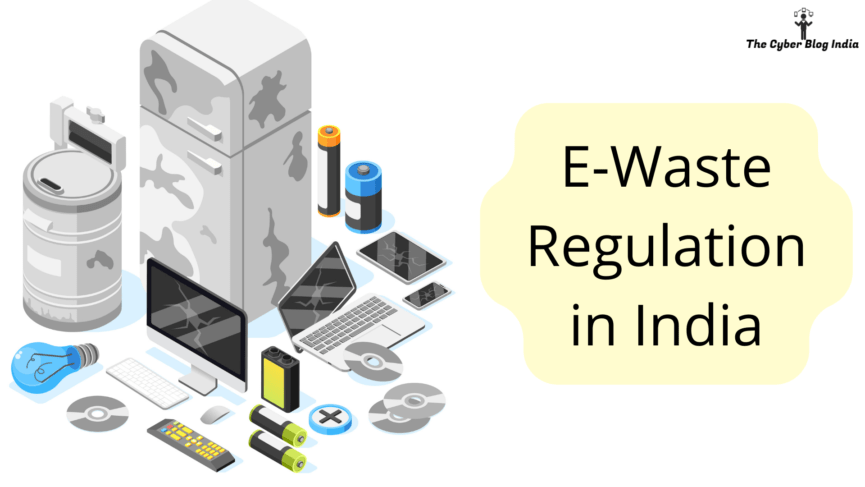 We cannot imagine a world without electrical and electronic equipment around us. These types of equipment include your refrigerator, mobile phone, laptop, microwave oven, etc. But do you know what happens after your devices are no longer usable? They become electronic waste (or e-waste). Since we have no intentions to reuse it, we are most likely to discard it. While some of us may not dispose of them with our household waste, we sell them to our community kabariwalas, don't we? The kabariwalas keep the valuable items and throw the rest in landfills. This extraction of metals from e-waste can result in hazardous and severe threats to humans and other living beings.
Materials like arsenic, nickel, zinc, and lead can cause damage to various organs of our body. This manner of disposal is not the proper way. Moreover, e-waste regulations in India specify that only authorised dismantlers and recyclers can collect e-waste from the public. According to ASSOCHAM, India is one of the top five countries when it comes to e-waste generation. We generate 20 lakh tonnes of electronic waste per year. When it comes to recycling, we only recycle 4.3 lakh tonnes in a year. If we continue to generate waste at this pace, we will hit the 100 million tonnes mark by 2050. It is about time that we adopt sustainable methods for e-waste management. In this article, we take a closer look at e-waste regulations in India.
Does India regulate e-waste?
Yes. India is the only country in Southern Asia with e-waste regulations. Over the last couple of decades, India has made significant progress in handling e-waste. In 2005, Mr V.J. Darda, then Rajya Sabha MP from Maharashtra, presented a private member's bill called "The Electronic Waste (Handling and Disposal) Bill, 2005." The bill sought to regulate improper ways of e-waste disposal. It also talked about the responsibilities of manufacturers, recyclers, and consumers. However, the bill lapsed when his tenure was completed in 2010.
At present, the e-waste regulation framework in India includes the Hazardous Wastes (Management, Handling and Transboundary Movement) Rules, 2008 and the E-Waste (Management) Rules, 2016.
The Hazardous Wastes (Management, Handling, and Transboundary Movement) Rules, 2008
Before this set of rules, the Hazardous Waste (Management and Handling) Rules, 1989 considered electronic waste under the category of hazardous waste. According to the amended 1989 Rules, hazardous waste is any waste that is dangerous due to its chemical, reactive, toxic, and corrosive nature.  To supersede the 1989 Rules, the Government introduced the Hazardous Wastes (Management, Handling and Transboundary Movement) Rules, 2008. The objective was to frame an appropriate regulation for e-waste and comply with the requirements of the Basel Convention.
The 2008 Rules made it mandatory for anyone who seeks to recycle or reprocess hazardous waste to register with the Central Pollution Control Board (CPCB). Such a person must satisfy the requirements laid down by CPCB to utilise environmentally sound technologies and requisite facilities for managing electronic waste. A consumer must only send or sell their unusable equipment or devices to a registered recycler or re-processor.
The E-Waste (Management) Rules, 2016
The E-Waste (Management) Rules, 2016 superseded the 2012 Rules of the same name. The introduction of the 2012 Rules was the first full-fledged regulation on e-waste. It applies to every producer, recycler, and consumer involved in selling, purchasing, manufacturing, or processing electronic or electrical components. The 2012 Rules required the products to provide contact details of authorised e-waste collectors to their consumers. The 2016 Rules came into effect on October 01, 2017.
Major Changes Introduced by the 2016 Rules
Reverse chain: The 2016 Rules strengthened the Extended Producer Responsibility (EPR). A producer's responsibility now includes returning the damaged equipment and safely recycling the e-waste.
Scheme of deposit: The rules recommend providing a scheme of deposit as a part of EPR. The scheme should specify the amount consumers have to deposit while purchasing a product. When consumers return with the damaged product, they can reclaim the deposit with interest. A company can consider setting up a dedicated department called E-Waste Collection, Handling, and Disposal.
No pollutants: Every producer must ensure that their equipment or devices are free from contaminants like mercury, lead, and cadmium.
Inclusion of informal sector: The new rules recommend including the informal sector. The local e-waste collectors handle around 90% of the waste generated in the country. The authorities can conduct training programmes for the proper management of electronic waste at grassroots.
Extended responsibility of bulk consumers: Bulk consumers must hand over their e-waste to authorised recyclers only.
E-waste from imported goods: The obligation to dispose of e-waste generated from imported goods is on the importers. An importer must file an application to CPCB along with documents like budgetary allocation, awareness plan, and EPR plan.
The Ministry of Environment and Forest amended the 2016 Rules through the E-Waste (Management) Amendment Rules, 2018. The amended rules reduced waste collection targets for industries. Further, they introduced the registration of Producer Responsibility Organisation (PRO). The government will cover the costs for sampling and testing equipment instead of the producer.
Conclusion
If it goes unregulated, e-waste is another waste management crisis. With time, diligent e-waste disposal and management will have crucial roles. Poor waste management in the country is due to a lack of infrastructure and improper implementation of existing regulations. While there are several recycling units for electronic waste, they are not enough, considering the amount of waste we generate. With that said, MEITY has developed cost-effective and appropriate technologies to recycle and reuse materials in an environmentally sound manner. The government encourages the general public to participate in Swachh Digital Bharat by giving e-waste to authorised recyclers.
While the government can introduce regulations and launch initiatives, the onus equally lies on individuals. Therefore, every consumer must discard electronic waste by giving it only to authorised collectors. This is the least we can do to keep the environment safe as a consumer.
---
Featured Image Credits: Isometric vector created by macrovector – www.freepik.com