Bombay HC denies bail under Section 67A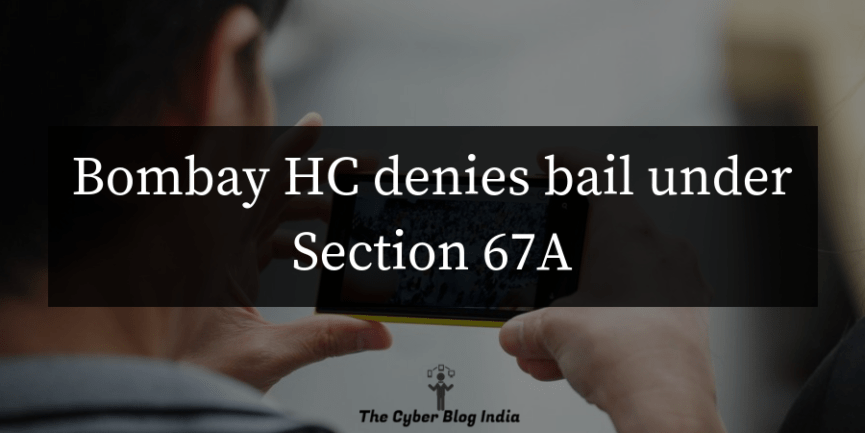 It is a rare sight to see an Indian court convicting an accused under the provisions of the Information Technology Act, 2000. Earlier this year in March 2018, a Judicial Magistrate First Class Court in Purba Medinipur district, West Bengal convicted an accused with five years of imprisonment in a revenge porn case. Considering that most of the offences under the IT Act, 2000 are bailable, this is probably the very first instance when a High Court has denied bail to an accused.
In the case of Akshay Sripad Rao v. The State of Maharashtra (CrBA 2304/17), the accused is facing trial (RCC 1171/2017) before the Judicial Magistrate First Class, Nashik for offences under Section 67, 67A of the Information Technology Act, 2000 along with Section 354A, 354D of the Indian Penal Code, 1860. He had filed a bail application before the Bombay HC under Section 439 of the Code of Criminal Procedure, 1973.
Facts of the Case
The contents of FIR revealed that the accused had disrobed the victim, made physical contact and advances involving unwelcome and explicit sexual overtures.
He had also taken her nude photographs and uploaded them on 145 different porn websites.
It was also brought to the knowledge of the court that the accused had done the same with another victim.
Forensic analysis of accused's seized laptop and mobile phone revealed that he had uploaded victim's photos from these devices.
Judge's Opinion
Justice Anuja Prabhudessai, who was presiding over this case, made following observations –
The photos uploaded on various porn sites contain sexually explicit act/conduct.
The material on record prima facie shows that accused has committed an offence falling under the above-mentioned provisions.
Since the victims are two young girls, there are definite chances that the accused will pressurise the victims and eventually, thwart the course of justice.
Order
Based upon the above opinion, the honourable Judge did not find this case as a fit case to be granted bail at this stage of the trial. Further, the lower court was accordingly ordered to frame the charges and record the evidence of the victims within a period of four months from the date of this order.
Personal Opinion
The increased penetration rate has indeed widened the attack surface area for the perpetrators to exploit. With the IT Act, 2000 proving to be inadequate in various dimensions, the onus now lies on the courts to ensure that appropriate remedies are given to the victims while at the same time, they are not denied justice due to a loophole or a grey area in the existing laws.
---
You can download the PDF file of this order by clicking here.