Indian Court Sets Precedent in a Revenge Porn Case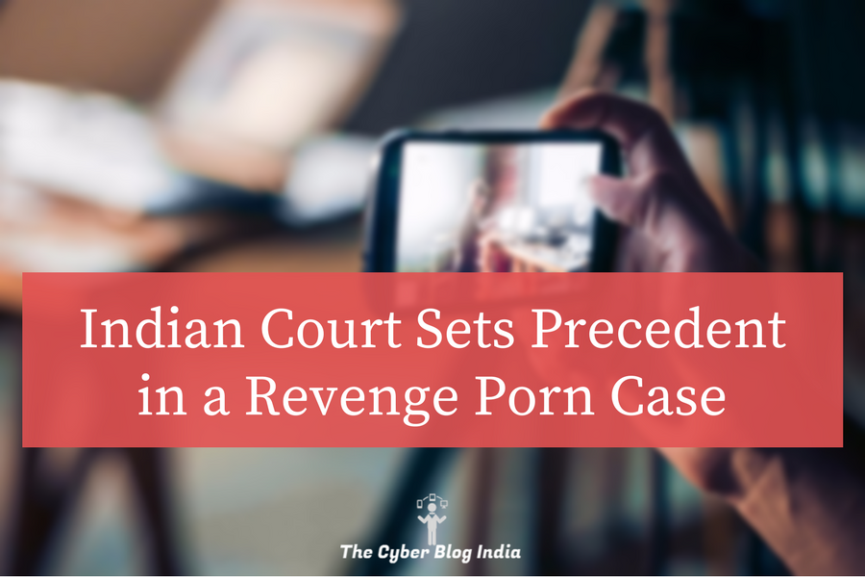 According to National Crime Records Bureau, there has been an increment of 157% in the number of cases reported for sharing of obscene content on the Internet since 2012.
Women have always been the object of crime in India but now the crimes against women are increasing even in the virtual world. Sadly, the legal framework is not adequate yet to protect women from such crimes. Revenge Porn is one of such serious cyber-crimes against women. Though it is relatively new in India and its rise cannot be denied. It involves sharing of sexually explicit (read private or nude) pictures of a person without consent. It is done basically by ex-lovers or former partners to gain revenge and cause shame & intimidation to the victim.
Moreover, we don't have any direct law against revenge porn. So, whenever such crimes take place, they are dealt under the provisions of the Information Technology Act, 2000 (Sections 66E, 67, and 67A) read with the provisions of the Indian Penal Code, 1860 (Sections 354A, 354C, 354D, 509).
The most recent conviction has been in the case of "State of West Bengal v Animesh Boxi" where the facts of the case are as follows.
The victim had been in a relationship with the defendant for 3 years.
During the course of this time, the defendant had asked for private and nude pictures from the victim.
The victim, being emotional, had sent the private (read objectionable) pictures but denied giving the nude pictures.
The defendant copied her nude pictures from her phone and started blackmailing the victim to go on an outing with him. Else, he would upload the pictures and videos on the Internet.
The victim disagreed and hence the accused uploaded the pictures and videos on porn sites.
Handling a cybercrime case is not easy as it becomes very difficult to gather the electronic evidence, making it admissible and proving the accused guilty. In this particular case, there was a submission of more than 200 documents and citation of 300 judgements globally. Mr Gautam Kumar Nag, Third Judicial Magistrate First Class, Tamluk, District Purba Medinipur pronounced the judgement in the victim's favour convicting the accused with an imprisonment of 5 years and a fine of around ₹9000/-.
According to Adv. Bivas Chatterjee, Public Prosecutor (Cyber Crimes) for the State of West Bengal who led the prosecution in this case –
Revenge Porn is a global phenomenon but unfortunately, only 2% of the crime is actually reported in India. He also stated that sixty-seventy percent of the virtual data is pornographic content. With the ever-increasing demand for such videos, we need to understand that in India circulation of content that threatens the modesty of a woman is a punishable offence. He encourages everyone to raise an alarm, lodge a complaint if they come across revenge porn or rape videos. Any responsible citizen can lodge a complaint, even journalist while doing any investigative stories related to revenge porn or rape videos can approach the judiciary. Such kind of step will definitely make a man with such intentions think twice before resorting to revenge porn.
In this particular case, the judgement was pronounced within six months and it is first such case of conviction by the state for cybercrime against women. It is a progressive step that Indian judiciary has started dealing with such cases efficiently and also focusing on its speedy disposal. Apart from this, let it be any person, male or female, need to act maturely. Everyone should be careful about what they are clicking and sharing while in a relationship including marriage.