Artificial Intelligence and Law (Part 3): Possible Legal Issues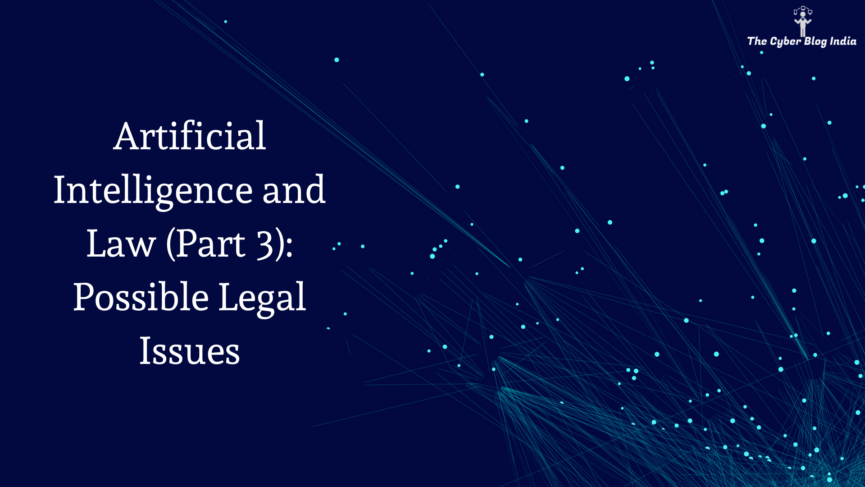 The first and second parts of this series talked about what AI is and how it is being adopted in the legal industry, respectively. While there is no denying that the existing legal system is not equipped to deal with AI-based systems, we need to discuss legal issues associated with AI and initiate a discourse on exploring possible solutions.
(This is a three-part series on Artificial Intelligence and Law. You are currently reading the third part. Links to other parts are available at the bottom of this article.)

1. Liability
If an AI-based system causes harm to an individual or property, who will be liable? How are we going to enforce civil and criminal liability on an AI-based system? Consider the earlier example of Tesla's autopilot mode that resulted in the death of a passenger. What if it had been an individual waiting to cross the road? Are we going to enforce the liability on the car's owner or the company that manufactured the car? Can we interpret the doctrine of absolute and strict liabilities in the context of AI devices? These are the shortcomings we need to discuss.
2. Intellectual Property Rights (IPR)
If an AI-based system is capable of thinking and acting on its own, will it be able to enjoy the intellectual property rights? If yes, how would it be able to enforce its right against an individual who has copied its original piece of work? Or will we recognise AI-based systems as copyright owners/patent holders in copyright/patent law? While it is a well-recognised fact that legal personhood is not only granted to human beings, the Indian courts are yet to adjudicate on a matter relating to personhood and intellectual property of an AI system.
3. Contractual relationships
Can an AI-based system enter into a contract on behalf of an individual or company? Or in other words, can a power of attorney be signed in favour of an AI-based system? Section 11 of the Indian Contract Act, 1872 defines the requirements for a person competent to enter into a contract. As of now, the definition of a legal person cannot be interpreted to encompass AI-based systems.
4. Competition law
The Competition Act, 2000 seeks to provide a legal framework and ensure that anti-competitive practices are prevented. Consider that a well-known company purchases a flurry of AI-based systems for making predictions about customers' buying patterns. Can a startup with limited resources claim that the former is abusing its dominant position in the market? While having a dominant position in the relevant market is not a problem, it must not be abused. Indian competition law needs to evolve to incorporate anti-competitive practices concerning AI-based systems.
Significant International Developments
AI-based courts have become a reality in the Chinese city of Hangzhou. According to a Chinese news agency, more than 3 million legal activities have been processed by the users. Such courts run without any time limits, and they are providing legal services at a rate which was never achieved before. This system of courts uses blockchain technology for record-keeping and making the documents readily available for the users.
With augmented reality (AR) and virtual reality (VR) market to grow up to $150 billion in revenue by the end of 2020, upcoming startups may utilise these technologies for virtual courts. It will be interesting to see how AR and VR are adopted to provide legal services or bring a paradigm shift in the functioning of virtual courts.
Ending Notes
If AI as technology becomes successful after implementation, it has the potential to disrupt how traditional legal processes work. The author firmly believes that with AI at the helm, "access to justice" will get a new meaning. As we only have the Information Technology Act, 2000 as the single law to regulate technology-based offences in India, our legislators need to give serious attention to the regulation of emerging technologies such as AI and blockchain.
---
Read the first and second parts of this series:
---
This article has been written by Akhil Mishra. He is currently an undergraduate student at Amity Law School, Delhi.
Disclaimer: Views or opinions expressed in this article, whether impliedly or explicitly, are personal.
---
Edited by Raj Pagariya
Featured Image Credits: Background vector created by starline – www.freepik.com