WhatsApp Web – Really going to help?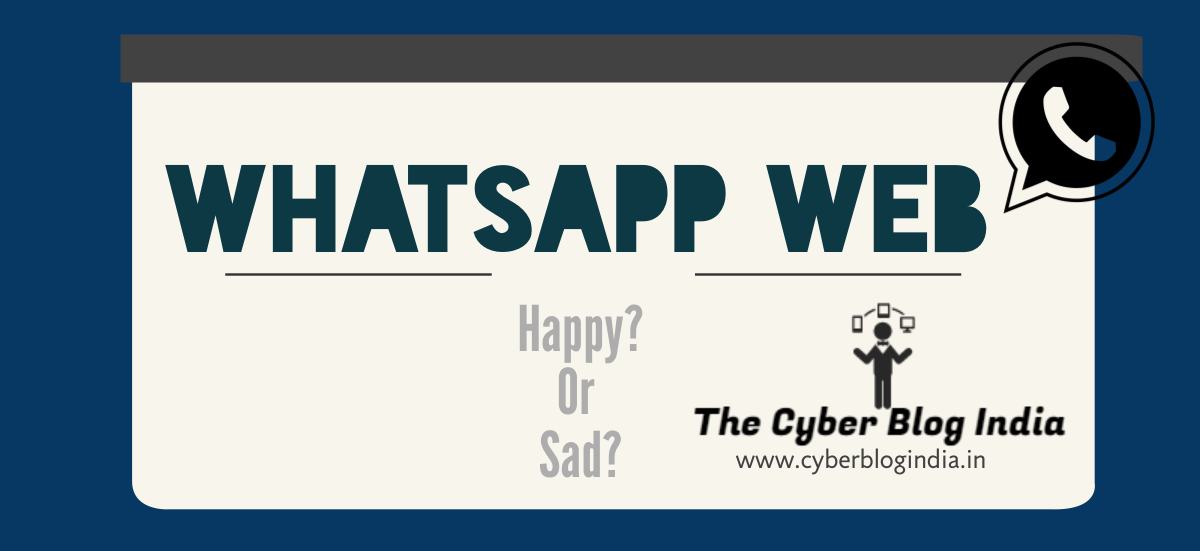 WhatsApp Web – Really going to help?
"WhatsApp goes to facebook, then WhatsApp hits the browser. One tasty piece of cake served to the 700 Million+ users later yesterday is WhatsApp web."
For all those people who have asked for so long about how to actually use WhatsApp on a laptop, here it is WhatsApp answering.
"Today, for the first time, millions of you will have the ability to use WhatsApp on your web browser,"
Earlier there were those workarounds using android simulators to get WhatsApp on a desktop or a laptop but now we have an easy and unified way to live the experience. Talking about India alone, WhatsApp claimed in 2013 that it has the biggest market here comprising 1/10th of the total users. It has to be so ofcourse, afterall we have are 2nd on the charts of the number of internet users. What is interesting is that mobile internet is very cheap in India yet the penetration rate is not as much as it is in the United States due to a number of issues like good coverage and connectivity.
The blow here is that  WhatsApp web is just a mirror of your mobile device. It works only when WhatsApp can connect to its server on your mobile device also.  That means if you have a bad connection on your mobile or were hoping that you could use WhatsApp entirely with the Internet connection available on your laptop, We are sorry that is not happening. You shut down the connection on your mobile and WhatsApp Web is gone. The new WhatsApp Web is like a screen sharing of the WhatsApp on your mobile. Of course there is ease but an independent connection is not available.
You have the option to be signed out automatically and get notifications which is fancy and cool.
Though with WhatsApp's big move, the ones that have a limited mobile connectivity or a working connection on their smartphone are still going to be hooked up to the desktop or laptop. It is very much certain that those who are using WhatsApp are going to be more stuck up with it but Is it going to get more users? It might, but speaking in the Indian Context, there are areas where mobile connectivity is still poor and only leased line Internet works fine, so there is no luck there.
Technologically speaking, not in connecting more people but in connecting people more often this is going to be a very huge hit.
Also, can we drive away from the privacy policy and the threat that lives everyday with this service also? First of all the issue is of age in India. WhatsApp is not really concerned legally if you are a user from outside the US. Neither does WhatsApp allow you to use its services if you are under the age of 16 nor does the Indian law (which superceeds all authority), under the age of 18.
Again, connecting the world is a big leap but in India what are the cost that we are looking to pay for it? WhatsApp is not intended anyway for users outside of the US.
The WhatsApp Site and Service are hosted in the United States and are intended for and directed to users in the United States. If you are a user accessing the WhatsApp Site and Service from the European Union, Asia, or any other region with laws or regulations governing personal data collection, use, and disclosure, that differ from United States laws, please be advised that through your continued use of the WhatsApp Site and Service, which are governed by California law, this Privacy Policy, and our Terms of Service, you are transferring your personal information to the United States and you expressly consent to that transfer and consent to be governed by California law for these purposes.
You are throwing away your data, not to mention private messages and conversations, images, videos etc. over to the servers based out of India. Once this data is gone, no Indian Law has jurisdiction, no subpoenas, no warrants, nothing works. If by chance you fall a victim of any type of crime via whatsapp there is a very faint chance of any relief. Now there is a lot of controversy about how WhatsApp handles your data. But it's always better to play safe. Now that Facebook has taken over WhatsApp for almost a year, this kind of a breakthrough was expected. Also, an audio calling feature is much anticipated in the coming time.
For your safety, it is important that you don't share information that is private over WhatsApp or any chat client for that fact.
Well we are going to take a bit here to explain how WhatsApp is set up on a browser. iOS users can't really catch up yet. It is available for all other platforms though
2. The QR code as it appears needs to be scanned via your updated WhatsApp Application. You can head over to menu and WhatsApp Web.
3. As simple as it looks, this is it. Once you scan the code you are set up.
Do share what you feel about this interesting development.