Virendra Khanna v. State of Karnataka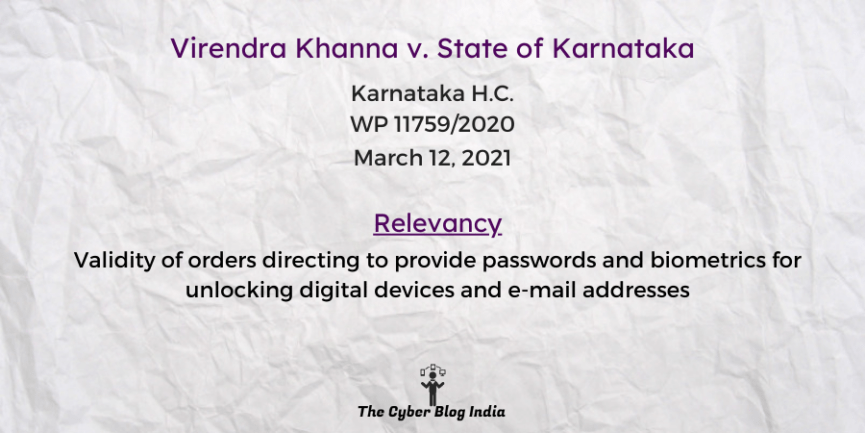 Virendra Khanna v. State of Karnataka
In the High Court of Karnataka
WP 11759/2020
Before Justice Suraj Covindaraj
Decided on March 12, 2021
Relevancy of the Case: Validity of orders directing to provide passwords and biometrics for unlocking digital devices and e-mail addresses
Statutes and Provisions Involved
The Information Technology Act, 2000 (Section 2, 69(1), 79A)
The Constitution of India, 1950 (Article 20(3), 21, 22, 226, 227)
The Indian Evidence Act, 1872 (Section 3, 45A, 139)
The Narcotic Drugs and Psychotropic Substances Act, 1985 (Section 21(c))
The Foreigners Act, 1946 (Section 14)
The Code of Criminal Procedure, 1973 (Section 53, 54A, 91, 92, 93, 94, 100, 102, 151(2), 160, 161(2), 165, 167, 311A, 482)
Relevant Facts of the Case
The Central Crime Branch police arrested and brought the petitioner to Bangalore from Delhi for interrogation in a case registered in 2018 under Section 21(c) of the Narcotic Drugs and Psychotropic Substances Act, 1985 and Section 14 of the Foreigners Act, 1946.
The police seized the petitioner's mobile phone, laptop and other objects.
According to police, the petitioner denied disclosing the passwords of devices and e-mail addresses and disobeyed the court order.
Later, the police procured an order from the special court to conduct the polygraph test on the petitioner without giving him the opportunity of hearing. Previously, the petitioner's application to recall this order got rejected.
The present petition seeks to quash the orders to disclose passwords and conduct the polygraph test.
Prominent Arguments by the Advocates
The petitioner's counsel submitted that the orders violate the right against self-incrimination and the right to privacy. The counsel expressed concerns on the possibility of the decryption of digital devices by experts without the petitioner's consent.
On the other hand, the respondent's counsel submitted that the court can give directions for disclosing passwords under Section 139 of the Indian Evidence Act, 1872 and Section 54A, 311A of the Code of Criminal Procedure, 1973 as an electronic record and identification mark.
Opinion of the Bench
Providing passwords and biometrics does not affect the right against self-incrimination and the right to privacy. All the data collected is proved during the trial.
The court discussed the legislative framework under Section 69(1) of the Information Technology Act, 2000.
The court laid down the detailed procedure to unlock the digital devices and e-mail addresses. Firstly, the investigating officer can request or give direction to provide passwords, biometrics etc. Alternatively, the officer can approach a court for a search and seizure order. In addition, specialized agencies and experts can assist the authority. It can also seek assistance from service providers. The last resort in the process is hacking after procuring the court's order. Failure of the procedure will lead to a negative presumption against the accused.
However, the authorities failed to follow the procedure when directing the petitioner to provide passwords and biometrics. Further, he also refused to submit to the polygraph test.
Conducting a scientific search on devices requires guidelines. Meanwhile, the court provided guidelines in the absence of such a mechanism.
Final Decision
As a result, the court quashed orders with costs.