UNICEF Industry Toolkit for Children's Online Privacy and Freedom of Expression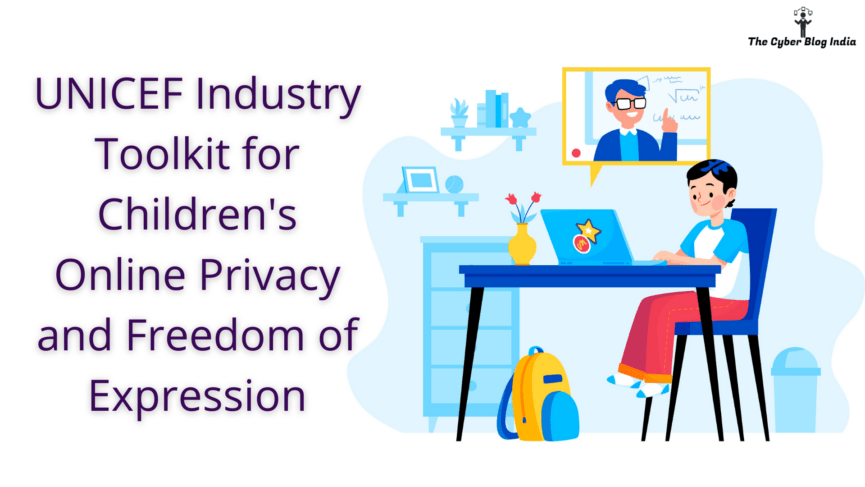 In our last few articles, we have made an attempt to explore laws and regulations on children's online safety. From the UK's age appropriate design code to parental consent and personal information in COPPA, we have also covered PDPB in the context of children's data privacy. This article discusses a UNICEF industry toolkit on "Children' Online Privacy and Freedom of Expression."
This 28-page document builds on UNICEF and ITU's Guidelines for Child Online Protection (2015). It translates the principles into practical actions through checklists, questions, and recommendations.
General Principles on Children's Online Privacy and Freedom of Expression
1. Children have the right to privacy and the protection of their personal data.
All the aspects of children's privacy are relevant in digital space. These aspects include physical, communication, informational, and decisional facets. Technologies that track, monitor, and publish images of children directly affect their privacy. Interception of their posts, chat, or calls, irrespective of the interceptor, pose a threat to their informational privacy. We need to respect children's privacy so that:
They can securely and privately access online resources.
Their personal data and communication remain protected from unauthorised access.
Children's privacy becomes a vital consideration in the design and development of websites and applications.
Online platforms do not profile their users who are less than 18 years of age.
To protect children's privacy, we have to ensure that:
Children's parents/guardians provide free and informed consent for the processing of their personal data.
Data processing occurs in a lawful and transparent manner.
There are appropriate programs for educating, empowering, and informing children about the protection of their personal data.
Children's data is accurate and up to date. It is stored to a minimally necessary extent.
2. Children have the right to freedom of expression and access to information from a diversity of sources.
The internet has vast resources for children so that they can express themselves. However, certain barriers prevent children from utilising these opportunities equally. Here itself, certain children may require assistance to understand and exercise their rights. This principle can be realised in an environment where:
There is affordable and reliable access to digital technology and differences in languages, literacy levels, and capacity are accounted for.
There is no disproportionate monitoring, unnecessary strict moderation, unwarranted limitations on anonymity, or policing of user-generated content by governments or parents.
They can access the digital world without excessive filters.
They can access information from a broad range of sources to suit their understanding and interests.
3. Childen have the right not to be subjected to attacks on their reputation.
Children's information available online shapes their reputation. This also influences their interpersonal relationships and ability to access employment and services as they grow older. The stakeholders should empower children to protect their online reputation so that:
They can request correction or deletion of data, especially when an online platform collects their information without their permission. They should be able to seek the removal of information that damages their reputation.
Parents, guardians, media outlets, schools, and other third parties must refrain from sharing information that can undermine children's reputation.
They have sufficient digital literacy skills for making informed choices about creating and sharing personal content.
Parents/guardians should assist their children in protecting their online reputation.
4. Children's privacy and freedom of expression should be protected and respected in accordance with their evolving capacities.
Childhood is a continuous period of development that is highly dynamic in nature. We cannot stick to a single approach for dealing with children's online privacy. The stakeholders have to consider the evolving capacities of children so that they can exercise their rights as they mature. In a practical sense, this translates to:
Children receive appropriate assistance for understanding the terms and conditions of online platforms.
Online platforms do not ask for informed consent from children when they are not capable of doing so.
Parents play a proactive role in deciding the nature of content that their younger children can consume and subsequently share, while at the same time, duly incorporating children's opinions.
Parenting controls and filtering tools account for the rights and abilities of older children to make informed and empowered decisions.
5. Children have the right to access remedies for violations and abuses of their rights to privacy and free expression, and attacks on their reputation.
Children have a right to seek remedies when their rights are abused or violated. Traditionally, rights vary from one jurisdiction to another. However, the internet is boundaryless, and it can be complex to realise their rights in such an environment. The first step to this realisation is to make children aware of their rights. This should be followed by knowledge tools in terms of how they can exercise these rights. We must create an ecosystem where:
The stakeholders should inform children about their rights to privacy and freedom of expression. They should be able to understand how data collection, content moderation, and filtering affect their rights.
Children should know about reporting mechanisms in line with their digital literacy level, age, and maturity.
The responsible organisations/authorities respond to children's complaints without any delays.
Children, as well as their parents/guardians, can report content or file complaints about covering the full ambit of their privacy and expression rights.
Children's rights and practical implications
Principle
How is it affected?
1. Right to privacy and protection of personal data

Monitoring and surveillance
Online profiling
Data collection and processing
Data analysis and retention

2. Right to freedom of expression and access to information

Content moderation and filtering
Device/network-level filtering
Data collection requirements for accessing content
Prohibitions on pseudonyms
Roadblocks in accessing the internet, including digital literacy and cost

3. Right to protection of reputation

Complaint mechanisms
Digital literacy
Sharing of children's personal information without consent

4. Rights protected in accordance with evolving capacities

Ability to give informed consent
Capacity to understand T&Cs
Decision-making and parental monitoring

5. Right to access a remedy

Transparent reporting of incidents that involve human rights
Education about human rights of children
Effective and easily accessible reporting tools
Checklist for online platforms
This document further provides a checklist for companies to recognise children's right to privacy and freedom of expression. This checklist is divided into four categories:
Obtaining children's personal data
Using and retaining children's personal data
Ensuring children's access to information
Educating and informing children online
Each of these categories contains detailed questions for online platforms. These questions will help online platforms in implementing age-appropriate practices for children. For example, one question in the checklist is: How does your website know whether the user is a child? This question enables online platforms to implement age verification mechanism. Similarly, other questions in this extensive checklist will help companies in ensuring that they follow good practices. You can directly access this document here.
---
An initial draft of this article was prepared by Srushti Iyer. With inputs from Raj Pagariya.
Interested in contributing to our blog and knowledge base? Write to us at contact@cyberblogindia.in and elaborate on how you can help us in creating a safer cyber space.
---
Featured Image Credits: School vector created by pikisuperstar – www.freepik.com