Tata Sky Ltd. v. YouTube LLC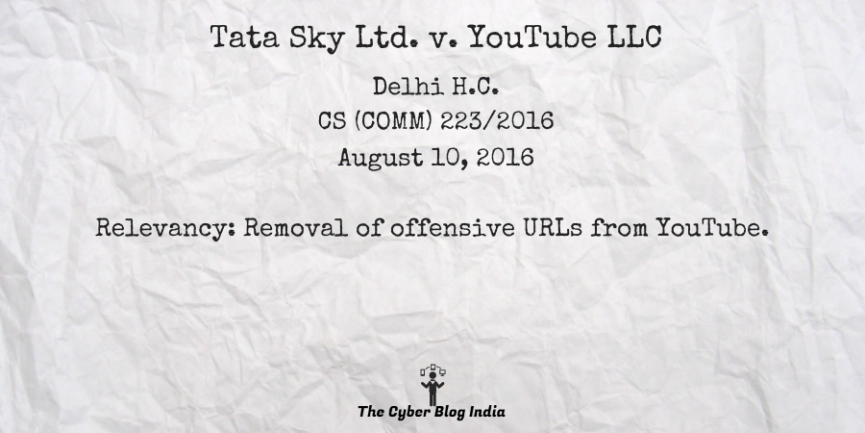 Tata Sky Ltd. v. YouTube LLC
In the High Court of Delhi
CS (COMM) 223/2016
Before Justice S. Muralidhar
Decided on August 10, 2016
Relevancy of the case: Removal of offensive URLs from YouTube.
Statutes and Provisions Involved
The Information Technology Act, 2000 (Section 3(4), 11, 66, 79)
The Indian Penal Code, 1860 (Section 107, 109)
Information Technology (Intermediaries Guidelines), 2011 (Rule 3(2)(d), 3(2)(e), Rule 3(4))
The Copyright Act, 1957 (Section 65A)
Digital Millennium Copyright Act, 1998 (Section 512 (c))
Relevant Facts of the Case
The first request is to remove Google India Pvt. Ltd. as the second defendant in the present case.
A video was uploaded on the YouTube website that taught the public how to hack the Tata Sky's Set-Top Boxes (STBs) by breaking the encryption code to enable free viewership of TV channels and content available only to subscribers.
On December 31, 2014, the plaintiff filed a complaint to YouTube demanding the removal of this video within 36 hours of receipt of the complaint. On January 08, 2015, the respondent replied that they can't take down the video as the complaint was not appropriate.
On July 01, 2015, the plaintiff again demanded the removal of videos. On the same day, YouTube replied questioning the specification of the content called for copyright. On July 07, 2015, YouTube suggested counsel of plaintiff to file a copyright claim which was filed thereafter.
On August 27, 2015, an interim injunction was passed to take down the offending video to which YouTube LLC complied.
The Community guidelines of YouTube regarding the content not to be uploaded was also analysed.
The present application is to remove GIPL as the second defendant and dispose of the suit accordingly.
Prominent Arguments by the Advocates
The petitioner's counsel submitted that the Policy developed by YouTube is inadequate to deal with the type of difficulties faced by Tata Sky and the delay in response is not appreciated. Also, the video is illegal under Section 66 of the Information Technology Act, 2000 and Sections 109 and 107 of the Indian Penal Code, 1860 and must be taken down immediately.
The respondent's counsel submitted that being an intermediary under the Act, YouTube LLC is statutorily exempted under Section 79 from the liability of any third-party video uploaded on the YouTube platform.
Opinion of the Bench
The offensive URLs were taken down by YouTube after the court granted an interim injunction denying permission to continue those URLs on the website of YouTube.
Final Decision
---
This case summary has been prepared by Neelangini Tiwari, an undergraduate student at Kirori Mal College, DU, during her internship with The Cyber Blog India in January/February 2021.