Sujeet Kumar v. State of Bihar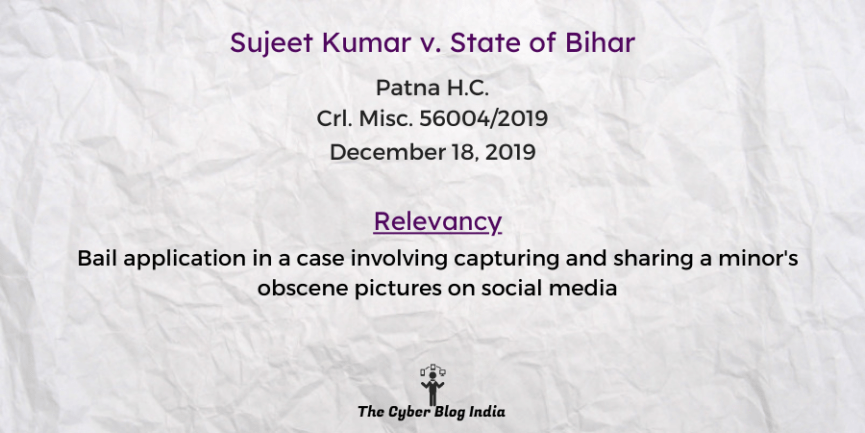 Sujeet Kumar v. State of Bihar
In the High Court of Patna
Crl. Misc. 56004/2019
Before Justice Ahsanuddin Amanullah
Decided on December 18, 2019
Relevancy of the Case: Bail application in a case involving capturing and sharing a minor's obscene pictures on social media
Statutes and Provisions Involved
The Indian Penal Code, 1860 (Section 354, 506)
The Protection of Children from Sexual Offences Act, 2012 (Section 3, 4, 13, 14)
The Information Technology Act, 2000 (Section 67A)
Relevant Facts of the Case
Based on the information received from the informant, the Mirganj Police Station registered a case under the above-given provisions.
The complaint reads that the accused took obscene pictures of the informant's niece. They further posted these pictures on social media platforms.
Prominent Arguments by the Advocates
The petitioner's counsel submitted that they are in custody for over six months. Posting photos will only attract the provisions of the Information Technology Act, 2000, and not the provisions of the Indian Penal Code, 1860 or the Protection of Children from Sexual Offences Act, 2012.
The respondent's counsel submitted that taking private photographs and publishing them on social media damages the reputation of the girl as well as the family. This damage is permanent in nature and it will still have an impact even if the relationship between the girl and the petitioner was consensual.
Opinion of the Bench
After hearing both the parties, the court did not show any inclination to grant bail to petitioners.
Final Decision
The court dismissed the bail application.