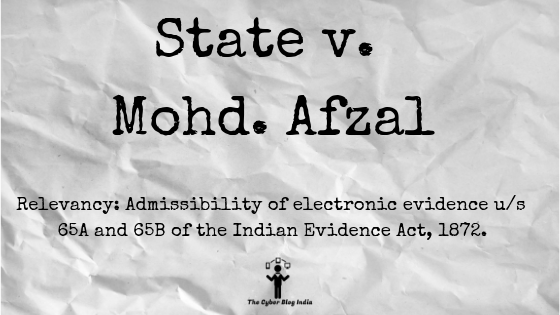 State v. Mohd. Afzal
In the High Court of Delhi
Crl App 80/2003
Before Justice Usha Mehra and Justice Pradeep Nandrajog
Decided on October 29, 2003
Relevancy of the case: Admissibility of electronic evidence u/s 65A and 65B of the Indian Evidence Act, 1872.
Statutes & Provisions Involved
The Information Technology Act, 2000 (Section 43, 65, 66)
The Indian Penal Code, 1860 (Section 120, 120B, 121,302, 307)
The Criminal Procedure Code, 1973 (Section 218, 366, 367, 368)
The Indian Evidence Act, 1872 (Section 9, 24, 25, 26, 27, 30, 65B, 138, 146)
The Prevention of Terrorist Activities Act, 2002 (Section 4, 6, 20, 32)
The TADA Act, 1987 (Section 15, 21)
The Explosive Substances Act, 1908 (Section 3, 4, 5, 7)
Relevant Facts of the Case
On 13.12.2001, five heavily armed persons made an unsuccessful attempt to storm and blow-up the Parliament House while it was in session.
In the gun battle that lasted for 30 minutes or so, the five terrorists who tried to gain entry into the Parliament were killed. Nine persons including eight security personnel and one gardener succumbed to the bullets of the terrorists and 16 persons received injuries.
This appeal is arising out the judgment dated 16.12.2002 by the designated judge of the special court, POTA. Life imprisonment had been awarded to Mohd. Afzal and another accused.
A disputed fact is whether the computer printouts, for various telephones, stood proved by as per section 65B or not.
Prominent Arguments by the Advocates
Shri Shanti Bhushan, senior counsel for accused contended that the contents of electronic record could be proved only in the manner prescribed by sub-section (4) of Section 65B i.e. by issuance of certificate signed by a person occupying a responsible position in relation to the operation of the computer or by a person responsible for management of calls recorded by the computer. It was contended that the call details of various telephones were not proved hence could not be relied upon.
The prosecution argued that as per sub-section (1) of Section 65B, computer-generated printouts are admissible in evidence, provided, they satisfied the conditions mentioned in sub-section (2). Sub-section (4) merely provided an alternative mode of proof.
Opinion of the Bench
The condition that throughout the material part of the period to which the computer operated, the computer was operating properly has to comply with. Thus in the court's opinion, is the only practical way to deal with computer generated evidence unless the response is by way of a challenge to the accuracy of computer evidence on the ground of misuse of system or operating failure or interpolation. Such a challenge has to be established by the challenger.
Final Decision
The electronic evidence of the call records is admissible.
The court modified the sentence under Section 121 IPC by enhancing it to the death sentence.
---
इस केस के सारांश को हिंदी में पढ़ने के लिए यहाँ क्लिक करें | To read this case summary in Hindi, click here.