Star India Private Limited v. MHDTV.World & Ors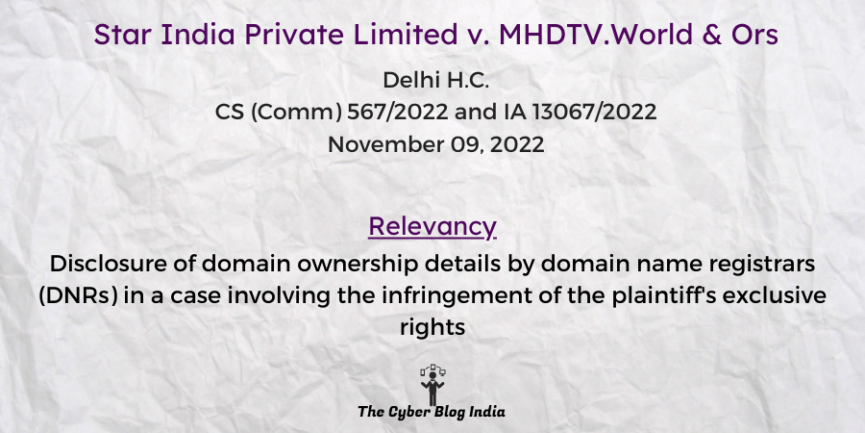 Star India Private Limited v. MHDTV.World & Ors
In the High Court of Delhi
CS (Comm) 567/2022 and IA 13067/2022
Before Justice Prathiba M. Singh
Decided on November 09, 2022
Relevancy of the Case: Disclosure of domain ownership details by domain name registrars (DNRs) in a case involving the infringement of the plaintiff's exclusive rights
Statutes and Provisions Involved
The Information Technology (Intermediary Guidelines and Digital Media Ethics Code) Rules, 2021 (Rule 3(2))
Relevant Facts of the Case
In a previous order, the High Court granted an ex-parte ad interim injunction to restrain the infringement of the plaintiff's exclusive rights in the Asia Cricket Cup matches and associated content.
The court had ordered the Domain Name Registrars (DNRs) to disclose the details of the impugned domain names. These domains were going to be blocked by the MEITY and DOT.
Five of the DNRs did not comply with the court's order. The plaintiff sent emails demanding compliance with the court's order. One of the DNRs, NameCheap Inc., a US-based company, responded that the court's jurisdiction is not relevant.
MEITY directed the blocking orders; however, it was up to the DNRs to follow the disclosure and suspension orders' requirements.
Prominent Arguments by the Advocates
The plaintiff's counsel submitted that DNRs have not complied with the order, making it ineffective.
Opinion of the Bench
All DNRs must abide by and give effect to orders passed by competent courts or government authorities, as the case may be.
DNRs must comply with the IT Rules, 2021 and appoint a grievance officer to ensure proper compliance with the court's orders.
DNRs must abide by the ICANN agreement, which clearly states that a DNR has to comply with applicable laws and court orders.
Final Decision
The court granted MEITY and DOT one week to take action against the DNRs for their non-compliance. The court also directed these authorities to investigate the continuity of the business of these DNRs if they do not comply with court orders and Indian laws.