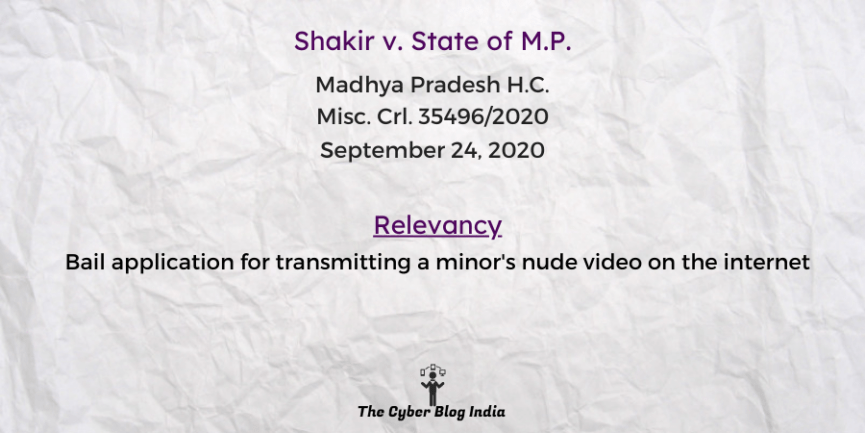 Shakir v. State of M.P.
In the Hight Court of Madhya Pradesh
Misc. Crl. 35496/2020
Before Justice S.K. Awasthi
Decided on September 24, 2020
Relevancy of the case: Bail application for transmitting a minor's nude video on the internet.
Statutes and Provisions Involved
The Information Technology Act, 2000 (Section 67, 67A)
The Protection of Children from Sexual Offences Act, 2012 (Section 11, 12)
The Code of Criminal Procedure, 1973 (Section 438)
The Indian Penal Code, 1860 (Section 294, 354C, 506, 34)
Relevant Facts of the Case
The prosecutrix and the co-accused (Anas) were in a relationship. They communicated with each other on calls and messages.
Anas asked the prosecutrix for a nude video call and which she secretly did through WhatsApp while taking bath.
The prosecutrix alleged that Anas had recorded the video call. The prosecutrix's mother told her about Hira who showed her the nude video and told her that the video was seen by many people.
The victim's parents went to the applicant's place to resolve the matter, but as a result, the applicant abused them and intimidated to kill them.
Hence, a case was registered.
Prominent Arguments by the Advocates
The petitioner's counsel submits that the applicants were innocent and the complainants falsely implicated them for the alleged crime of transmitting the nude video. They were only liable for offences under Section 294 and 506 of the Indian Penal Code, 1860 for abusing and intimidating to kill the prosecutrix and her family.
The complainant's counsel submitted that he had no objection to the grant of bail because both parties have settled their dispute and entered into a compromise.
Final Decision
Application allowed.
Bail granted subject to certain conditions.
---
This case summary has been prepared by Tuba Aftab, an undergraduate student at IIMT & School of Law, GGSIPU, during her internship with The Cyber Blog India in May/June 2021.