Puli Vamsi Krishna v. State of A.P.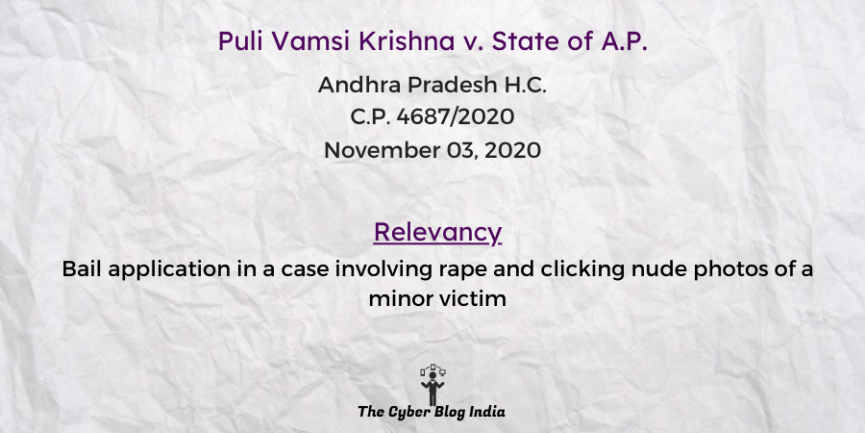 Puli Vamsi Krishna v. State of A.P.
In the High Court of Andhra Pradesh
C.P. 4687/2020
Before Justice Lalitha Kanneganti
Decided on November 03, 2020
Relevancy of the case: Bail application in a case involving rape and clicking nude photos of a minor victim
Statutes and Provisions Involved
The Information Technology Act, 2000 (Section 67A)

The Indian Penal Code, 1860 (Section 34, 376(2)(n), 354C, 452, 384, 365, 323, 506)

The Code of Criminal Procedure, 1973 (Section 437, 439)

The Protection of Children from Sexual Offences Act, 2012 (Section 6)
Relevant Facts of the Case
The petitioner, A-1, and the complainant met in 2016 when the complainant was in class XI. Allegedly, she attended a party organised by the petitioner where her cold drink was spiked, and she lost consciousness.

Then, petitioner A-1 raped her and took nude photos of her. Further, he allegedly used them to blackmail her and continuously rape her.

He later left for Australia and passed on the obscene photographs to petitioner A-2, and the complainant made the allegation of sexual harassment. 
Prominent Arguments by the Advocates 
The petitioner's counsel argued that the petitioner has nothing to do with the alleged offences and that the allegations look fabricated on the face of it. Further, the allegations against petitioner A-2 were in 2017, but the complainant filed the complaint in 2019. Also, the court had already granted bail to petitioner A-2.

The respondent's counsel submitted that the petitioner has committed a heinous offence and should not be entitled to bail. 
Opinion of the Bench
As petitioner A-2 has already been enlarged on bail, granting bail to petitioner A-1 with conditions is appropriate.
Final Decision
Bail application allowed.

Bail granted with conditions.