Not possible to ban sardar jokes, but criminally punishable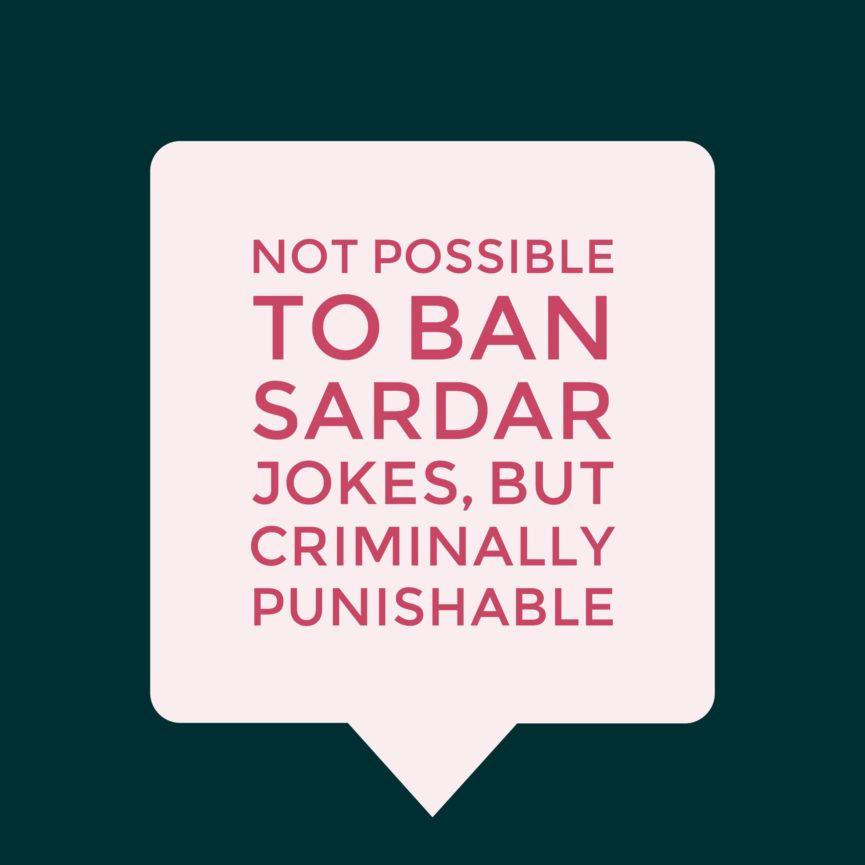 In 2015, A two judge bench of the Hon'ble apex court headed by Ex-Chief Justice T.S. Thakur had agreed to hear a PIL seeking ban on jokes against the Sardar community. In the list of contentions drawn out by Shiromani Gurudwara Prabandhak Committee (SGPC), things like "racial profiling" and "bullying/ragging" were highlighted.
The PIL was filed seeking a ban on Sardar jokes promulgation both online and offline. It was welcomed by the then Chief Justice but in the latest hearing by a new bench headed by Justice Dipak Misra, all hopes of an entire "ban" have taken a dive. Earlier, the court had sought guidelines from the applicants about ways to curb this menace that was causing cultural problems for the young Sikhs.
The recent proceedings however saw the court being reluctant on framing any guidelines as such about a complete ban. Justice Misra, while speaking to SGPC said, "Anyone can take recourse of section 67A of IT Act (Punishment for publishing or transmitting obscene material in electronic form) , 499 or 500 IPC (defamation) ..how can we under article 32 lay down guidelines ? What kind of guideline can we issue pertaining to a particular community?"[Source: LiveLaw]
Section 67 with respect to sharing obscene content is also relevant for filing any complaints. After the Sharat Babu Digumarti judgment, it is a settled matter of law that any relief in cases of electronic media being used, an offence under the IT Act should primarily be made out. Without that, a proceeding under any other penal law will not hold good.
The case is listed for final judgment on March 27th 2017. However, the stand of the Hon'ble court looks pretty much clear. In practice as well, a general guideline will pretty much be technically impossible to implement. It will lead to a lot of chaos and blocking of legitimate content as well. This however, leads us to the conclusive belief that obscene jokes can be a matter criminal prosecution. So the next time you share some laughs, please watch out.