Kirpal Singh v. State of Punjab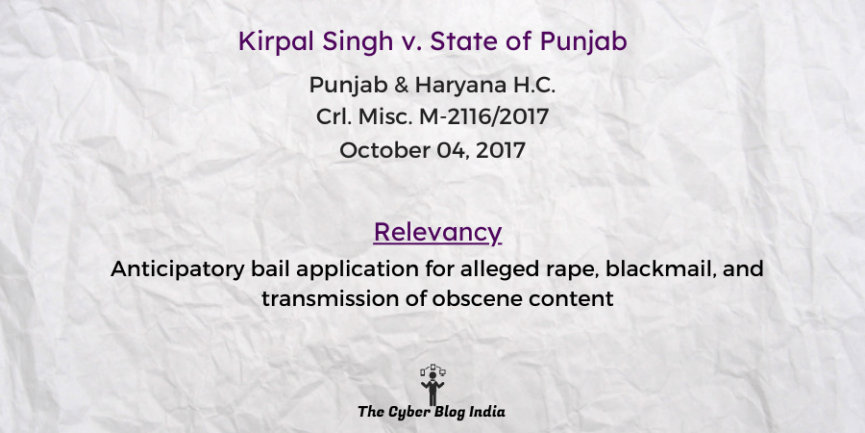 Kirpal Singh v. State of Punjab
In the High Court of Punjab & Haryana
Crl. Misc. M-2116/2017
Before Justice Lisa Gill
Decided on October 04, 2017
Relevancy of the case: Anticipatory bail application for alleged rape, blackmail, and transmission of obscene content
Statutes and Provisions Involved
The Information Technology Act, 2000 (Section 67A)
The Indian Penal Code, 1860 (Section 376, 506)
The Code of Criminal Procedure, 1973 (Section 438)
Relevant Facts of the Case
The petitioner works as a helper with the complainant's husband.
He allegedly intoxicated, raped, and filmed the complainant. When the complainant refused his marriage offer, he showed the complainant's obscene pictures to her relatives.
Further, he demanded money by threatening to kill her children and uploading the video online.
Prominent Arguments by the Advocates
The petitioner's counsel argued that it was a false implication. A 25-year-old man will not propose marriage to a 45-year-old woman.
The respondent's counsel submitted that the petitioner's mobile phone was not recovered, but didn't deny that none of the relatives was named in the complaint. He stated that the petitioner is not likely to abscond.
Opinion of the Bench
The facts of the case merit granting of bail.
The court gave no opinion on the merits of the case.
Final Decision
Petition allowed.
Bail granted subject to conditions.
---
This case summary has been prepared by Shubhangi Gehlot, an undergraduate student at Law Faculty, Maharaja Sayajirao University of Baroda, during her internship with The Cyber Blog India in May/June 2021.