Kajal Jitendra Singavi v. State of Maharashtra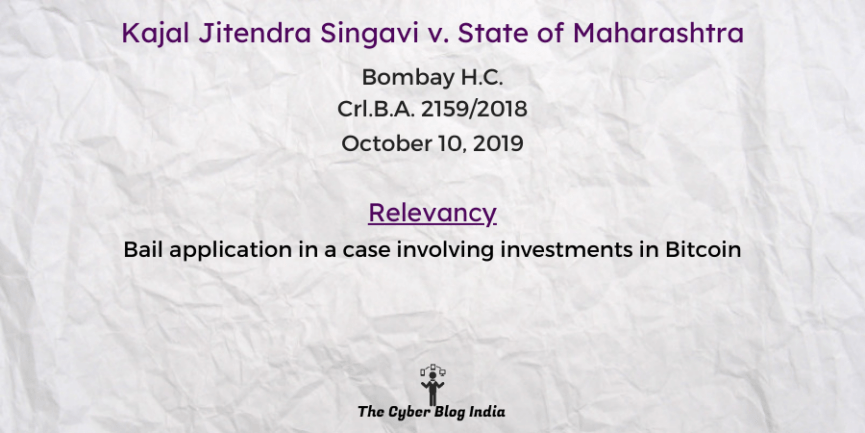 Kajal Jitendra Singavi v. State of Maharashtra
In the High Court of Bombay
Crl.B.A. 2159/2018
Before Justice Sarang V Kotwal
Decided on October 10, 2019
Relevancy of the case: Bail application in a case involving investments in Bitcoin
Statutes and Provisions Involved
The Information Technology Act, 2000 (Section 66D)
The Indian Penal Code, 1860 (Section 406, 420, 34)
The Maharashtra Protection of Interests of Depositors (in Financial Establishments) Act, 1999 (Section 3, 4)
Relevant Facts of the Case
An FIR was lodged by Nisha Raisoni. The accused informed her that he was owning a company called 'Cloud Miners' and was responsible for trading and mining Bitcoins.
The accused represented that his company was an associate of 'Gain Bitcoin' and convinced her to purchase Bitcoins through his company which she could use for mining and therefore, could get more of them. He further represented that after every 18 months she would receive 1.8 Bitcoins.
The informant was convinced that she could earn a lot of profit and accordingly invested a sum of Rs. 1 Lakh by transferring the amount to the accused's mother's account.
The informant contended that the applicant was the business partner of the accused and made similar representations. In total, the applicant had invested Rs. 13 Lakhs and every time she invested the money, the accused would give her a username and password.
When she opened her account using the username and password, she noticed that the accused invested only 1/5th of the amount she had given.
When the informant demanded the money back, the accused refused and offered to give another cryptocurrency by the name of MCAP.
Hence, she filed an FIR on realising that they cheated her.
Prominent Arguments by the Advocates
The petitioner's counsel relied on the case of Akash Kantilal Sancheti v. Union of India and submitted that the applicant's role is much smaller. The court should grant her bail because her father is present in court and is ready to pay Rs. 3,50,000 in the trial court without prejudice to her rights or contentions.
Opinion of the Bench
The court considered all the aspects and took into account the case relied on by the applicant's counsel. They decided to release the present applicant on bail.
Final Decision
Application allowed.
Bail granted, subject to certain conditions.
---
This case summary has been prepared by Loreal Sahay, an undergraduate student at the University School of Law and Legal Studies, GGSIPU, during her internship with The Cyber Blog India in January/February 2021.