Kailash Ashok Kumar v. State of Maharashtra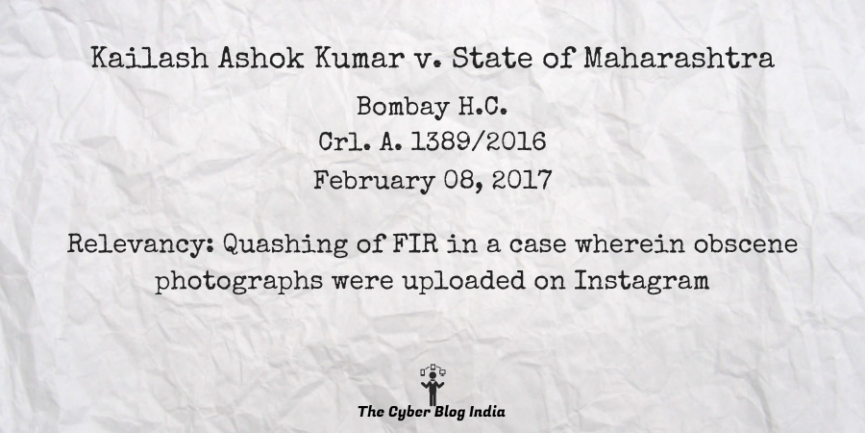 Kailash Ashok Kumar v. State of Maharashtra
In the High Court of Bombay
Crl. A. 1389/2016
Before Justice A S Oka and Justice Anuja Prabhudessai
Decided on February 08, 2017
Relevancy of the case: Quashing of FIR in a case wherein obscene photographs were uploaded on Instagram
Statutes and Provisions Involved
The Information Technology Act, 2000 (Section 66, 66C, 66D)
The Indian Penal Code, 1860 (Section 354B, 509)
The Code of Criminal Procedure, 1973 (Section 482)
Relevant Facts of the Case
Some obscene photographs and objectionable material were allegedly uploaded on the respondent's Instagram account and were e-mailed to her father and friends. This was done by hacking her e-mail account.
The applicant and complainant were well known to each other and have settled the matter between them.
Hence, the applicant has filed the present application to quash the FIR.
Opinion of the Bench
The complainant has submitted an affidavit giving her consent to the quashing of the FIR and the matter has been settled.
Final Decision
Application allowed.
FIR quashed.
---
This case summary has been prepared by Nandini Gadgil, an undergraduate student at DES Shri Navalmal Firodia Law College, Pune, during her internship with The Cyber Blog India in January/February 2021.